New Zealand native plants...
This week I'm purchasing and planting a lot of New Zealand native plants for a new garden area - just as the weather is turning wintry. Oh well - at least I should end the week with a clean and tidy glass-house filled up with seed trays.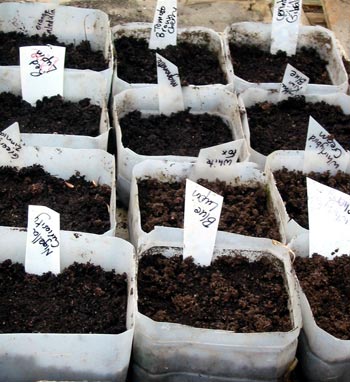 Seeds for next Spring and Summer
Saturday 7th August
It's morning (just light) and still raining! This is really good for the garden. I've just fed the hens (they're looking rather small in the wet - and quite narrow...) and I have huge rainy-day plans. First of all there are plants to buy - I have a huge list of New Zealand natives destined for the Hump (I went to work this last week, so financially I am definitely allowed). Then I want to start some cuttings (basal) off the lupins - this is such a good way to increase stock - and sow more seeds in the glass-house.
Some time soon I have to organise the chooks to use the Hen House at nights - I must try and stop that midnight rooster crowing. Oddly in the pouring rain he has been deadly silent all night - too wet to crow? Hmm... I have sneaky thoughts of leaving him in the gum tree and erecting a slow cold shower over his perch...
Lunchtime...
I am a shopping wimp - we've visited three local native nurseries and I've come sensibly home with nothing - I need to 'think about it'. In other words the plants were a bit expensive! Hopeless - but then I rarely buy unless there are sale signs and bargain tables. Anyway, I'm off outside now to do glass-house stuff - where apparently I will find the chooks, happily sheltering from the rain. There is a perfectly good, dry, well-designed Hen House just over the water - hopeless!
Puddles in the Driveway
The End of the Day...
Well, I haven't done very much, but I am the proud owner of ten new Pittosporum plants (all light-coloured hybrids with nice foliage). It's really been a bit wet to enjoy gardening today. Let's hope tomorrow is clearer - interesting that we have had just over one eighth of our average annual rainfall in the last three days.
Sunday 8th August
Eek! I have just seen a Moosey London Team photograph of a Hampton Court Gabion - I want some. Actually I already have the stone piles minus the netting - does this count? - Probably not.
Enough distractions! I have to do lots and lots of work today. I have Pittosporums to plant, roses to prune, paths to rake, plants (I keep forgetting about those hostas) to divide and shift. I have a whole garden waiting. Stephen has gone skiing - perhaps I can surprise him when he returns later today with accomplishments and visible signs of progress. I am slightly worried that the Great Winter Clean-Up is a myth, and it never actually will be finished.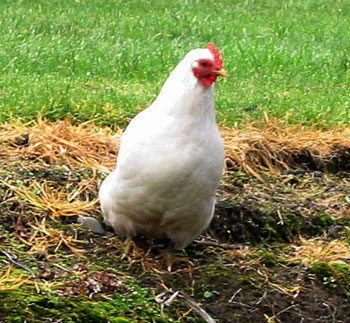 White Hen
Apart From My Chook Friends...
Another problem is that photographs of a Great Winter Clean-Up are less than inspiring. Apart from my chook friends there's hardly anything in the garden taking my photographic eye at the moment. Hmm... How about a whole new section on the rooster? I have a series of crowing poses, taken in different parts of the Moosey garden...
I wonder if the trick to proper motivation is to start now (i.e. 8:30 am) and walk around with the wheelbarrow to keep warm until the sun is higher? Or maybe have little twenty minute tasks on a hand written list stuffed into the gardening shirt pocket? Oh well, lets go outside and see what happens.
Five Hours Later...
I have had a very successful day - not that you can see much change! I've divided those hostas in the Apple Tree Garden and replanted them out in the open (they were sulking underneath a Cream Delight flax). I've shifted roses and pruned them quite hard (I like to do this every three years or so - well, that's the theory).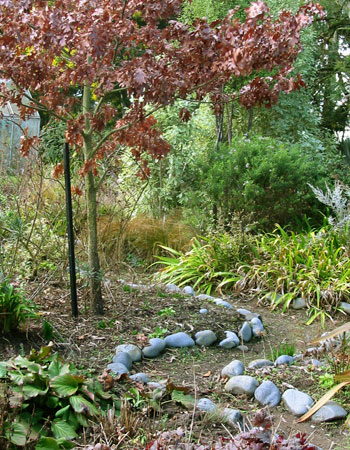 New Path
Major Design Development...
A major design development - I've rerouted the path through the Hen House Garden. This has involved major earthworks and lots of stone edge moving. It's now totally different, and the Hen House Garden immediately looks better in shape and design! Ha!
All the roses in the Hen House garden are pruned - even the rugosas (hope that was OK!). It's weed free - I've chopped back the perennials (artemesias, penstemons and sedums) and cleaned up much mess.
I've sorted out pots on the house patio and potted up lupin cuttings. I've FOUND my edge clippers (shhh... they were left out in the rain on Duck Lawn - thankfully I found them before the lawnmower did).
Now as I relax apres-gardening (in avocado green) I feel I've regained some self-respect. Five hours without stopping is a long time to poke and potter, weed and prune. I've done everything except burn the rubbish. I think a few triumphant photographs should be taken before the weather turns nasty (as is predicted).
Monday 9th August
It's been almost spring-like today - the sun warm and seemingly quite high in the sky, the lawns bright and beautifully green. I've spent three hours weeding mainly in the gardens around Duck Lawn. My hands are now quite sore.
Crowing About a Good Day's Gardening?
The gardens in this far corner are so peaceful (I can't hear the phone) - I may plant some of my new Pittosporums here by the Hen House. I had cat company which was nice, and once suddenly the dog appeared, slinking through the Dog-path. This semi-retired life with my animal friends is really wonderful - and I'm sure the garden must be looking better for all the extra time lovingly spent in it...
Tuesday 10th August
I am in an Appreciating New Zealand Native Plants mood - there are brilliant displays (flowering and just 'leafing') from some of my Hebes, the Olearia hedge (which I ignore for eleven and a half months of every year), the Pepper trees, the Corokias and Pseudopanaxes. Roses and perennials are all very well - in their season - but these natives look good right now (WINTER). And of course the coloured flaxes are the ultimate winter show-offs.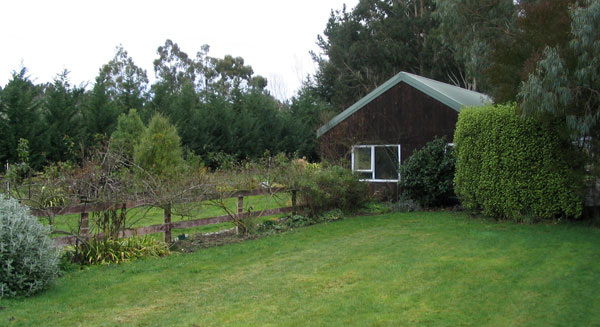 The Back Lawn
The garden by the Hen House is covered by gum trees and Wattles, yet the motley native collection I planted in here two or three years ago is thriving. Today I hope to finish clearing the area to the right of the Hen House - and redirect some of my new Pittosporum purchases. I will organise a path leading past the Hen House to the Hazelnut Orchard fence - and hopefully a gate through to the new well and water tank - the site of my next new garden.
Plans, plans, plans... the joy of having complete mid-week days off from work!
Later...
Results, results, results... from a whole day gently pottering in the garden! The path mentioned above is organised, all the rubbish from the last days is burnt (in a rather dodgy fire, since the wind was a little blustery). And just to be totally random I weeded half the Stables Garden and pruned all the Stables roses. There are serious weeds near the Stables wall, though - these will require a shovel, and the replacing of bulb patches if possible.
Pansies :

I love pansies and viloas - their colours are so cheerful.
I also sowed some more seeds (pansies from packets) - when did I buy these? It's nice to introduce some newer pansy and viola colours into the garden - I'm not sure I can call them 'Panolas' like their packet, though. And I tried to use gloves all day so my hands wouldn't get hurt. Common sense for some, but not usually for me. I'm tired but pretty pleased with my day.
I want it on record that for these last two August days I've sat with the house doors wide open enjoying the late WARM afternoon sun (and both times I fell asleep).
Wednesday 11th August
Ha! More rain! This is good, this is good...