Proud and garden-tired...
Autumn Aconitum
The garden tour (such fun) has been and gone, and all my garden work has left me feeling very proud and oddly a bit garden-tired. I'm taking today off to go hiking over some hills to a beach. Sounds wonderfully mild and relaxing, but I haven't been walking for quite a few weeks. Hmm - wonder how much 'up' stuff there is...
Monday 4th April
Anyway, the only gardening I want to do is to plan the new brick feature I'm building. Swirling koru-shaped brick patterns are swirling around in my thoughts, and possibly the next step is to stand on the site and swirl my hands in gentle arcs through the air. Such is my concept of planning a hardscape feature for the garden, hee hee.
In memory of the earthquake, where brick buildings did so much damage, my feature is well and truly at ground level, using bricks from a collapsed wall at Son of Moosey's house. So I'll be back much later today with a clear head (and not-too-aching legs). But these are nervous times. Will my Reshape Up For Life campaign have helped? Will I better fit into my hiking trousers and shirt? Oh I do hope so. Eek...
Tuesday 5th April
What's the best thing about the drippy rainy day which is today? Heaps of indoors time to fondly remember yesterday - a long, lovely day hike over coastal hills to the sea and back.
The Gully Leading to the Beach
I realised that Rusty the dog has never (with me, anyway) had a beach experience, with sand and waves. That's terrible! He is a completely inland dog, a dog of rivers, paddocks, and tennis balls thrown into a large pond.
Dog Versus Cat...
Today the house is nicely settled. Rusty has bagged 'his' armchair early, having suffered of late from Tiger the cat's chair takeover. I have some outrageously lazy morning plans - I'm going to watch some 'Time Team' television (archaeological digging in Britain), do some web-site weeding...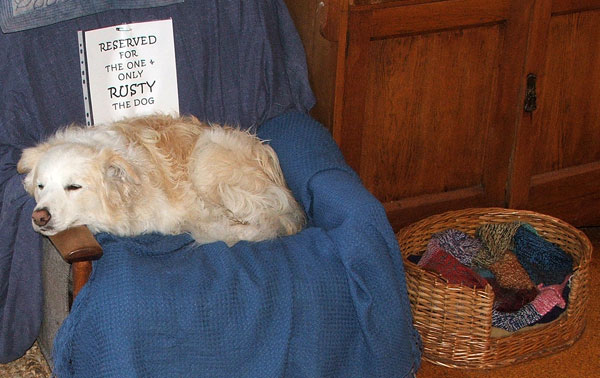 Go Rusty the Dog!
Then I'm driving out in the rain for lunchtime sushi with my friend. That same friend who, understanding me oh so well, presented me with two first edition Enid Blyton Famous Five books 'to read in Pond Cottage'. Ah the nostalgia! How many years ago did I first read these? No comment...
Minimus the Cat
Cold and Wet
Actually Pond Cottage's bed was rather cold for starters last night, and then young Minimus arrived, completely drenched, with punk, spiky wet fur. Aha! I quickly whipped a tasteful sage green towel off Pond Cottage's quaint white wooden towel rack and dried her off. See, this cottage is fully equipped - but I might need to think about a hot water bottle.
I'm still thinking of my beach-deprived dog, so will take him on a wet journey to check the mailbox, and call it a 'walk'. Will he be fooled? Hee hee...
Later...
Great excitement - my flute playing friend is coming to stay for a week or so. Not only does she like gardening (aha! a willing helper who enjoys mulching) but I will have live chamber music 'on tap' in my house.
We have just spent an interesting couple of hours, and I have a list of pieces to practice - another Bach sonata (E major), three Schumann Romances (luscious), and a tootling, plonking concerto by one of Haydn's friends. It's sitting on my piano so I cannot lose it.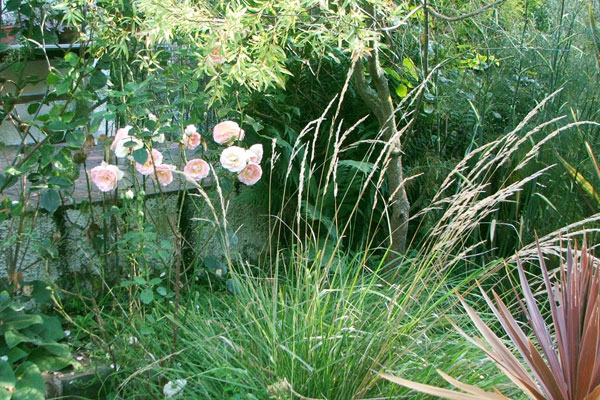 Grasses and Roses
Sorry about the lack of garden writing today - it's far too wet and cold. I've had two whole days without any gardening. But I do have three things I must remember to do:
Dig out the self-sown tomato seedlings to go in the glasshouse for winter.
Prepare the ground for the new brick feature.
Blast! Forgotten what the third one is.
I still can't remember. Probably something extremely boring which I've deliberately suppressed, hee hee.
Wednesday 6th April
Wow! After one of those 'nearly-frost' nights the morning is spectacularly blue and sunny. Yes - I will be gardening today. But the gardening mind has gone horribly blank, so I've been staring up at that list, my only prop.
Singapore Gardens :

I've written up several pages on my visits to the gardens in Singapore.
Here's something to test my global credibility. Does my garden feature in National Geographic's Top Ten World Gardens? Maybe not. But how many of them have I been to? TWO! Two out of ten - not bad for someone who doesn't really 'do' world travel very much.
I really enjoyed Singapore Gardens, visiting them twice in a short three day stop-over stay. Mind you, I don't 'do' shopping, either...
Dahlia on Stone Wall
Local Credibility
Well, it's now time to test my local credibility, put my gardening jeans and shirt on, and do something. My dog is really bored with me. I'm not bored with me - never! here's a thought - how about thinking ahead to the first frost and getting all those half hardy plants organised early?
Hmm... Three Quarters of an Hour Later...
Does walking down the road with Rusty the dog, leaning down to pick up six weeds (in different locations alongside the driveway), and taking a sunny photograph of a random dahlia count as blogworthy? No, didn't think so. Coffee time.
Maybe I need to visit the nursery sale down the road for inspiration. So what budget bargains could I use stylishly and sensibly? And then there's the rose sale. I could plant some new Rugosas in the back of the Shrubbery, trusting their toughness and will to live. I've read that they even thrive on traffic islands near motorways, and I'm sure nobody tips horse manure and drips water on roses in those locations.