I haven't finished with autumn yet...
More Autumn Leaves
No way am I ready for winter. I haven't finished with autumn yet. But - crikey this wind is cold! And naturally heaps of my most beautifully coloured autumn leaves are fluttering down, down, down...
Monday 18th April
I've just come home from swimming - outdoor pool, wearing thermals over swimming costume. The log burner is going, and I've been scampering around outside taking yet more autumn photographs. Whoosh goes the wind, biting at my body. No gloves - eek! No gardening, either. Sorry about that. I can cope with still-air chill, but not with wind. My nose gets too sniffy and cold.
Tuesday 19th April
Brr.... In the aftermath of the cold southerly storm I'm enjoying being inside my warm house - I'm having just the faintest thoughts about going outside to clean more bricks. But first - I have a wedding gown to pick up. Not a weeding gown, though I would probably get heaps more wear out of one such! And what a sight that would be, methinks.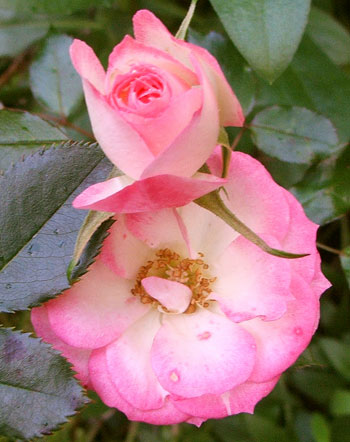 Pink Miniature Rose
Bridal Brunch
It's all part of the preparations for the Bridal Brunch my silly friends and I are holding for the Royal Wedding. So far I've bought several British tea-towels, an old hoot of a book about Prince Charles, and some Union Jack socks. I also have two old, large, framed black and white Elizabeth the Second Coronation photographs (don't ask).
Ambiguous Grooms and Old Chook Brides...
So far our Bridal Brunch will have one real man-groom and two ambiguous others, plus at least three old-chook brides who should know better. Non-Gardening Partner is the official photographer and wedding violinist. We intend to play our own wedding entrance music, thanks to the mute button on the TV replay. Hee hee...
Later, Mid-Afternoon...
I've cleaned and placed twenty more bricks, and have also axed out the remains of one old tree stump. It's odd to think of the double row of eucalypt trees which grew along here all those years ago - twelve years? Maybe more. And the stumps are now in my garden. Some are hidden by shrubs, others are more obvious, and rotting rather nicely.
Round the proposed edge of the new spiral courtyard I've planted more of my new mixed daffodil bulbs. Things are shaping up rather nicely. Now I'm taking Rusty the dog for a bicycle ride and then I have to use all my dressmaking alteration skills to fit chunky old me into a tiddly white satin bride dress (and train). Oh dear.
Planned Brick Path
Wednesday 20th April
Aargh! Minimus, with trophy mouse in mouth, spent most of last night trying to do a cat show-and-tell. And of course I was conned every time. A cat miaow outside Pond Cottage's door and I'd get up dutifully to check (all that human-baby training). Aargh! You're not coming in here, Minimus! Moused by moonlight...
Silver Garden
There was an enormous silver moon. The Pond Paddock was shining, and the garden was all silver - silver tree shapes, silver leaves covering the grass. It was such a mysterious sight, impossible not to wake up properly and gaze in amazement.
More Bricks to Clean...
So I'm going for a morning swim to clear my moony head. Then I'm picking up a stack of ancient (well, 1960s and 1970s) gardening magazines from my friend. I'm expecting them to talk about 'maiden roses' (one-year olds, fresh from the nursery) and nasty pesticides (Good years for using DDT?). And when I get home there are lots more bricks to clean. But it's relatively easy (the mortar is 100 years old and fairly flaky). And it seems an appropriate autumn thing to do. Well, bricks are the colour of autumn, aren't they?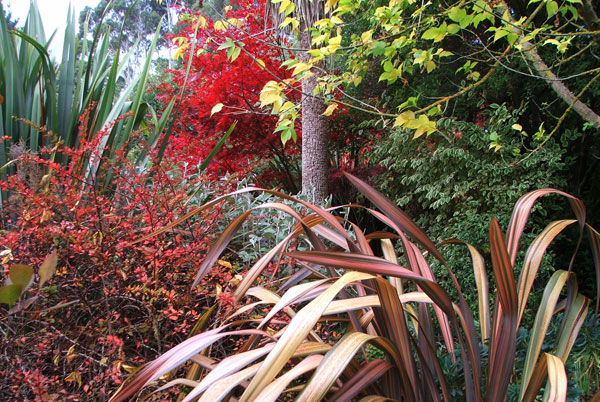 Phormiums and Autumn Foliage
Later...
Right. I'm home, about to have a coffee and do some of my jigsaw. The bricks can wait. Great news for the Bridal Brunch - the contralto (my friend) who is singing 'Rule Britannia' in our version of THE wedding service will also bring the wedding cake. Hee hee. Too silly...
Me on Facebook :

I really enjoy Facebook - and Twitter is great fun. Please feel free to follow me around...
And something terribly exciting has happened. As a new girl on the Facebook block - it's been three or four weeks? - the Mooseys Country Garden page is just about to hit one hundred of the 'people like this' counts. Wow - that's so uplifting! I'm having fun being on Facebook - thanks so much to all those nice liking people out there...
Later...
I've been cleaning bricks for the last two hours. This is a most unspectacular task, during which it's hard to redirect ones thoughts to anything inspiring. But I have made a startling mathematical discovery:
'Bricks that need cleaning have more than six sides.'

-Moosey Words of Wisdom.
Bricks that need cleaning have more than six sides. It's true! And it gets worse. For when you think you've cleaned all the sides, understanding that there are more than six anyway, then there's always yet one more you've missed. Aargh! Let n = n + 1...
I'm irreverently giggling at the builders, one hundred years ago, who used these bricks in Son of Moosey's house wall. They would have been soooooo proud of their sturdy, sensible, double-brick wall, built to good, solid British standards, when compared to the other three flimsy, inferior, wooden framed ones. So guess which ones stayed up safe in the earthquake, and which one came crashing down?
Sunny Toadstools
I've finished planting my big box of recycled spring bulbs. I refuse to put up any more pictures of bricks, so apologies if any images on this page seem a little unrelated to its content.
Thursday 21st April
Aargh! A bridal catastrophe. I have misjudged the bride's dress I'm lending my mature friend for our Bridal Brunch. It is a ditzy Titania, Queen of the Fairies dress. Anyway, I'm taking it over to her this morning, and I fully expect her to immediately change her status to groom. Our friendship mightn't survive organza strapless and knee-length.
Agnes :

The rugosa rose Agnes has her very own rose page.
Today I thought I was going hiking, but no. It's the big Easter plant sale tomorrow, and I need to start with a clean slate. So when I get back home I'm planting my Pseudopanax and Choisya shrubs, plus three roses (Old Master, Abraham Darby, and Agnes), in the back of the Shrubbery. Ha! I know how large Agnes grows, so I won't be tricked by her. She can lean over the fence.
Later...
Done. And seven more bricks cleaned. And bridal success! My friend will wear the fairy queen costume, and is even getting her own tiara, wand, and wings - she will be a Fairy Godmother, whom she figures are oldish, anyway. My goodness, with such a bevy of lovely older-ladies on display, I hope we don't get any old-man Wedding Stalkers. But such a person wouldn't know about the Bridal Brunch because he wouldn't be reading a gardening journal now, would he? Hee hee...