Reality blurs...
Camellia and Phormium
Reality blurs too easily for this dedicated web-gardener, when starting a new Moosey journal page is almost as exciting as digging a new garden. Oh dear! Shut the computer, grab the gardening gloves, ignore the drizzle and get real - at once!
Sunday 25th September
After gentle overnight rain the garden is wet and drippy. I have to pick some daffodils (I have a choir performance early this afternoon, and the daffodils are to be presented to the director and the accompanist). And that might be all I do in the morning drizzle. The trouble with performing is that gardening fingernails, spiders in damp hair, and dirt on the face are not really acceptable...
Self-congratulations - persuading Non-Gardening Partner to cut down the overgrown conifer outside the house was inspired. The deep pink Camellia is still flowering, weeks later, and leans oh so casually towards the outdoor lamp. A warm pink Phormium in a pot at its base echoes the colour. It's just gorgeous, gorgeous, gorgeous.
Fluff-Fluff the Cat
A Norwegian Forest Cat?
Non-Gardening Partner has a new catch-phrase. He's decided, after reading a basic cat book with pictures, that our big Fluff-Fluff is a Norwegian Forest Cat. Oh dear! Still, I checked out the characteristics - large, heavy bones, powerful appearance, triangular head, almond-shaped eyes, a profuse ruff around the neck...
A 'cat of great substance and instinct' - Fluff-Fluff, does this sound like you? Or one of your grandmothers or forefathers? You have a Norwegian Forest forecat?
Not bad lineage for a kitten from a feral cat colony, methinks... Then the thought occurs to me. Would I rather buy a real Norwegian Forest pedigree cat for X dollars, or offer a good country garden home to a rescued kitten? No contest! Fluff-Fluff, the tiniest of kittens who fitted into my cupped hands, now a cat of great substance...
Fluff-Fluff the Cat
More about NGP. He's gone all coy, and needs the trailer on Wednesday. Something secret is arriving and he won't tell me what it is. Ooooo..... I just hope it's not boring, like a new ride-on lawnmower.
Monday 26th September
Oh no - oh no! This secret thing isn't at all interesting at all - it's a load of fertiliser with Selenium for the sheep paddocks (the soil here is Selenium deficient). That's all. Blast! I thought it might have been a new waterwheel... Now I have to shovel all the compost out of the trailer without the giggly anticipation of a surprise...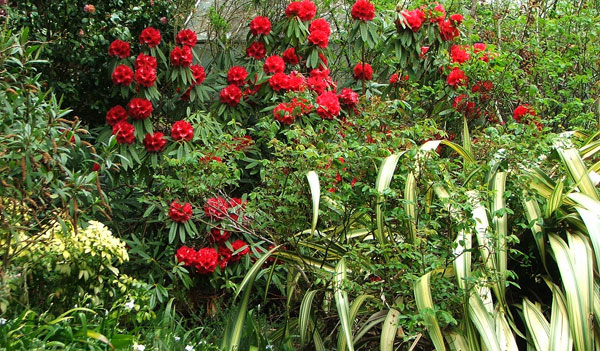 Red Rhododendron Kaponga
Today is also another Agapanthus planting day. It's beautifully sunny, and suddenly pansies are flowering everywhere. These little delights have sneaked up on me, and this year I have no seeds saved to sow. Silly of me - I love pansies. In the whirlwind of maintaining a large garden I forget how much I love them.
Late Afternoon...
I decided to enlarge Pond Cottage's garden by a fat spade's width, since it needed more interior garden room for its roses and flowering annuals. Oddly that's kept me busy for over three hours. I've had to dig new planting holes for the Agapanthus around the new edge, and the ground is very, very stony. But this is good - buckets of stone thus collected are then tipped on the dog-path by the water race, while on the way to shovel another load of compost.
Agapanthus by the Pond
I have a couple of reject roses in pots ready (Abraham Darby and English Elegance). And two other David Austin beauties (one is the beautiful pastel Ellen) are also moving in. At the moment they form a tiny rosy island of a sea of Ligularia by the pergola. In early spring the planting design is deceptive, as there's plenty of room, but come flowering time the roses get swamped. What do roses need? Space and light...
Agapanthus Flower :

All my new Agapanthus have creamy-white flowers.
Just one Agapanthus clump remains undivided and unplanted now, and I'm not sure where it should go. When in doubt, don't?
My first weeding station for tomorrow is the path right behind the pond. On hands and knees, a few scrapes from the spade, and hey presto. And how about two birds with one stone? This might be the perfect path for an edging of miniature Agapanthus.
Spring Blossom
Daylight Saving has just started, so at 5pm it's light and sunny. I adore this part of spring - the blossom trees look gorgeous in the afternoon sunlight. But I've gone apres-gardening - I have some new (second hand) books to look through, including John Brookes' The Small Garden, Isaac Asimov's Prelude to Foundation, and The Complete Fawlty Towers scripts. Don't second hand book shelves contain the oddest variety of book treats?