Magical in the moonlight...
I love the reality of flowering cherry trees. They're so beautiful, even when their blossom is finishing and falling. I pass underneath them on my way to Pond Cottage, and it's magical - particularly in the moonlight. I also duck underneath the white Clematis on the archway and pass by the ever-spreading patch of Lily-of-the-Valley. There is much fluffy whiteness in this journey I make every evening.
Thursday 3rd November
Today I'm planting the Agapanthus and finishing Rusty's Lavender Garden, which is fast becoming a garden of recycled roses and foliage, plus a few surviving straggly lavenders. That's my first job. It's not a scary list though - just two gentle suggestions in an innocuous sentence.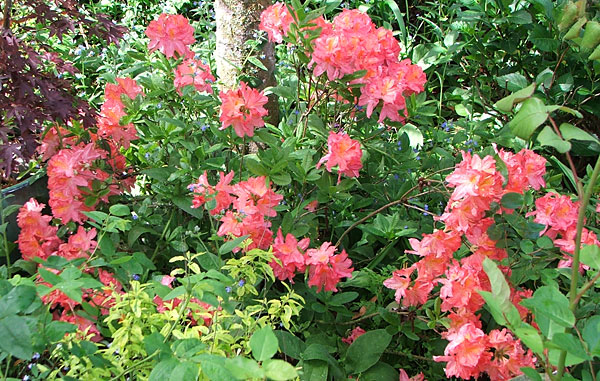 Deciduous Azalea
Oh Dear...
Oh dear. Only two hours later, and I am fed up with the Frisbee lawn's grass being sooooooo long that I just can't trim the edge. Should I get the spade to it? But that only makes the garden bigger, and I still have the cosmetic problem. I think the quality control of the master mower gets called into question, and I require another mow, a more careful cut.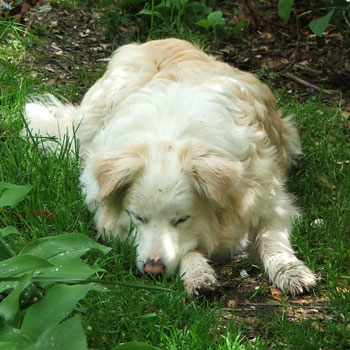 Bored Dog
Anyway, I've bucketed water on roses and organised some ornamental sage cuttings. The squillion tomatoes have been watered, and I've come inside, too hot. Ha! My very first sulk of the summer. My dog is sulking, too. He thinks gardening is plain boring.
Two More Hours Later...
I have redeemed myself. I made myself get back out there and do lots of little groovy things - like plant the Agapanthus behind the pond gnomes, and water more of the garden, weed and rake the path which goes way behind the pond, and weed some of the house borders. I've started pulling out forget-me-nots, too.
I reckon one of my loads of compost was full of weeds, but rather than moan about it (I'm not, honestly) I've pulled all the blighters out. So I've turned sulky into happy, just like that!
The wind's been noisy and a little unsettling, but look to the positive - lots of fresh air blowing on the face, and through the roses. In fact, I'm going back outside now to put the hoses on for a further couple of hours. I will not fail you, my 'new' old roses! This summer you are going to flower for me. Please? Pretty please?
Paddy Stephens Rose
Friday 4th November
It's going to be a bit of a Brahms and Books day. I'm ready for gardening at the same time as a southerly weather system (cold, grey, wind, rain) has rolled in. Blast! I had big, if vague, gardening plans.
I'm back from the dentist, having seen yet another world garden tour slip through my fingers (and onto my Visa account). But this is almost the end, and I feel terribly responsible (if berefit of world travel money). Now I need to live for absolutely ages, munching lots of yummy food without fear, in order to get my money's worth.
For a small celebration I've cooked bacon and eggs for a late, chewy breakfast, and I'm off on a 10,000 kilometre journey around France (it's a library book). Then the Arctic, with some heroic sillies - and perhaps a stroll around scenic Scotland thrown in. I will still put the hoses on, though. I don't trust this rain.
Blue Cornflower
Much Later...
Well, well, well - this afternoon saw a three hour window of blue-skied opportunity, which I responsibly took. I planted the purple Heuchera, weeded the Stables Garden, and then moved on to the Driveway Garden where the pale pink rhododendrons are flowering. Blue lupins are also blooming alongside - the perfect colour co-ordinated pair.
Saturday 5th November
Right. I'm not sure what I'm going to do first in the garden today. Being a listless gardener (in the sense that I don't write lists any more) is quite a lot of fun. An excuse to be even more random? Hee hee... Well, I'll be able to tell you all about it later. What suspense!
Five Happy Hours Later...
Yes, five. And every minute of each hour has been happy. I've been finding surprising places in which to weed, and I've started ripping out forget-me-nots and purple honesty from the house gardens. This is a sure sign that spring is transitioning into summer. And some of the rhododendrons are finished, as is the tree peony. Golly, that was a quick season, but I'm absolutely at peace with my speedy tree peony. OK - Artificial plants would last for ever...
Choisya and Dogwood
I notice, with much affection, that the Lilacs in the Island Bed are starting to flower. I adore the white bracts on the dogwood tree. Dogwoods are so generous with their beauty - wonderful late-spring flowers, subtle variegated leaves, then the fiery colours as summer moves into autumn. And I love the humble Choisyas, which grow so well for me and accept my random pruning regime without a whimper. I had lunch on the Adirondack chairs looking down upon these shrubs.

+20Big Fluff-Fluff the cat has been following me around, squeaking, and he's been getting in the way - of my hands, of my digger, even in front of the wheelbarrow as I bustle into him. Silly cat. And now I realise (feeling guilty) I've left him 'behind' in the Septic Tank Garden. Oops - better go find him and call him in.
All that's left to do is to move the hoses maybe once, maybe twice, and play my piano. Claiming Brahms was a pianist is no excuse for Non-Gardening Partner (my violinist) to avoid practicing his music. OK - the violin may have rows of dotted crotchets against my sparkling semi-quavers, but this apparent simplicity is an illusion. Ha!