Why didn't I stake the dahlias?
It's a new week already, and the summer garden is yet again being battered by big winds. The house lawns are covered in debris from the big gum tree. How I wish I'd remembered to stake the dahlias...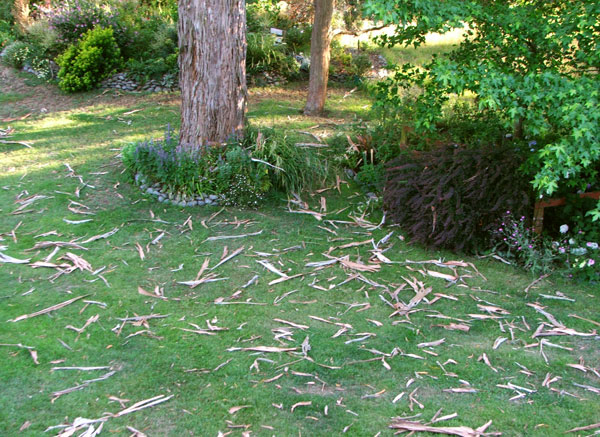 Aargh! Gum Bark on the House Lawn
Sunday 16th January
But excess wind is nothing compared to the excess water that friends in Australia are suffering, with so much mess and so many people affected. Our little world whoopsy last year (the earthquake) was over in 35 seconds, with minimal destruction, yet I managed to mooch around for the next month feeling dazed and excessively sorry for myself. Self-indulgent silliness, really. And I worried a lot about the Moosey pets, too - even the two pet lambs I was rearing. It was an unbalanced time...
Good Morning Minimus
Windproof Cats
So I need to laugh at this whooshing wind which woke me up in the night roaring through my house windows. It's only wind, and I live on an island. Where else can the air go? My cats are totally windproof - they hardly seem to notice it, even the noise it makes.
Apologies for Absence
Before I launch myself into my garden I need to explain my absence for the last two days. All day yesterday was spent in an emotional haze, reliving the events of the previous day when, in a window of good weather opportunity, I climbed Foggy Peak.
'Climb' may only mean 'scramble up and up', but at 1741 meters Foggy Peak is seriously high (for me), with amazing views from the summit. How lucky I am to be able to do such a hike - even though the knees were fairly battered by the end. Anyway, I think I'm brilliant.

Me on Foggy Peak Summit
Ha! And there was no wind up there, two days ago! The summit cairn was hollow, and I could well imagine hunkering down between the rocks with gales roaring just above my ears. It was another amazing trip, and now I have a completely new 'Best Lunch Spot in the Whole World', and more magical memories of walking up exposed ridges (which I really enjoy doing).
I am Soooooooo Proud...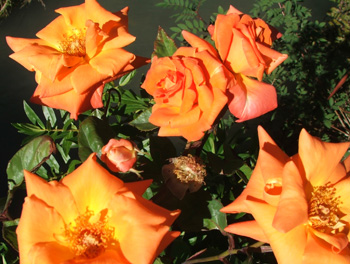 Sunshine and Roses
But spending one whole day reliving the experience, with lashings of self-pride, is quite enough. Poor Non-Gardening Partner, continually being hugged and thanked for taking me up Foggy Peak, seemed quite bemused.
Back to Earth
Now it's time to put those mountain dreams aside and get back to the good, level (and windy) gardening earth. First I have to clean up the house lawns, and water the patio tomatoes (golden cherry fruit, heirloom tomatoes I think, and really tasty). I also need to sort out Pond Cottage's furniture - this morning we are picking up the bed. Yippee!
Monday 17th January
Sorry - no gardening was possible yesterday. But Pond Cottage now has a hutch dresser as well as a bed, and some old (replica) brass bed-ends I've uncovered in the stable. Things are moving! Both the temperatures and the wind have dropped, so when I return from swimming I can start my big gum bark clean-up in pleasant conditions. The big irrigation ran last night, so the house gardens have the illusion of being fresh and green after yesterday's hot, dry battering.
My New Garden Gnome
Another Gnome...
I'm bidding in a garden gnome auction this afternoon - this concrete chap is a pipe smoker, and stands 750mm high. That's a large gnome for the Moosey garden, should his destiny (which lies in the wallet, not the stars) be to live here.
Lunchtime...
Ha! I'm back from a whirlwind circuit of charity shopping for Pond Cottage. I have 'new' sheets and pillow cases, pillows, a duvet cover (until I make my patchwork one), an old and interesting wire basket for storing e.g. onions (don't ask why), an cutesy rustic ornament (for the hutch dresser), a green tea-towel, a green armchair throw, and a host of second hand books (which I want to read).
I have offers of four comfortable and free armchairs from my friends. I've spent about twenty-five dollars and I feel like I've spent twenty-five hundred!
Gardenwise I've cleaned up four barrowfuls of gum bark, dead-headed roses (mainly the Fairy rose, pretty pale pink), and pulled out yet more Lychnis (these plants are everywhere). Now - scary stuff - I'm waiting with baited breath (whatever that is) on the garden gnome auction. I have semi-rationalised as follows - a large garden gnome definitely stacks up with the leg of lamb I bought for $31 at the supermarket yesterday. Oh the suspense... Still waiting... Aargh...
Yippee!
Yippee! Sold to Moosey's Country Garden for exactly $31. Must admit that the adrenaline is racing a little. Right. I'm off to make up Pond Cottage's bed. Not strictly gardening, I know, but never mind! Pond Cottage can be classed as a garden accessory, and my new large gnome will make the perfect doorstop...