Bellbirds whistling and dogs barking...
Rusty the Dog
My garden is really 'birdy'. The bellbirds (at least four males) flit above my head and whistle away madly to my gardening Ipod. They love Bartok's String Quartets. Blimey! This music isn't quite my idea of chiming birdsong. And Rusty the dog's barking (the bellbirds torment him) provides a rather unnecessary accompanying ostinato.
The wax-eyes continue to cover the bird feeders with their fluttery little bodies (and the patio below with their mess, hmm...) I've spent so much time watching them - they like me now, and don't fly away when I appear. They make a mass chattering, squeaking noise. This is an exciting winter for them - the first that I've constantly provided food.
Monday 22nd August
Today has been THE most beautiful blue-skied winter day ever. All morning I've been clearing the Island Bed, which now has a lot more room in its middle.
'Don't forget the plants in the middle of an Island Bed.'

-Moosey Words of Wisdom.
It's so important not to forget the middle of an Island Bed. Plants around the continuous edges are obvious to see, but the middle also needs a planting scheme. My advice to myself!
It's the wrong season, but I've had to cut back one of the Choisya ternata shrubs. Branches had flopped over in the snow, squashing the pink Azalea (which is the far more precious shrub). And now the Hellebore patch (a mixture of whites and pinks) can be seen properly, and looks even more beautiful. I'm glad I grow Hellebores.
Rose Sally Holmes :

Sally Holmes is a wonderful rose for a country garden. She's a country girl at heart...
Out have come a large floppy species Phormium, and a Pittosporum. Two Sally Holmes roses (pruned) now have more room, and the sweetest little ornamental gooseberry is visible and flowering.
After three hours hard work Rusty and I went for a cycle ride, getting back just as the breadmaker beeped - we both had a luscious, lovely late lunch, and so well timed. Then I spent another two hours burning the rubbish that I'd cut down and sorted over the busy days since the snow.
A Busy and Dedicated Day
All in all it's been an amazingly busy and dedicated gardening day. The log-burner is going, I'm clean, it's dark, and Non-Gardening Partner is up there somewhere over the Pacific Ocean, flying home. Yippee! I miss him...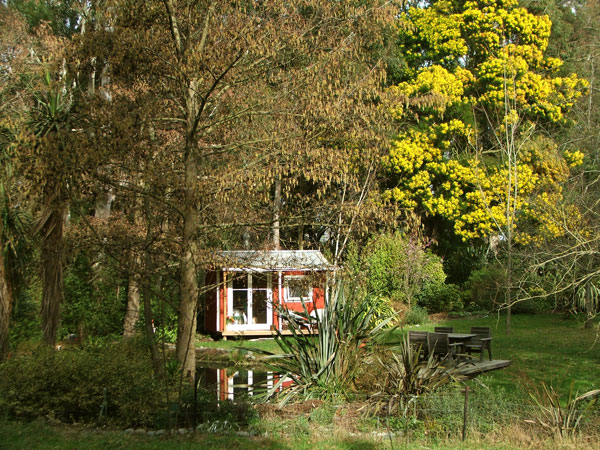 Cottage in Winter Sun
Tiger the cat has been gardening today - well, her rather lame version of it. She lurks for a few minutes near me on the lawn, waddles back to check the bird feeder, exposes her ample tummy to the sun, and then waddles back to me. Having given me some good garden time today, Tiger therefore requires a reward, and communicates thus: she sits by the pantry, stares at the locked door, then looks over to the Moosey cat-mother. Miaow. Check - is the MCM looking? She tries to get the pantry door open with paw. Blast! It's stuck. And on it goes. Tiger must think I'm a big softie - well I'm not!
Tuesday 23rd August
Yippee! Non-Gardening Partner is home after 30 hours flying (and waiting around to fly). Naturally he was so excited (not) to be taken around the garden, as I showed him all the piles waiting for the shredder and the broken branches waiting for the chainsaw. And oddly he wasn't keen to make a start. But he is still awake and talking, and Rusty the dog is thrilled to see him back. Me too!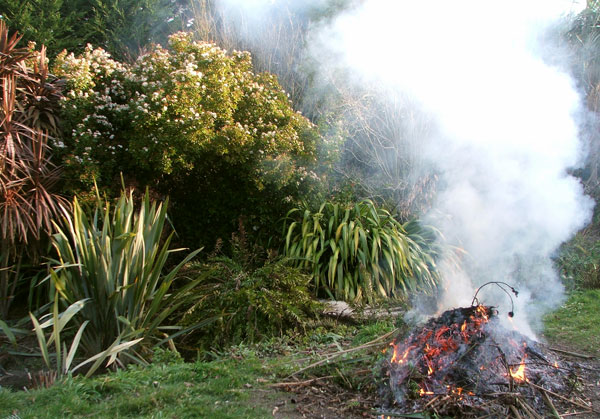 Winter Bonfire
I didn't mean to burn the rubbish on my bonfire today. There I was, pottering quietly in the driveway, when I saw smoke (I'd dumped just one barrowload on my bonfire and it had lit itself). So I decided to go with the flow and burn for the next four hours. Aargh! I hate burning. Old Cordyline leaves, the gum tree branches that crashed down in the snow, and the Olearia and Tree Lucerne branches have all gone up - pouff! None of it could have been shredded.
Poor Conifer!
Non-Gardening Partner thinks the conifer near the house (which has reshaped itself in three different directions) may have to come completely down. It's colourful in winter, but I'm OK with this plan. An outdoor lamp is completely submerged in the tree foliage, and the next-door deep pink Camellia, beautifully flowering now, is invisible from the house.
Pink Camellia, Blue Sky
Signs of Spring
Signs of spring - the big blue crocuses have buds. More daffodils are starting to flower. The sun is higher in the sky, and the early morning pond reflections (as seen from Pond Cottage) are sharper and brighter.
And there is blossom! My early Prunus trees have sprinklings of blossom - one white, one pale pink, neither being a particularly good camera subject in today's bright sunshine. Which I am not, not, not, not for a minute complaining about, by the way! And spring is definitely stirring up my bellbirds - they noisily sing to each other all day. It's as if I'm gardening in their forest.
We have conversations, too. One will land in a tree above my head and whistle at me. I shout back 'Bird! Best bird!' Then a new bird chimes in from another tree. 'No, no! I'm the best bird!' Then another. I think they enjoy my company - when I move, they move.
Right. I'm going to dry my hair in the afternoon sunshine (nice) and crochet some new stripes in my woolly blanket.
Wednesday 24th August
How good am I, after four delightful hours gardening? And how lucky am I?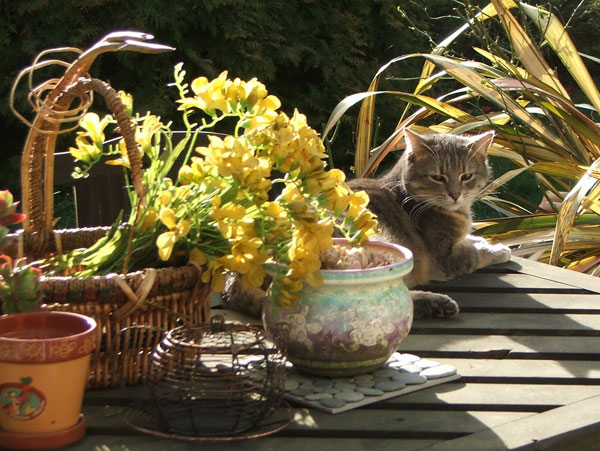 Minimus on the Patio Table
I look around me and I see space, greenery, sunshine, and a faithful dog. I listen and I hear the bellbirds whistling, and my dog's gentle breathing (phew - no barking, as yet). I look up - sun! Nineteen springlike degrees of it, warming my face (that's Celsius degrees).
Phormium Cookianum
Flax Clean-Up
So Rusty the dog and I wander over to the Hen House Gardens where I start weeding and raking and cleaning up the Phormiums. One large tenax chap is disgracefully floppy, but the lovely cookianum looks like a large green fountain, and just needs a few lower leaves trimmed off. And then time floats past, no rush, no urgency, and I do some good gardening.
And how clever am I? For just before I went gardening I started the bread-maker. Hee hee - my bread is ready! And now I'm going to couch-cycle into Paris (I've made it! Finally, my Tour de France for 2011 will be finished) while crocheting some new colour stripes. A friend has given me some lovely wine and dusky pink wool for my blanket.
But first, a quick peek and a flick of the rake at my bonfire, which self-combusted just as I trundled inside. It was full of Phormium leaves, which shredders and green waste places will NOT accept. It crackled and burnt in twenty minutes.