Old Photographs...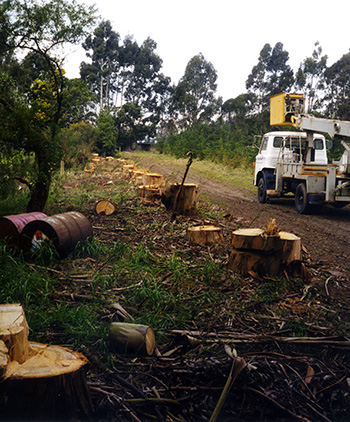 Site of the Willow Tree Garden
Some days I'm bit garden lazy. I stop working after one or two hours and mooch off. And I'm not very impressed with myself. I need to do better! I tell myself off. And where are all these 'me' sentences leading? A carthartic 'me' moment, I'm afraid!
Early Photos from 1999
I've been gardening here for over twenty years, so its been a rather long term (and seemingly endless) gardening project. Easy to forget what I started with. Aha! Some very early garden photographs have just been scanned. They were taken in 1999 - a strip of land over the water race was being cleared of its gorse hedge and double row of shelter Eucalyptus trees.
The views in the pictures are amazing. Because they are full of mess, and piles of gorse, and rough paddock grass, and absolute nothingness garden-wise. They are a complete garden blank.
This afternoon I only spent a couple of hours over the water race. I had to clear the very last clump of Gunnera, and to get there I plodded right along the edge of the water race garden borders.
WIllow Tree Garden
Just past Rooster Bridge I trimmed the Gunnera, cut out lots of dead Phormium leaves, and chopped back overhanging ferns.
Site of the Hen House Garden
But my hands were cold, so I threw everything in a heap, promising to sort it all tomorrow. Oops. Turned to plod back to the house, feeling awfully guilty - not really a good day's work. Hadn't measured up at all.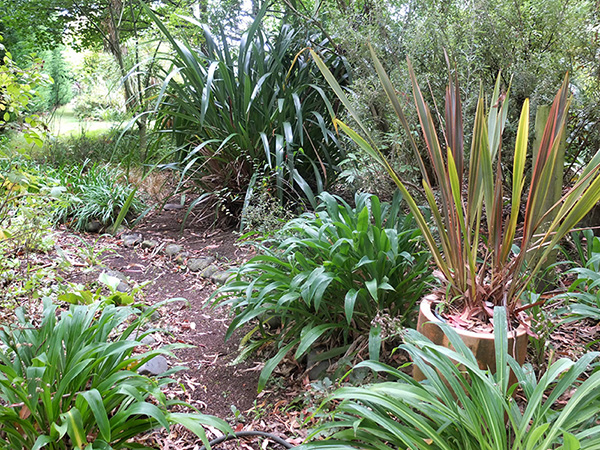 The Hen House Garden
Then I looked up at the huge Oak trees and a colourful Maple, and back along the borders. I thought of all the winding paths edged in river stones, the native evergreen shrubs, the beautiful rhododendrons and camellias, the ornamental Dogwood trees, the roses...
Site of Middle Garden
And I thought to myself - wow! Amazing! I dug all these gardens with a spade. A spade! Just me. One woman, one spade. Or was it a shovel? Hey - same thing! And I cleared all the mess and burnt it. I can remember it taking weeks and weeks, and Non-Gardening Partner laughing at me, thinking I could do it in one day.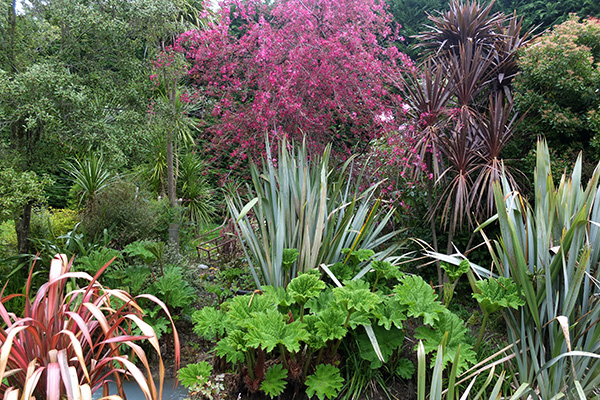 Middle Garden
And I weeded this huge area on my hands and knees. Just me. The ten fingers and two hands of me. No chemicals, no tricks, just me with my diggers and scrapers. And maybe a rake? Can't remember a rake. But there must have been a rake.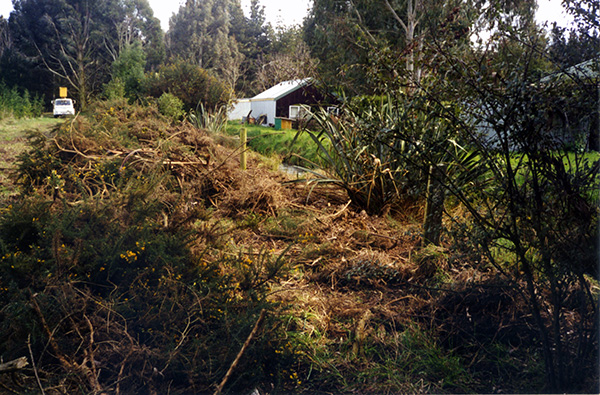 Site of the Dog-Path Garden
And I planted everything. Every tree, every shrub, every rose. I dug all the planting holes. I bucketed water on the plants before the big irrigation went in. Wow. Pretty good, I reckon.
The Dog-Path Garden
It was amazing. And so was I. And I still am. And I never wasn't. Ha! This is my cathartic 'me' moment. Finding twenty year-old photographs.
The Site of Duck Lawn
An afterthought : It's usually rather non-cathartic when one finds twenty year-old pictures of oneself. How much younger, unblemished, wrinkle-free, clear-skinned, pretty, interesting, sexy, lively etc. one looks! Aargh!
Duck Lawn and Beyond