Attadale Gardens
As a self-styled garden reporter with no formal training, my visit to Attadale in the west of Scotland sees me trialling my new walk'n'write reporting method. This requires a notebook, a pen, and half-decent peripheral vision.
Hopefully I will not trip over any large tree roots in the Rhododendron forest, or stub my sandalled toes on a rock in the Japanese Garden!
Attadale is privately owned, comprising twenty acres of gardens and woodlands surrounding Attadale House, by Loch Carron. The gales of the 1980s destroyed many trees and exposed old paths, steps and field drains, allowing the gardens to be replanted and restored.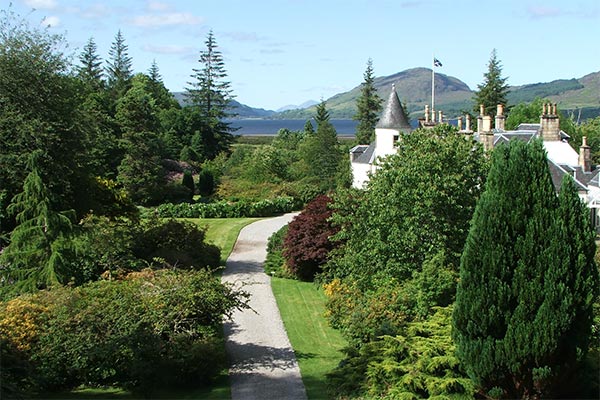 Attadale House
Mid-Summer Visit
I am visiting in mid-summer. The temperature is a mean-spirited twelve degrees (Celsius) and I am kitted out in thermal vest and Gore-Tex jacket. But I have learnt that real Scottish folk live their so-called summers in denial, so there will be no small talk about the cold weather with the gardeners on site.
Bridge at Attadale
Water Gardens
I walk through a series of water gardens and ponds, which have the most beautiful plantings of Gunnera, Ligularias, and skunk cabbage. I've also found the perfect curved bridge, and what I'm sure are huge drifts of Dalmera. I grow this in my garden back home - well, one clump of it! I'd like to have more.
The water source is an old mill stream, and Beth Chatto's water gardens in Essex have inspired the design of the ponds - nice!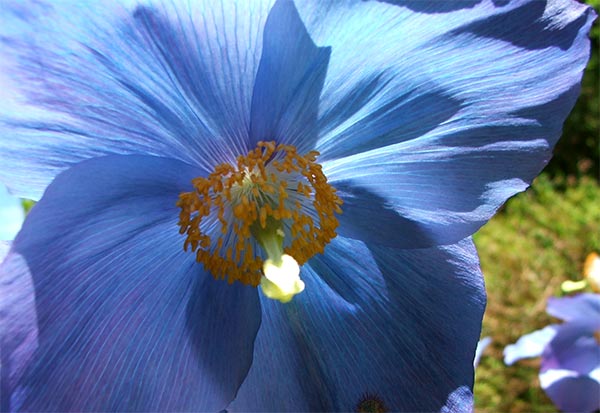 Blue meconopsis
Meconopsis - Scotland's Favourite Flower
Hostas and apricot primulas fill some of the beds. I will soon learn that apricot primulas are very much in Scotland Open Garden vogue. And this is my first meeting with Scotland's most favourite flower - the blue Himalayan poppies, Meconopsis, with their beautifully frail flowers.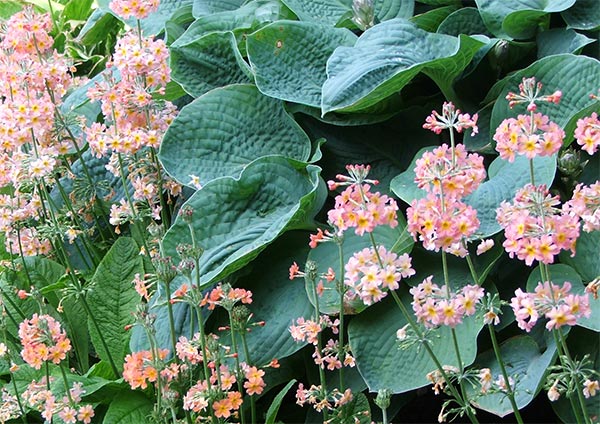 Foliage Contrast
Attadale's Sunken Garden
The sunken garden is wonderful. Thank you, Attadale - I'm pleased that there are no red cordylines in urns or pots. The beds are serenely planted with humble foliage and flower perennials - yellow marjoram, stachys, heuchera, perennial geraniums, thrift, and sedums.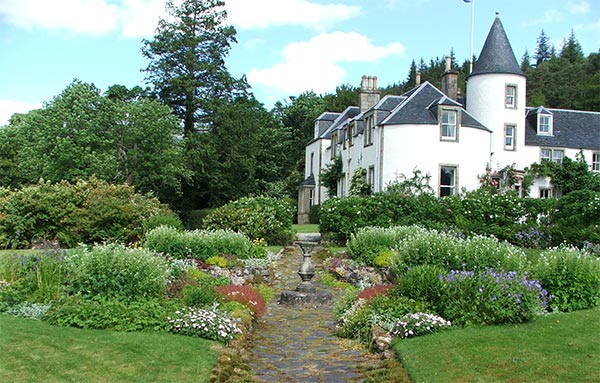 Sunken Garden
There are rugosa rose hedges (I want one) edging the lawns, and an ancient yellow flowering Laburnum. According to the brochure (which I deliberately don't read until later) this was probably planted in 1755 when the oldest part of the house was built.
Tree Collections
I'm learning that every large Scottish garden has its own eclectic collection of trees, and in the forest paths of Attadale I meet big specimens from all around the world. They're surrounded by groves of the naughty Rhododendron Ponticum which has naturalised so much of Scotland's forest land. There's a towering avenue of Red Cedars, an enormous redwood from California, a beech tree from Antarctic Beach in South Chile, and a Tsuga heterophyllia. There's a Crinodenderon hookeranium with red hanging lantern flowers - it's the national flower of Chile.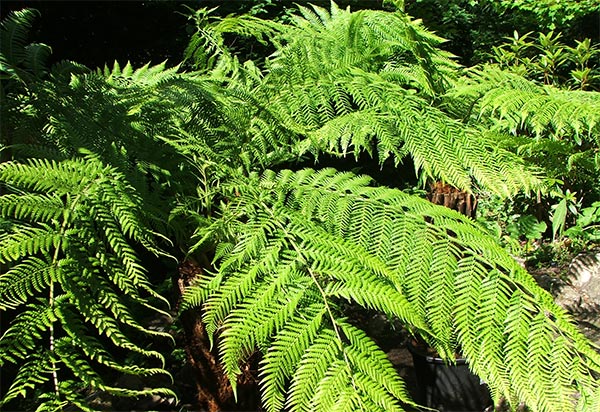 Tree fern from Australia
I am getting good exercise leaning and lunging as I photograph tree labels. But the trees themselves are much more difficult to image-capture!
I wonder about sitting on every seat, and writing - using my eyes, matching the photographs later. But will my keen novice eyes see all the important things? Or at least the things that the brochure writer sees as important? For example, I don't really get excited about Monkey Puzzle trees - but the first Victorian collectors must been awestruck. Attadale has one.
Rhododendrons
I can sense that I am walking through an amazing collection of rhododendrons, most of which have finished flowering. The brochure tells me that Rhododendron arboretum species are the toughest and healthiest.
Geodesic Fern House
There's a cute geodesic dome which houses Attadale's fern collection, offering protection from any inclement winter weather. Brr.... if this mid-summer weather is anything to go by... Actually, weather facts in the brochure make sober reading - a freezing winter of 1995, gales in the 1980s which brought down old established rhododendrons and trees, poplars blown down in 2003 - and winter drains blocked by the building of the A890 road. Small natural disasters, but the gardens survive, and thrive...
DIY Garden Tea Rooms
Attadale is a beautiful garden to visit, with a DIY (Do-It-Yourself) tea room and lots of great seats from which to enjoy the gardens. It has its own little railway station, and some good walks start from the car park by the road. And in memory of my visit I hope to have an exact replica of that beautiful curved bridge spanning my water feature back home. I think it's a Monet bridge - wow! Cross fingers!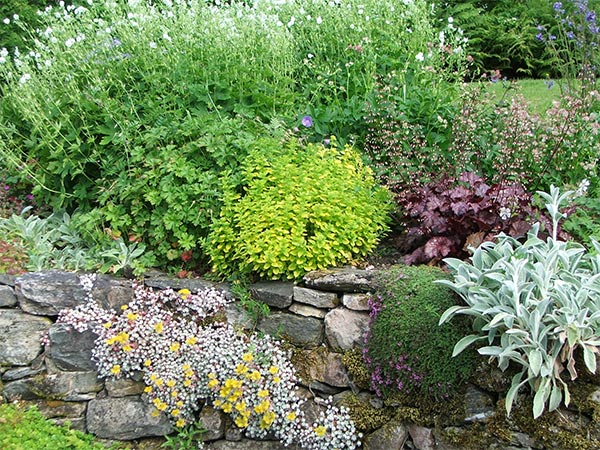 Plantings in the Sunken Garden
Footnotes
Attadale Gardens is a private garden owned by Mr. and Mrs. Ewen Macpherson, with head gardener Geoff Stephenson. To quote the brochure: 'Our main concern throughout the planning and replanting of the gardens has been that they should blend, rather than compete, with the Highland landscape.' A well put aim, and beautifully carried out!
If you can't visit in person, have a look at their website. Hopefully it will inspire you to make that trip! Don't be put off by the sight of gardeners wearing veils over their hats. There is no truth to rumours concerning the voracious appetites of Scottish midges...