Dunvegan in Skye
When I looked at Castle Dunvegan on the map of the Isle of Skye it seemed to be a long way. But the mountains and scenery on Skye would be well worth the drive, and there was a garden as an added bonus. Yippee - I love castles, and gardens!
At Castle Dunvegan mementos and cherished historical artefacts were proudly on display for the Scottish clan MacLeod. Naturally I spent all my time outdoors in the garden, wandering around the paths, checking out the seats, and just enjoying the plants.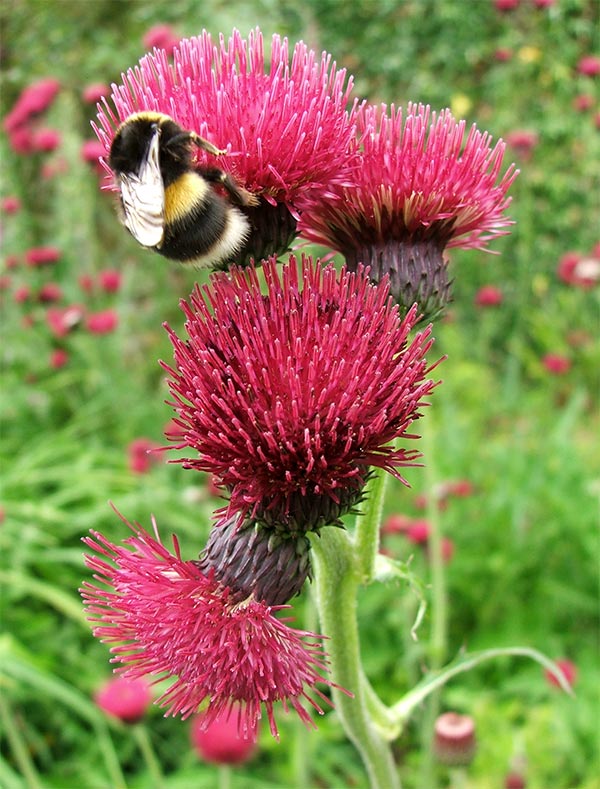 Scottish Bee on Thistle
Like my previous garden visits, I just followed my nose, scribbling furiously in my 'Moosey World Tour Notebook no. 2, purchased at Euston Station.' Here's my first sentence: I'm at Dunvegan. Will there be one or all of the following? An Azalea Walk, a Rhododendron Dell, a Bluebell Wood, a Walled Garden? A pond with giant Gunnera? A Monkey Puzzle tree and a Bamboo Grove?
Poppies and Delphiniums
Feeling quite cheeky, I set off, and soon found a set of signposts directing me to none of the above. Nice! Instead I could choose between a Water Garden, a Fern House, a Round Garden, and a Wall Garden. Off I went to the last one.
Walled Garden
Walled Garden
Shut in by gates to keep the rabbits out, the Wall Garden was wonderful. The paths were thick with crunchy gravel, and inside there were many contrasting garden areas - a large rustic pergola covered in a messy Clematis, huge Phormium tenax flaxes, an Australian gum tree, a group of tall Himalayan lilies, and the blue Meconopsis poppies, Scotland's favourite perennial.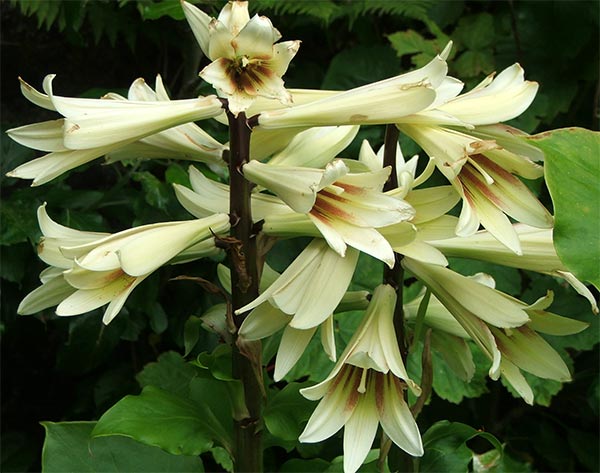 Himalayan Lily
There was a substantional grassed lawn, sensible seats near plantings of foxgloves, red poppies, and daylilies. And I found a funny flat pond, this time Gunnera-less.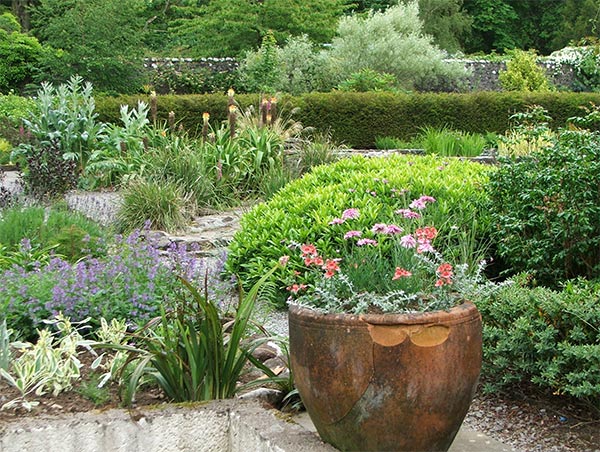 Dunvegan's Walled Garden
Grass Warning!
Hee hee. A visiting gardener following her nose has only her own eyes with which to notice things. And so I noticed, for the first time in Scotland, that dreadful nasty, coarse, green Carex grass that I spent years ignoring and then weeks digging out! Aargh! Dunvegan - be warned!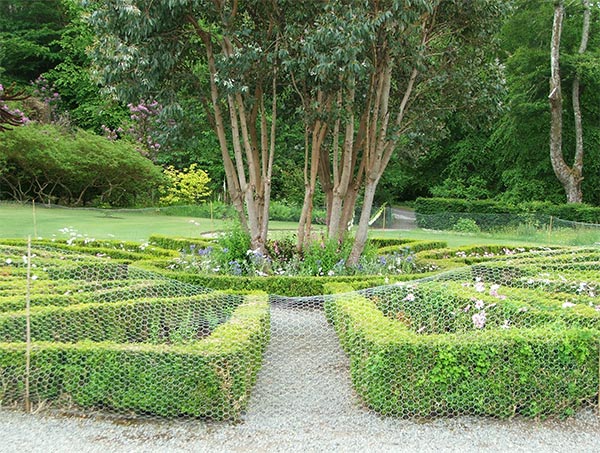 Dunvegan Parterre
Around the Round Garden
The Round Garden was indeed round, with a central parterre very visibly protected with rabbit netting. I guess that running a low hot wire, ringed with piles of manure wouldn't be quite the best solution for an open garden! I loved the Australian gum trees in the middle of the parterre, given pride of place.
Borders on the lawn edges were richly planted with grasses and perennials. Again, I saw that lovely maroon thistle. Even if it's boring for Scottish folk, it looks amazing to me!
Grasses and Perennial Thistles
The Water Garden was energetic, with a noisy stream and a waterfall. And yes, of course there were clumps of Gunnera, and bridges, and more big flaxes - the three essential pleasures of Scottish pond life, as far as human visitors with cameras are concerned.
Clematis and Foxgloves
Take Cover!
And yes, there was a bamboo grove, into which I was flattened by a line of grey-haired power-walkers. Eek! There's nothing scarier than a garden tour busload of bespectacled fluffy grey-haired women and balding blokes who are running late. Take cover!
My notebook ran out just before the Fern House. Oops. Creatively defeated (and mentally bruised by my close encounter with the bamboo) I headed for the tourist gift shop to buy a new notebook with a maroon Scottish thistle on the cover, and then off back to the mainland of Scotland, over the huge Skye bridge.
Goodbye to the Isle of Skye. You are a beautiful place, with beautiful gardens.