Mona Vale Gardens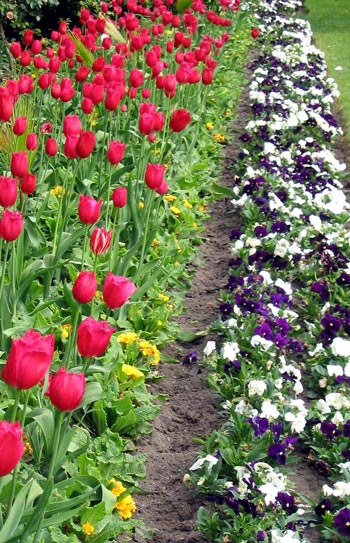 Tulip and Pansy Rows
Mona Vale Botanical Gardens are a suburban Christchurch public garden which surrounds an old colonial homestead.
Brochures for this garden are prominent in all the tourist centres - it has an image of beauty and grace, the perfect garden to stroll around, have elegant gourmet picnics in, or to get married in...
Tame Ducks
My visit to Mona Vale was - well - interesting. It turned into a visit of personal affirmation - my own silly, lovely garden is far more joyous (and weedy, and messy). Again I was more impressed by the tame ducks waddling around on the beautiful lawns than by the gardens themselves. I am such a disrespectful and myopic botanic garden visitor!
No Flaxes
I felt strangely ill-at-ease in this flax-less New Zealand garden. The grand public planting displays (tulips in rows, for example) are definitely not my style. But then I have never been very good with tulips...
There were lots of garden areas that I did like, though - like the rhododendrons in the lawns - and of course the river with its clumps of waterside Gunnera. I immediately tried to imagine having proper Moosey lawns (not mown paddocks) and lots of resident gardeners...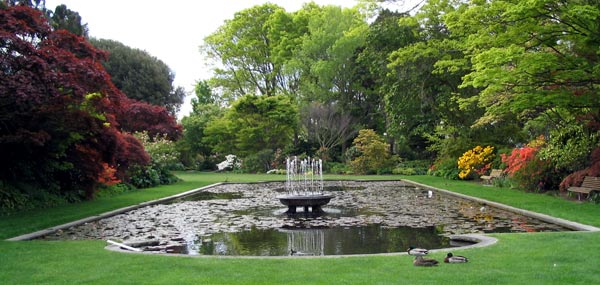 Peaceful Pond
I spied a large geometrically-shaped water lily pond in a rectangle of grass, enclosed by shrubs and small trees - it was very symmetric, and quite beautiful. I suspect that a more seasoned garden reporter would call it a garden room. Ambience was again supplied by an ornamental group of tame ducks - why won't the Moosey resident ducks do this?
Lilac Flowering
Visitors to public gardens come in with many, varied agendas. Some come just to picnic, others to be garden-inspired, while others simply want to enjoy the fresh air and the walking. I always personalise my botanical garden visits: Could I live in this garden? Where would I sit to read? Which area would I dig next? Do I want a fernery?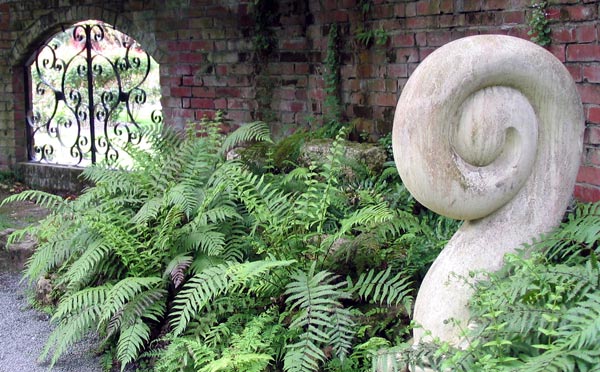 Sculpture in the Fernery
Bus loads of garden visitors and wedding parties at Mooseys? I don't think so! But Mona Vale is well worth more than one gentle visit. The public style bedding displays are colour packed. The flowering late-spring rhododendrons in the lawns are quite beautiful. I know that the roses will soon be delightful.
And the ducks are really tame...