Tyler Arboretum
I've just met (and photographed) the State Champion Pinus Picea for Pennsylvania, USA. He's a tree in the Tyler Arboretum, a delightful place where I've just spent some quality garden-visiting hours.
Fallen Osage-Orange Tree
Many things are ranked and scored these days - from schools to presidents. So I've been wondering about Arboreta - and as usual I've got more questions than answers. What are the top ten trees, say, in a top Arboretum? I know that Monkey Puzzle trees from Chile were one of Britain's favourites.
National and State Champion Trees
I've never known about National and State Champion trees. How does one rank a tree? Is there a formula which could combine height, girth, age, desirability, rarity? Ha! I've found one - for the champion tree competition in the USA, at least:
Total Points = Circumference (inches, measured at four and a half feet) + Height (feet) + 1/4 Average Crown Spread.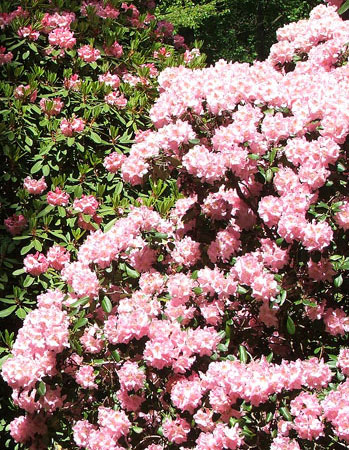 Rhododendron Scintillation
Greater Philadelphia Gardens
The Tyler Arboretum features in the tourist pamphlet 'Greater Philadelphia Gardens', and I picked it out to visit quite randomly. A great choice! The hiking trails through the woodland were much appreciated by my car-bound legs.
Rhododendrons
And, of course, there were the tall trees to stare up at, and a wonderful collection of rhododendrons in flower to wander through. This was late spring, so I missed the Magnolias and the Crabapples in bloom.
These fine collections are the work of Dr John Wister, who took over the running of the Arboretum in 1946.
Painter Trees
The two bachelor Painter brothers, Minshall and Jacob, did their original plantings in rows, beginning in the 1830s. Their collection had more than one thousand trees and shrubs.
Now only twenty trees survive - a Cedar of Lebanon, Gingko, several Maples, Oaks and Magnolias, a Tulip tree, a Corsican Pine, a Giant Sequoia with a double upper trunk (a result of being topped by a Christmas tree thief in 1895), and others.
Three Painter Trees
Being a slightly homesick visitor to the north-eastern USA, it wasn't not too long before I was thinking sentimentally of the trees back in New Zealand. Tane Mahuta, Lord of the Forest, giant Kauri, my champion conifer - you're far too lofty to contemplate being in a tree competition. And, needing 2000 years to reach the height of fifty meters (170 feet), your seeds and seedlings would have been a great disappointment to the Victorian plant collectors!
Unknown ground Cover
Looking Up, Looking Down...
I'm a mental tree-hugger. I prefer to stand close to these giants and stare upwards, rather than touch - there's such a giddy, dramatic sense of perspective. Click goes the camera, and yet another of the same tree pictures is taken. Only a change of season could change that image.
Ground Covers
Then I enjoy looking to the ground for an absolute contrast of scale. I peep at the ground covers - Epimediums, Seersucker Sedges, Solomon's Seal, leatherleaf ferns...
There's a giant leafed beauty I'd love to grow - it's probably a weed! Big things needs small things, and vice versa, in a garden...
My visit to Tyler Arboretum finishes quietly - sitting on a rickety wooden bench, surrounded by air and leaves, thinking deep thoughts and eating yummy fresh cherries. Puzzling about tree competitions and throwing the cherry pips into the grass. Oops...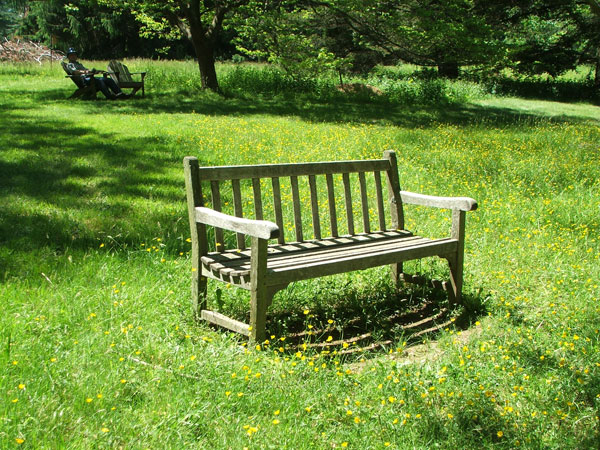 Garden Bench at Tyler Arboretum
Trees are the inspiration for wiser, more spiritual writing than I'll ever produce! I'll choose a quote from Minshall Painter, one of Tyler Arboretum's tree-planting brothers:
'There is something noble and pure in a taste for the beauty of vegetation. Thee who plants a tree plants for posterity and he who exalts it will continue to flourish long after he shall cease to enjoy his paternal fields.'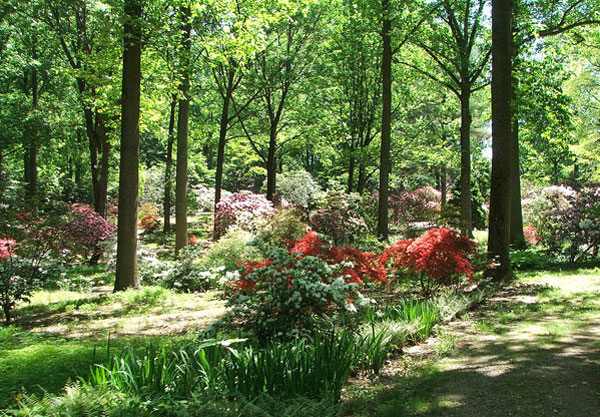 Dappled Sun on the Rhododendrons
I'm not a 'he', but I agree!
A Friendly Footnote
What a friendly place! The communications person for Tyler Arboretum has written to thank me for this page and invite me back. She also takes the time to identify the ground cover pictured above, and with thanks I now quote her:
It's Podophyllum peltatum, commonly known as 'May apples'... Not a 'weed' per se, but a wildflower that blooms in - no surprise - May.