Chelsea Flower Show 2005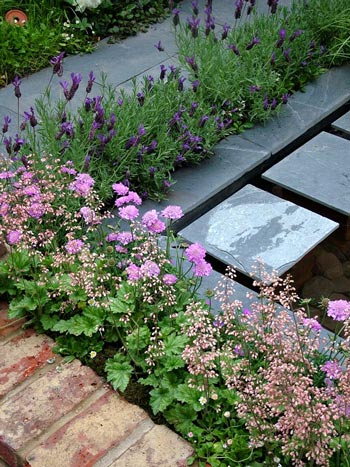 Award-winning garden design
Another gardening year, and I'm still a million miles away from the Chelsea Flower Show - well, perhaps twelve thousand miles is a better estimate. As the Moosey gardening days get shorter it's strange (and rather lovely) to think of people getting ready for a summer flower show.
I love imagining all the bright flower colours, and the new ideas from all around the gardening world. In my winter-bound mind all the plants are bathed in a sea of soft, warm summer sunshine. I sit by the log-burner and try to imagine a Moosey garden entry - with random elements of cats, flaxes and cabbage trees, and a solitary leprous garden gnome...
Whether you're a plant nursery or a garden designer, you really are someone if you get to exhibit at the Chelsea Flower Show. I know some famous lady gardeners who have won prizes before - well, I've read about them.
Virtual Visit
If I was to visit the Chelsea Flower Show (2005) in person, and if - just suppose - if I saw a lovely plant that I really wanted for the Moosey Garden, the frustrations of garden touring in England would once again come to the fore! Even seeds can't be brought back into New Zealand without a book-full of permits and at least ten years' quarantine.
So I'll be staying home again this year (in the frosts and the winter storms), enjoying my summer Chelsea Flower Show 2005 virtual visit. But the spirit of Moosey will glide between the award-winning perennial borders (hopefully containing a coloured hybrid flax or two), and float gently over the rippling water gardens. The spectre of her garden-gloved hand will reach out and gently tickle some new plant's foliage. A ghostly sniff will be heard as she smells the Chelsea Flower Show roses. Cabbage trees can sleep easy in their London beds, sensing that the spirit of Moosey the New Zealand gardener is there beside them.
Chelsea Flower Show Envy...


It's not simply a case of Chelsea envy. I blame the difference in our hemispheres - in New Zealand as I write it's a few weeks to the winter solstice. I have a garden full of tree skeletons covered in a pale-blue wash of winter light. Where's my sun?

Chelsea Pensioners Garden...


After decades of hosting the Chelsea Flower Show, the Royal Hospital Chelsea's residents have finally had a garden made in their honour. The Best in Show garden was a mix of all the things the old soldiers missed about England when away at war.