Purple Cotinus Smoke Bush
Further along the grass side of the Dog-Path Garden I've planted a Cotinus - we also call this a Smoke Bush. The leaves are a deep purply-wine colour, and are shown here in a stunning close-up photograph.
Purple Cotinus - Smoke Bush Leaves
Sunlight shows up the veins in the purple leaves. The Cotinus shrub looks incredible in autumn, as the leaf colour includes pinks, reds, and bright oranges. The leaves are some of the last to fall in the Moosey garden.
purple cotinus and friends in 2002
Below is an older picture of the Cotinus with a frothy Gypsophila and a free bright red rose as companions. They have since been removed - and the Cotinus has grown up quite a lot.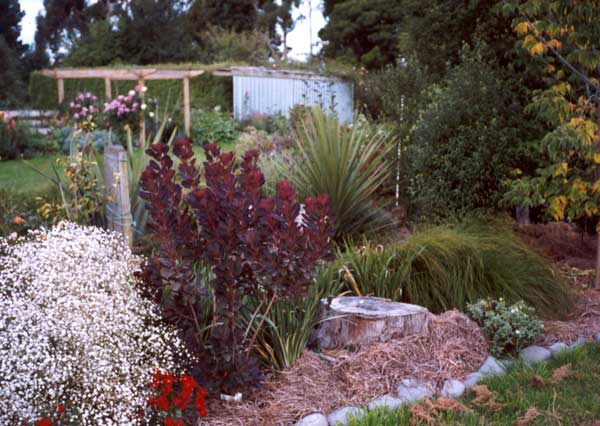 Purple Cotinus and Friends in 1998
In the distance you'll see the rose pergola, which has just been erected, and looks slightly bare and rose-less.