The JAM Garden
One summer early in my garden's history I dug out plants from a friend's garden and moved them into the Wattle Woods, all together. I shifted two car loads of plants that hot summer's day - Hostas (my very first Hostas), Ajuga (hadn't met this before), Rhododendrons, and Peonies, as well as two tall, old rose bushes. My friend thought the red rose was a tea rose but didn't know its name.
I will survive?
I wasn't at all sure if any of my new plants would survive. They were coming from a shady, moist garden in the city to the hot dry winds and sandy soil of the Moosey garden. And moving gardens in mid-summer is a risky business for any plant. Initially everything did survive - helped by some inspired watering, winter-style pruning to help the shock, and the power of positive thought. Plus a lot of beginner's luck, I reckon. Thanks, Judith Ann, for your early contributions to the Moosey garden (which I called the JAM garden). Your favourite old red rose started well, but as the trees grew and the sunshine lessened it got the sulks. Sadly I'm not sure if I shifted it out in time.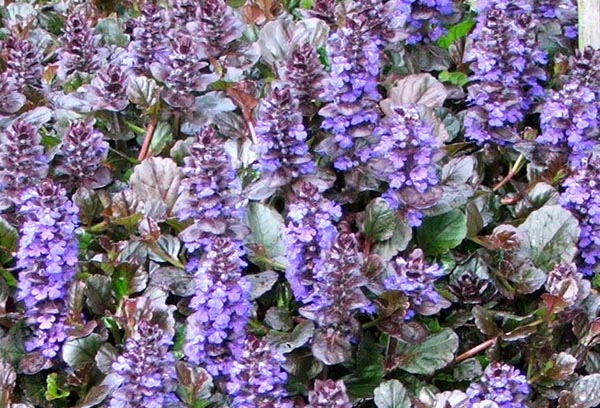 Blue Ajuga, Purple Leaves
The Ajuga flourished and spread, but over the years the Hostas and Peonies were moved out. Gradually the JAM garden lost its separate identity and merged into the general area of the Wattle Woods. And I lost touch with my friend. Such is life!