Garden Bench
This garden bench, an original rustic beauty, has been in the Dog-Path Garden for years and years. Its overhanging Pittosporum has grown huge, and the Iris confusa has gone forth and multiplied. And finally, after years of being broken-down, the bench is able to be sat on again.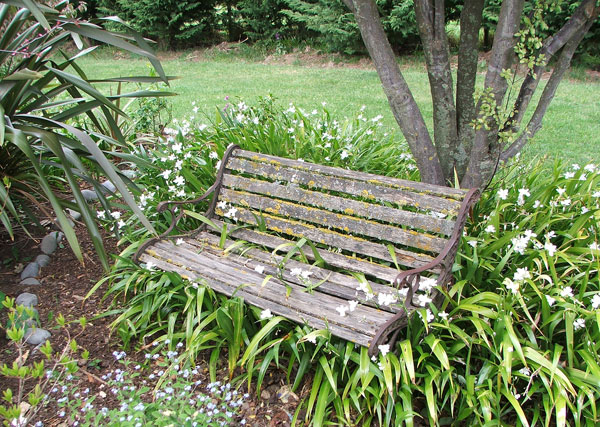 Rustic Park Bench
Originally a grass path curved around the bench. The Pittosporum was already growing when I started work on the Dog-Path Garden. Everything was still quite small in those early days, so I dug a small garden island around the tree.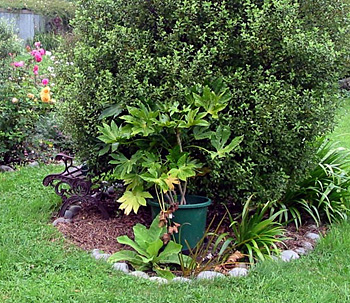 Rustic Garden Bench - 2002
Save the Pittosporum!
I resisted the urge to take the tree down completely - I have been known to become suddenly anti-Pittosporum in a BIG way! Originally it needed a light trim each year, but I didn't remember to do this. I had to keep restraining myself from giving it the chop.
By 2010 it was far too late for the light trim. Anyway, I'd done did what the experts call 'limb up', taking off all the Pittosporum's lower branches. The garden island had been enlarged and the grass path turned into a mulched soil path. Plantings included a trio of deciduous Azaleas and a Camellia.
The garden bench was now well-weathered, and mature garden visitors were advised not to sit on it. Some repairs would have been nice - but I really loved the look of it sitting, abandoned, in the Iris foliage.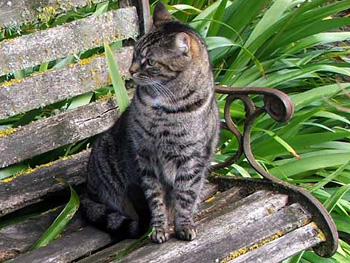 Histeria the Tabby
A Cat Bench
One of the original Moosey cats (Jerome the Grey) used to love this garden bench - she made the Dog-Path Garden her very own. Later cats, too, have enjoyed sitting here. Naturally, cats are lighter than garden visitors (or the Head Gardener), so there has never any problem with the bench breaking under their weight...
A New Project
In the autumn of 2011 Non-Gardening Partner was encouraged to fix the garden bench. I had a new Dog-Path Garden project, namely to build a brick spiral courtyard and path, and the bench needed to be a featured functional seat, rather than a rustic old relic. So new slats were installed, and NGP assures me his woodwork will last for another twenty years. The repaired bench was replaced in the same spot.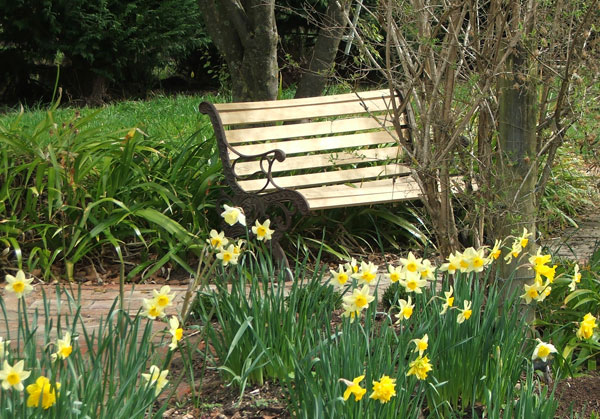 Rustic Park Bench - Spring 2011
Here is the latest version of the very first garden bench I acquired for the garden, all those years ago. Sit down and enjoy the spring daffodils...