Dog-Path Garden Downstream
Looking downstream, the water race burbles along past the plants, shrubs, and flaxes of the Dog-Path Garden. This is a busy garden, full of surprises, and worth visiting on a hot summer's day.
The Dog-Path Garden
The pictures below show how quickly these new gardens have bulked out. It only takes three years for them to look well established - another two more and they're overgrown!
Dog-Path Garden Downstream - 2009
I blame the Head Gardener for planting the plants far too close together!
Dog-Path Garden (2002)
The archive photographs below show the end of the Dog-Path Garden under construction. The piece of wood which spans the water race here is affectionately known as The Plank, and has become a Moosey Living Treasure.
Dog-Path Garden - 2000
There has been huge growth in this garden since it was first dug and planted. A few plants have been shifted, and a few mistakes have been made. But hey! That's part of the fun of developing new ground!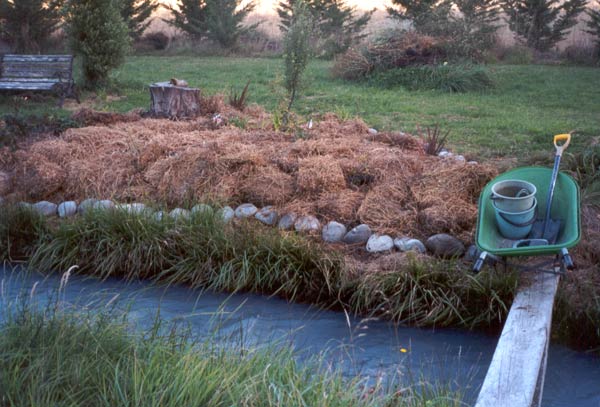 the end of the dog-path garden (1999)
My signature Phormiums are everywhere - I adore these spiky New Zealand flaxes. They enjoy growing by the water, too.