Dahlias
From mid-summer on the flowering dahlias fill my garden with moisy colour. They are summer show-offs, bright and entertaining, and pop up everywhere. Look at me! No, look at me! Me too!
Many of my dahlias have self-seeded, some have come from other people's gardens, or the sale table at a church fair. Just occasionally I might buy a named tuber from the nursery. The Bishop of Llandaff arrived in this way.
The Non-Dahlia-Lover's Dahlia...
He had such impressive credentials in the English Garden books I'd been reading. He was a top-shelf variety with proper breeding, a class above the vulgar pinks and chrome yellows, the show-off spikes and the silly-billy pom-poms. He was the non-dahlia-lover's dahlia, with five-star purplish foliage subtle enough for any high class border.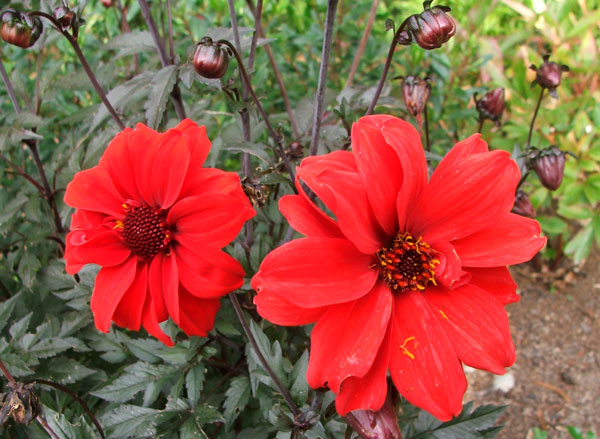 Bishop Llandaff Dahlias
Dahlias have been poorly presented in suburban gardens, where they might fill a bed with a clash of bright, garish colours, and nothing else for company. I prefer them to be surrounded by other plants, preferably with lots of green foliage. This way the colours never seem to clash. Well, not in my eyes, in my large country garden...
Favourite Dahlias
Winter can push my dahlia tubers over the edge, if I get one too many frosts. Plants that might succumb are lifted and stored in boxes, colour co-ordinated, marked with a coloured peg.
A few years ago I was given some clumps of big spiky pinks - likely to be 'Park Princess', a favourite cactus variety for older suburban garden. These I've planted together in the sun in front of some giant Gunnera. It's a great look!
PInk Dahlias and Gunnera
I've pulled together as many photographs as I can to colour up this dahlia page. Enjoy!