The Birthday Rose Garden
The Birthday Rose Garden is now over ten years old - much younger than Daughter of Moosey, for whom it was a special birthday present. It's planted with a stunning mixture of roses, peonies and perennials.
Peonies and Euphorbia
I've tried to marshall all my early peonies and plant them all together in this one garden area. They are beautiful in flower, if a little floppy - my staking programme is a little tardy.
Birthday Rose Garden Colours
Tussock grasses and smaller flaxes give all year colour, and the feature Calamagrostis grasses start growing back in spring. Along the water's edge is a patch of purple-leafed Ligularia, which is happily creating purple-leafed seedlings. And of course there are just a few large green New Zealand flaxes by the water, too.
Dwarf Irises line the grass path in early spring, and an odd assortment of smaller foliage shrubs has space around the bird-bath. But this is definitely a roses-first area, and I'm always shifting the roses around and creating more space for newcomers. A Birthday Garden needs to keep up - at least one new rose per year seems fair. Some Roseraie de l'Hay ruogasas are the latest newcomers.
From 2008 on the peonies have been brilliant - perhaps there's been something in the air, or the soil, or maybe just the tender loving care from the Head Gardener. And in a nice turn of events Daughter of Moosey has been coming home in the early-summers to enjoy her garden. She has commented on the pink and white fluffiness, and that it looks a bit 'girlie'. Hee hee...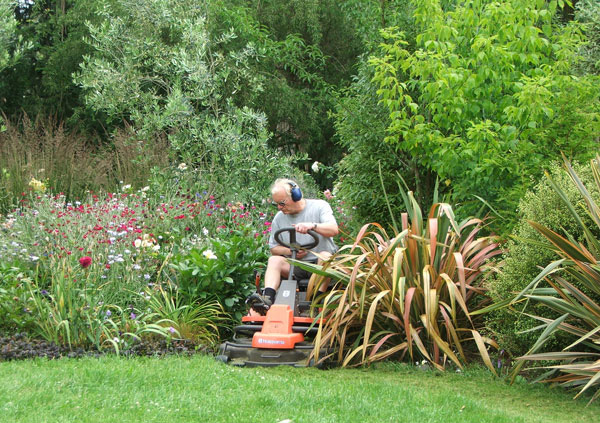 Mowing the Birthday Rose Garden Path
You can see even earlier photographs of this garden in my Garden Design section. It's funny to see the garden taking shape. I remember that it took me ages to dig all the lawn out. What a legend!