The Birthday Rose Garden
It was nearly Easter - the big New Zealand gardening weekend, when summer plants are almost finished, and the end of season nursery sales begin. The head gardener at Mooseys was suffering from rose-purchasing withdrawal symptoms - it seemed like years since she'd had a good grab and buy session at an Easter rose sale.
The Birthday Card
A Special Birthday
At the same time, daughter of Moosey was about to celebrate a very special middle-adult birthday. The Moosey daughter is not exactly a gardener - she prefers the adventurous life of tramping, kayaking, and even climbing mountains. And she was thinking to to receive some decent birthday presents for once - it's not every year a girl turns thirty. She imagined rather large gift vouchers she could spend on her outdoor hobbies - a new Gore-Tex parka, some merino tops, new hiking boots - or a new alpine tent, or even a sea kayak of her very own.
Daughter of Moosey does like gardens, however, and being a polite daughter takes quite an interest in the Moosey Garden. This gave Moosey the best idea she'd had for years - what about a special Birthday Garden, designed by the resident garden designer, and planted in time for the great day? The perfect present! What's more, it would be a sentimental, memorial type of garden, in a totally new area.
Hybrid Tea Rose Royden
And what better plants to choose for the Birthday Garden than some new roses? Moosey zoomed to the rose sale, visa card twitching in her pocket. The roses were purchased very quickly, and squashed onto seats in the Moosey car. They included David Austin reds called Fisherman's Friend - much more sensible than a sea-kayak - the yellow rugosa Agnes, and some caramel coloured fragrant hybrid teas called Royden.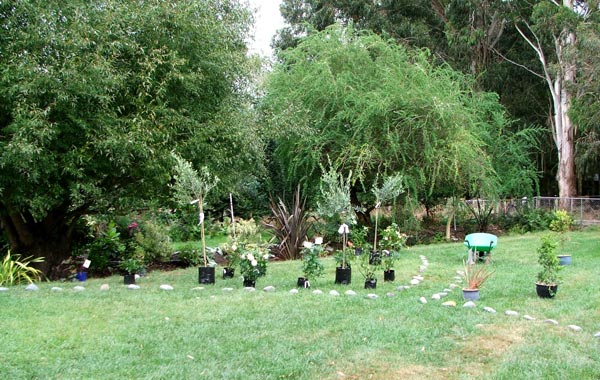 The Birthday Garden is Born
The birthday roses were lined up proudly outside the Sleep-out (where daughter lives). Three impressive standard Olive trees joined them the next day.
The Bold and the Beautiful?
Some things are better done boldly. Using phrases like 'A wonderful idea for your birthday! - The best, most personal birthday gift you could possibly imagine! - Your very own beautiful memorial garden!' Moosey explained the clutch of plants which were blocking access to the Sleep-out door.
A Memorial Rose Garden
Reaction was at first rather cool. The soon-to-be birthday girl hinted at the expected outdoor-gear gift vouchers - she wasn't sure that she even liked roses. Being a gourmet cook the standard olive trees were harder to dismiss, but she really preferred New Zealand natives. Nonsense, said Moosey. Memorial gardens always had roses. Daughter complained that, being a living thing, she wasn't all that happy about the word 'memorial' - she suspected the new garden was just a huge excuse for a plant spending spree.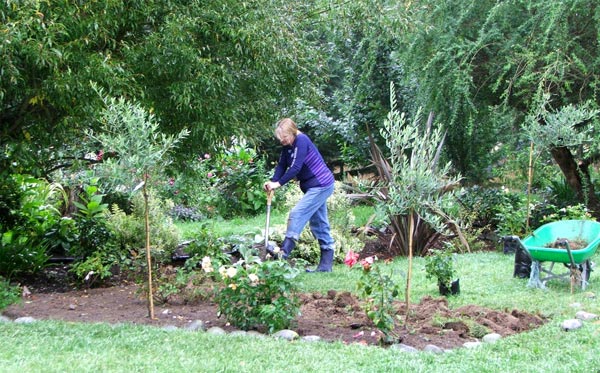 Digging the Birthday Garden
The Great Digging and Mulching Machine
Technically the creation of the new garden was a breeze! Stones were laid on the grass to show its curved edge, planting bags were placed on the grass (the standard Olive trees giving instant height and shape) - then the Great Moosey Digging and Mulching Machine went into action. This is an intricate, sentient piece of garden equipment, highly recommended but regretfully not for hire.
Well, it's now post-Easter, and the Birthday Rose Garden is finished. Daughter has had to buy her sea kayak herself, but is slowly warming to her memorial garden. She wants the Birthday Garden's name retained, and requires that it is drawn permanently on the Moosey garden map. She is even demanding a home-built memorial seat. What a cheek!