Regarding Non-Gardening Partner...
Pond Cottage is Green
Sometimes I'm a bit cheeky about Non-Gardening Partner. After all, he doesn't moan to the world about my cooking, or how boring I am in the evenings, watching live stages of professional cycling tours. And he does help in the garden - honestly!
Sunday 27th May
The dry nor-west wind has been blowing strongly, and small pieces of this tree and that branch crashed down on the cottage roof all night. Slightly sleepless, but happy, I wallowed in warm thoughts about the chain sawing that Non-Gardening Partner finally did for me. He has expertly lowered the sprouty branches on the Willow tree stump to about head height (I've been asking to have this done for ages). And he stayed cheerful throughout the exercise.
The whole of the Stumpy (AKA Willow Tree) Garden area is now transformed, so much improved - even if I don't do anything immediate with the remaining stump. I'd love a little tree house to be built on top of it. I could have a secret club and hold meetings there with my cats. Back to childhood we go again...
'Thoughtful garden designers do NOT employ the scattergun approach to garden gnomes.'

-Moosey Words of Wisdom.
But if the worst comes to the worst I could always build a small platform on it for some garden gnomes. Stop right there! Admonishes self - thoughtful garden designers do NOT employ a scattergun approach to garden gnomes.
Three More Gnomes
My Green Cottage
Great excitement on waking up - a decent paint-drying temperature, so I can do the creamy-white bits on my newly green cottage. Blast. In the slurping of a cup of tea it's started to rain. And this is good for the garden for, although it is late autumn, things are desperately dry. And I am happy inside, peeping out my house windows.
The last of the autumn leaves are fluttering down. My Liquidamber is one of the laziest of my deciduous trees - no leaf drop as yet, only just turning yellow and green (none remotely red). But the Berberis underneath puts on a brilliant impersonation of a burning bush.
I also love the colours of Crab-Apple tree (brightly covered in shiny red apples) and the purple garden seats beyond in the Driveway Garden. And I've had a small thought - all I need to do to be even more impressive (is this possible?) is the following: I place little clumps of purple Polyanthus plants, in purple pots maybe, at points equidistant from the seats. Brilliant colour echoes! Such are the little touches for which little gardeners are lauded. Oops - the rain has turned into sunshine when I wasn't looking, so I'm going out to potter in the wet garden. Later I'll paint.
Much Later, Dusk...
NGP and I finished the cottage painting while the big winds gusted noisily. Then I planted a Jester Phormium in the big round concrete pot, and raked the Wattle Woods paths. I love my garden. Even if some of it is a mess, it's a happy mess, with a happy gardener.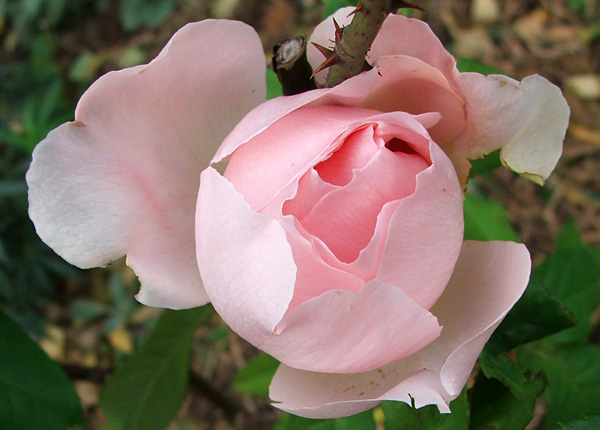 Sharifa Asma Rose
Hmm.... Fish'n'chips for the evening meal, I think. Escher the brown dog is here, and has been roaring around the Frisbee Lawn chasing tennis balls with Rusty - two dog friends having fun times together.
Green Critter on Rose
Monday 28th May
Regarding the Chelsea Flower Show - the following tweet: 'Don't forget it's a show. In real life horticulture can be tough, lonely and low paid.' This message may be relevant advice for career horticulturalists, but hey! Not for me. I'm tougher than tough, and never lonely - my garden is full of critters (mainly furry) for company, my head full of swirling nonsense. So there! Wanders off into the garden singing: 'The party's over.... It's time to call it a day....'
No, seriously, I have huge, exciting, moneyless plans (the best kind) for this Monday. And I do recognise that I'm very fortunate, and lucky, and blessed - I have never, ever had to sell a plant.
Right. The weather is forecast to degrade? disintegrate? about lunchtime, so I'd better look sharp. What to do first? Clean up the lawns after yesterday's gales - there are bits of tree branches everywhere. Then make a decision about a Wattle Woods path that goes nowhere (one end is completely blocked by suckering Rugosa roses). Let's get clinical about this.
Plan of Path Action
Reroute the path.
Clear the whole path
Decommission the whole path.
Terminate the path at some garden feature.
It's easy, really. Memo to self. Try and be design-conscious, for once. Some folk would not consider a batch of garden gnomes lolling at the end of a dead-end path as a 'garden feature'.
Garden Gnomes by the Pond
Six Hours Later...
Ha! I looked at the Rugosas and decided that with some judicious trimming, plus a garden archway to push away some sprawling canes, I could fit at least myself through the blocked bit. So I've scratched and cleared and nipped and finally, after six hours, the whole of the path has been cleared for pleasurable perambulation.
Simultaneously I've been sawing down overhanging Wattle tree branches, and poking at my bonfire. I've also been removing the creeping green pepperminty ground-cover - it pulls out easily (leaving the Ajuga behind) if I take smallish handfuls. Oh boy, but what a day! Finally I moved two big Phormiums in pots to sit alongside the path. Now everything looks like it's supposed to be there. No gnomes were used in this sweet and satisfying path and garden make-over. Phew!
Tuesday 29th May
I'm staying home to enjoy the last of my garden for a week or so. Reason? Aargh! I have a job for the next ten days, sitting at a desk in a public library from nine to five (that's a song) being a vote scrutineer. As yet I don't know who will be voting for what, and therefore what there will be to scrutinise. I will take lots of books to read, and my computer - there'll probably be no more jounalling until this coming weekend. I've organised a roster of friends to visit me, and I'd like it to rain, rain, rain every day.