The advent of Beethoven...
Fluff-Fluff the Cat
Yippee! It's December, the start of summer. I've hung up a quilted Advent Calendar, and I've put the numbers from 1 to 32 into the little pockets. Each of these represents the Beethoven Piano Sonata de Jour, so to speak. It's my plan to sight-read all of them by Christmas Day.
Sunday December 3rd
I've got another idea which is even sillier. I'm making pyjamas for my Pond Cottage teddy bears, and also providing them with little pillows and blankets. Then all seven can be tucked into bed in cane baskets, hee hee. This should keep me nicely busy when I'm not playing the piano.
There's a rather nice quote which sums things up nicely : 'It is liberating to be ludicrous and harmlessly deviant.' What a nice way to put it! Remind me never to get my hair cut sensibly short.
It is liberating to be ludicrous and harmlessly deviant. -modified from Sarah J. McCarthy.
By the way, I do some gardening as well - in my spare time! Today in the garden I've been very sensible and semi-boring. I haven't bored myself, but I can't vouch for the average garden reader...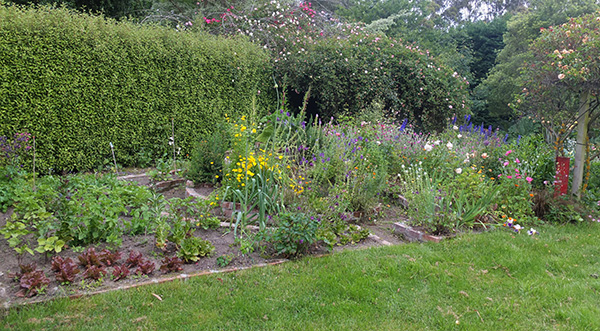 Edge of the Back House Lawn - the Vegetable Garden
First I collected and spread out bags and bags of horse manure all over Stumpy (AKA Willow Tree) Garden. Then I picked out Beethoven's Sonata no. 31, which has a beautiful first movement that I want to learn properly. Deaf, grumpy, old composers shouldn't try and write noisy octave-thumping fugues, however. I fear the last movement is full of sound and fury, signifying nothing. So off back into the garden I went. Two trailer-loads of horse manure bags later... Oh boy! Never have I had such an abundance of such good organic matter. I've spread some on the corner Frisbee garden, while other bags are destined for the Azaleas at the corner of the driveway.
It's a time of transition for the flowers. The Aquilegias have finished and are due to be trimmed, likewise many of the Lupins. Seed collecting is important, too. I have such beautiful Lupins, and this year I didn't raise any seedlings. The blues, of course, are stunning, but all those warmer pink, lemon, and apricot colours are so luscious.
Recycled Lemon Rose
Monday 2nd December
Today's Beethoven Sonata de Jour was no. 10 - quite a wee cutie, in G major. The Gardening de Jour was very functional and sensible. First I trimmed the lawn edges and weeded the narrow border along the water race. Then a short trip down the road to buy potting mix. Then I barrowed three loads of burnable rubbish out of the Hump and onto the bonfire. There is still a lot of superficial pine tree mess - it's awfully flammable, and I need to get it all cleared up before the fire restrictions go on for summer.
For indeed it is summer. The roses are in full swing. I've started dead-heading. Yet another of the recycled roses is blooming - it's a very cool pale lemon hybrid tea. And quite by accident I've planted three of the same shrub in the same garden, next to each other. It must be fate. I've also done this with some Raspberry Ices. They are cherry red and white, so I think I've named them correctly.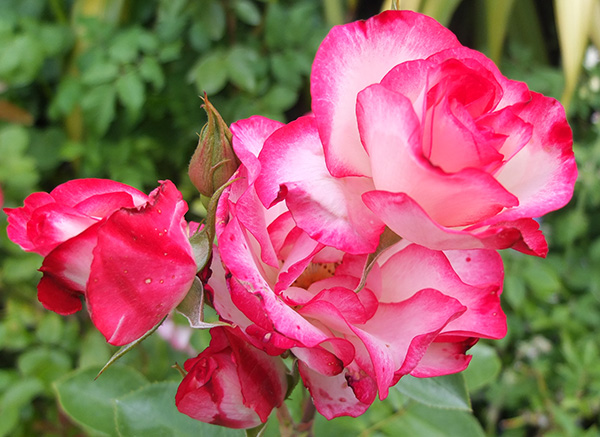 Raspberry Ice Rose
In between piano-playing and gardening I've been tidying up the Moosey website calendars. What happens to old calendars in real-life? If they're lucky they get thrown into the back of a cupboard, and/or their pretty pictures recycled. If they're not...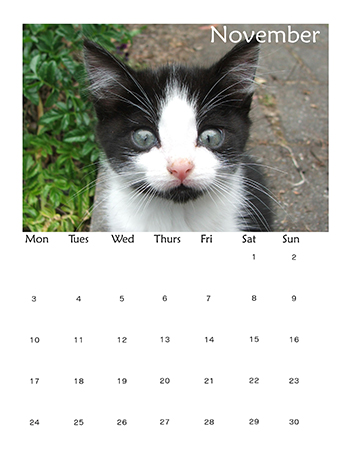 Little Mac - one of the Very Best
Archive Calendars
So I've stacked the archive web-calendars (2009 to 2012) on top of each other in an archive page. I've recycled last year's pictures onto an updated 2014 calendar, and I've chosen the best of the rest for yet another 2014 model. So anyone who wants one of my calendars for the New Year will have many, fine choices! They are absolutely free to download and print, by the way. It's one way of sharing my joy of the garden.
Tuesday 3rd December
Oops. All I've done today in the garden is trimming of the house lawn edges and cosmetic weeding. And there are an awful lot of lawn edges. But I've enjoyed some serious distractions. The cricket - it's the first match of the summer, a five day test between us (New Zealand) and the West Indies. The summer of cricket has begun.
I drew out two of the longest Beethoven sonatas, each of which took over half an hour to play. Silly Beethoven - spending all that time repeating trivialities and bonging away on dominant seventh chords. Maybe he was being paid by the bar? Looks like you're going to get a rude comment on each sonata. Today's were nos 17 (very pretty, easy to listen to) and 24 (daft - written in C-sharp major, with a key signature of six sharps). I'm sorry, but six sharps are excessive. A bit like having over four hundred roses...
Musical Footnote...
I'm playing from a brand new Complete Beethoven Piano Sonata album which I found at the Charity Shop and paid two dollars for. I've done the maths - it works out at 0.3 cents per page, or approximately 0.014 cents per bar. Such cheap fun...