e-dog is visiting!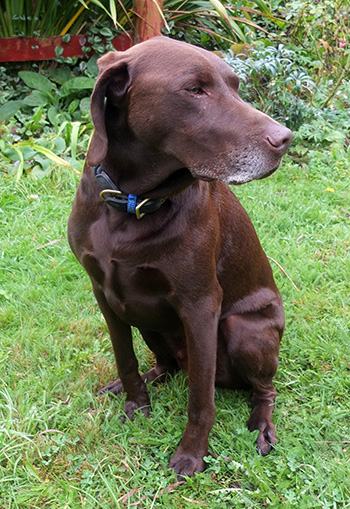 Escher
It's a drizzly weekend and Mister Brown is back! Escher the brown dog (e-dog is his new nickname) is staying for a few days. He's been running madly around the garden with Winnie, while old man Rusty plods along by my heels.
We've done no outdoor gardening as yet - but I do have plans for later today. The ash volcano from my bonfire needs removing, and luckily (because of the drizzle) the ash is wet enough not to cause any trouble.
It's wonderful to have dear Escher with us again. But he has lost his confidence with my cats. They all 'love' him - that is, smooch his nose and show him their tummies. But he's nervous to push past them, and ends up stuck outside open doors, squeaking sadly. And he is sooooooo much bigger. Silly dog.
Late Afternoon...
We went to the dog park, where Escher enjoyed seeing some of his old friends. Winnie, however, has hurt her front paw, and is limpy. No more running around for her.
All afternoon I've been loading mess into the trailer (while the dogs have been snorting their way through the pile, looking for mice). The car tows the trailer over to the bonfire, then Escher gets in the back seat and stares imperiously out of the window while I pull off wadges of stuff and throw it onto the bonfire. Poke goes the rake. Swish goes the rake. This poking and swishing goes on and on for ages.
Removing Bonfire Ash
And then out of the car pops Escher and off we go to do it all again. There are terribly exciting smells in the rubbish heap, but the dogs don't find anything. I have much more luck - finding (oops) four lost garden tools, including my new secateurs and slimline digger. I'm now going to have a shower and wash my hair. My apres-gardening clothes are ready : a navy and white flowing flowery shirt (over a thin blue merino top) and skinny jeans, topped off (or 'bottomed off', actually) with my loooooovely new Ugg boots. Like an ancient 'young thing', if that makes any sense!
Monday 27th March
It's seriously raining again, so the dogs have been out walking around the driveway. Escher doesn't seem to notice when we do the circuit five or six times. Surely there can't be new smells so quickly? Poor Winnie (still limpy) is under house-arrest - she's sitting in the dog chair looking sad - even her ears look droopy. Earlier this afternoon I had to take Escher and Rusty to the dog park without her.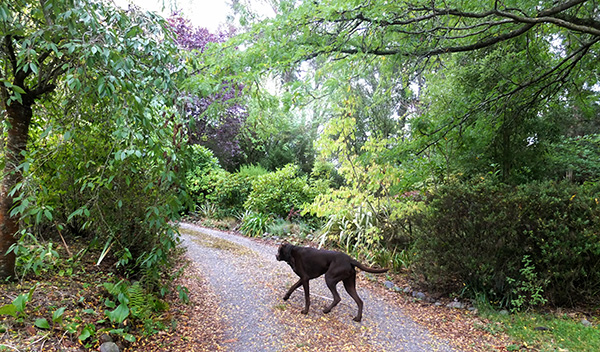 Escher in the Driveway
OK. We are off again around the driveway. I can't find my gumboots, and my waterproof boots are filled with dust and dirt. So the driveway it is, much kinder on the feet.
The rain has turned into drizzle, anyway, and the roses (many covered in raindrops) look sooooo pretty!
Tuesday 28th March
Winnie's paw is no better. Her frisbee (actually a 'dogabee') and her moon ball are off limits, and I am trying to 'rest' her. Young border collies do not embrace the concept of 'rest'.
Escher waiting
The rain and drizzle have stopped, so I might do some gardening in the Stumpy (AKA Willow Tree) Garden, having just tidied this area up in my web-tour section. My goodness, those tour pages were weedy and messy!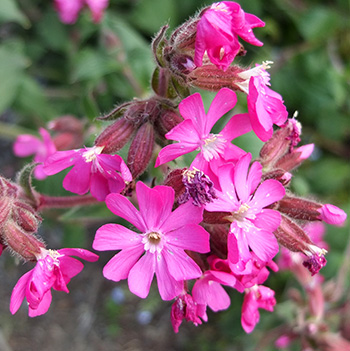 Campion Flowering
Decisions!
Photographs (and words) were badly out of date. Before spring 2013, when next-door's pine plantation was standing, the Stumpy Garden was pretty shady all year round. So the swathes of iris confusa looked fresh and green, and so pretty when they flowered in spring. I've since pulled them all out - far too much sun and exposure left them in a dreadful state. And we can't have that! Now I need to decide whether or not to allow the self-seeding Campion to flourish. Hmm.
So here's this morning's pressing question : Can I do two hours gardening and then go out to lunch without changing my clothes? Hmm again.
Later...
And the answer is..... No. Oops.