Slower than slow?
Going for the early morning walk with the dogs and Non-Gardening Partner - I am slower than slow. I plod resolutely along as they all disappear into the distance. I am always left behind... Perhaps slow = old. It is mid-winter, so maybe slow = cold?
I am not a dog...
Or could it be that I am simply not a dog, and Non-Gardening Partner has the sprightly legs of a forty-year-old? Aha! This sounds more like it. So he will definitely be up for a whole day of chain-sawing! Yes, yes, yes.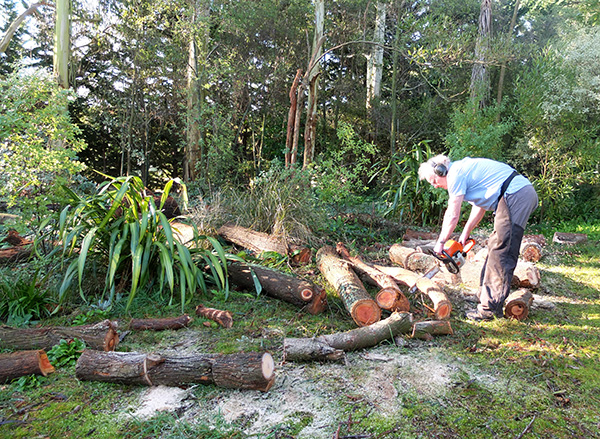 Chain-sawing
And he did it. We've all had a big day. Two chain-saws roaring, lots of logs cut, lots of logs rolled and heaved and stacked, slightly sore shoulders (me), NGP complaining a bit about his back. A day's chainsawing does that for you. A hot bath seemed to sort things out. I decided working slowly is not a problem. Slowly, but surely, that's my motto. And the days are getting longer (by about thirty seconds, but that's better than nothing). Now it's really dark, I'm ready for bed, and it's only six o'clock. Oops.
Next day. OK. More clearing. More rolling of logs. A bonfire of small scrappy mess waiting to be burnt. Sun streaming in through the remaining row of tall gum trees. Most of the trees chainsawed up. Ooh goodie. That means the tree men can come back, fell what's left standing, and make another ginormous mess. Oh. This will still all be pretty wonderful, though. The house and the garden are already so much lighter.
Later...
Four hours work, and very little to show for it. Unless one counts the logs I've rolled onto the lawn, ready to be picked up by the trailer, and the bonfire, stacked with rubbish, gurgling away rather grumpily. The sun's just gone down, and I have to drive in silly (AKA peak-hour) traffic into town to take a music rehearsal. Oh well. I can do this. Tra la la.
A few days later...
Family members have come to do more chain-sawing, and finally all the logs are cut into rings. All cut! Wow. I've been rolling them down the slope and heaving them over the fence-line. Grunty, thirsty work!
The Logs are cut
I reckon I've got three days stacking work left, and then - aha! The tree men can come back and finish their job. Right. Another hour of daylight is left - another hour of heaving and stacking. Then maybe a hot bath? A glass of House Merlot? Clean clothes, socks that are warm and dry, slippers, food? Hmmmm. Time to enjoy being really slow. Bliss...