Dog manners?
This morning I felt sorry for my two collies Winnie and Pebbles - yesterday had been a boring, in-our-kennels day. So off we went in the rain for the longest walk. It was supposed to be peaceful, three friends together. There would be no barking, just good dog-manners...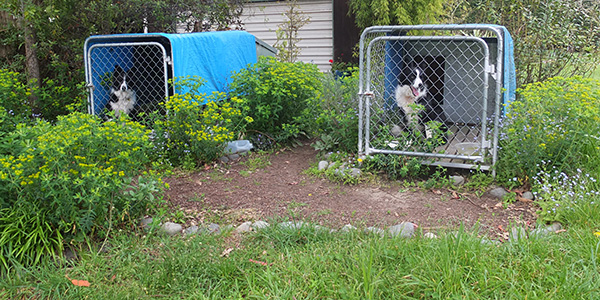 Dogs in Kennels
Ducks (thankfully no ducklings) were bobbing along in the water race. Usually when I arrive to cross the bridge with the dogs the ducks immediately fly out and away to safety. But one confused duck dived under the water, giving the canine tag-team time to position themselves.
Duck Escape Route
Aargh! She splashed around in a circle, a barking dog on each bank. Pebbles caught her, briefly, as she tried to fly out. I yelled. It was just horrible!
Paddle for your life!
Duck managed to flap back into the water and paddled downstream for her life. Yelled again at my dogs, as one does (and probably shouldn't do, but in the heat of the moment...)
Winnie (dear dog) came back to me, but Pebbles? No way! Not the slightest bit interested in me. She crashed through my gardens, jumped the fence, and continued on next door. Dog on a kill-the-duck mission - I had no control of her. Felt useless.
Then - aha! Brainwave! Bellowed at the top of my voice 'Breakfast for dogs! Breakfast for dogs!' I didn't mean the duck. And Pebbles re-appeared, panting, duck-less. Phew! So we went back into the house to eat and compose ourselves.
One of my Fred cats watched everything from the bridge. My shouting didn't seem to concern him at all, and he was quite interested in the squawking duck. This will be his first duckling season (cottage cat Minimus has already presented me with one, sadly deceased). Please, ducks, no ducklings in my garden or pond. It isn't safe.
Some nice things that don't involve the potential cruelty of nature. The Wisteria on the patio is in flower. So pretty, and so fragrant. I love it! And there are some other firsts. The yellow Bansksia rose, which is covering half my washing line, is just about to burst out of its buds. The brick-red tree peony is flowering, as are the deciduous Azaleas near the water race. Aquilegias are starting to bloom, too.
Spring marches on...
So spring marches on. High time I got some lawn mix and lawn seed. Bare patches in the driveway lawn need attending to.
Come On Pebbles!
Right. The rain has stopped, so we are off for another walk to say hello to the blossom. Cross fingers there are no ducks in the pond. Hmm...