New plants...
Mary Rose
A friend has just moved, and her new property has five roses she doesn't want. I'm off around there to dig them up. I don't actually need any more roses, but hey! They need a new forever home, and just might be amazing and beautiful, like Mary rose (my namesake, hee hee).
OH. MY. GOODNESS. I'm back. Did she say five roses? Well, there are more like twenty-five. Little ones, medium ones, some rather large, a couple of climbers, the traditional white Iceberg standard, a pretty delicate pink fence leaner (maybe a climbing version of The Fairy? Must check)...
And other plants : Camellias, Rhododenrons, evergreen Azaleas, various mound forming rockery plants, Dahlias (just sprouting), Fuchsias, three recently planted fruit trees (a nectarine, and two peaches, with name tags)... And lots of other things I can't remember. I'm to take them all, or they go in the skip, she said. The larger roses by the house are flowering, and are absolutely beautiful. No, she just doesn't like roses. Are you sure you don't want the fruit trees? No, that back area is being cleared to plant New Zealand natives. Blimey. Oh heck.
Well, I dug out three smaller roses, four pink Dianthus clumps, and what I think is a Lithodora. They filled the back of my little car, and are now all soaking in water. I have booked Non-Gardening Partner for Sunday afternoon, needing his man-power and his trailer. Oh my goodness. So many plants that she doesn't want, and I heard myself saying 'I'll take them all'. As one does. Oh dear.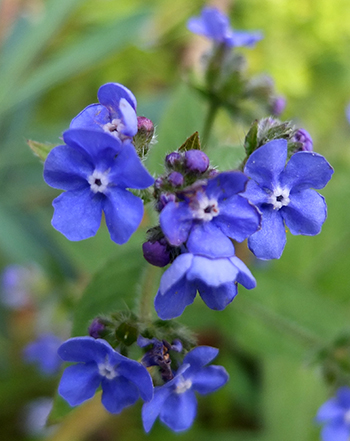 Alkanet Flowers
Next Day...
Am feeling overwhelmed, but excited, if that makes sense. I'm going to clean out (ha ha) the Alkanet from an undeveloped area of the Hump and plant everything in there. There'll be just one (large) area to water madly. So later this morning, after chamber music, I'll get the new plants' garden ready. Oh boy! Just when I was lamenting the fact that I had too much to do. Hee hee. That's garden life!
Later...
I'm back from music with a car full of bags of potting mix, some expensive hand tools (the incentive is not to lose them), and - alas - the smallest amount of energy. However, it is a hot day, I have a plan, and a shovel. It's too hot for digging at the moment : full sun, sweat pouring down face, sunscreen running into eyes, no thanks.
Later...
The power of two! I dug for two hours, wheeled out two barrowfuls of Alkanet mess, and I reckon it will take me two days to clear this garden area. Thoughtful thought : removing Alkanet from the Hump will not deprive my bees. There's plenty more in other garden areas (darned weedy perennial that it is). I've also sown lawn seed by the cottage and watered it in. And bless me - as soon as I turned the watering hose on a tree frog started - singing? - in the Driveway Garden. One of my Fred cats was most interested in the noise. Silly frog!
Start of the New Hump Garden Area
Oops. Where is my twenty-five dollar hand digger? Think I've left it outside. Naughty. Hopeless. Irresponsible, even? No, just plain naughty.