Obsessive and repetitive?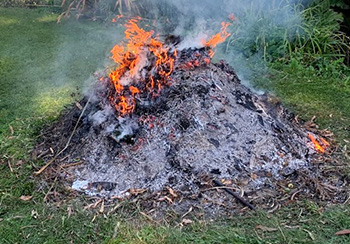 Autumn Bonfire 2019
Over the next days and weeks this gardening journal just might become obsessive and repetitive. Highly unusual for me, this? Best not to say anything further, hee hee...
Open Fire Season
It's open fire season. I am allowed to have a sensible bonfire with water nearby. So cleaning up my burnable messes is pretty much all I can think of to do, each day. Or not, like today - yeay! It's too windy. Am thrilled. A wonderful reprieve.
Instead of getting hot and smoky I am having a quiet lunch on a Bulgarian train (thanks to Youtube and Cab View) cuddling a Fred, don't know which one. Have to check tail stripes - aha! It's Black Fred, Mister Smoochy Two Tail Stripes. Have removed their red and black cat collars, because of a certain climbing incident (click the link for all the scary details).
Pebbles with Black Fred
Later today I will take the dogs out and put on the hoses, so I can at least get a tiny gardening tick. And to get a dog tick - we will throw the Frisbees, because the ram is in the orchard paddock with four oh so lucky ewes, and I wouldn't want to disturb him, would I?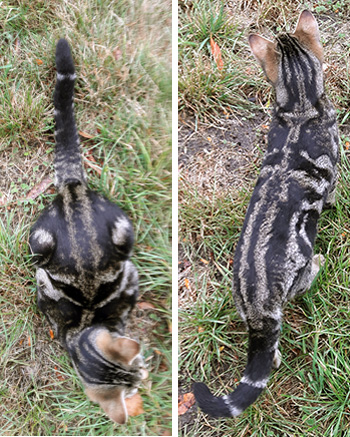 The Freds - Spot the Difference
Next day...
Humph. It's the perfect day for bonfiring - cool, no wind. So I've been doing just that. I've cleaned up all the Viburnum, layering it with gum tree leaves collected from near my cottage. I've thrown the trunk chunks under the hedge. Red Fred has provided gardening company, and today the bellbirds have been teasing him, whistling at him from tree to tree as he's followed me around.
Daft duck...
Bad unseasonal news for the wildlife in my garden - a daft duck is swimming in my pond with eight ducklings in tow. It's autumn! Managed to distract the dogs, then wished the duck good luck, that's all I could do.
And bad seasonal news for gardeners who don't really like bonfires (me). The hedge trimmer man is due any minute now, coming to look at the Leyland shelter hedges. He is to be booked in to trim them all. Horribly soon there will be even more mess to collect and burn. Aargh!
Next next day...
Today I started hacking down the diseased Viburnums in the middle of the Jelly Bean Border, and chopping them into pieces for the bonfire. I burnt in layers - dry mess from by the Pump House, smaller Viburnum branches. more dry mess, and so on. There's nothing more to say.

The Dogs - Spot the Difference
Next next next day...
Today I enjoyed (not) a more modest bonfiring afternoon. I barrowed over some of the mess by the Allotment Garden, and sawed down more Viburnums from the Jelly Bean Border. I intend to clean the whole of this interior out, leaves, suckers, and all. When I can find my decent loppers, that is. Oops.
Autumn Colours
One nice thing about the bonfire is the huge clump of magenta dahlias in the nearby garden. They are still flowering - on and on they go, and I never remember to dead-head them. Lovely colour, magenta, in a country garden.