Canoes and Cats...
My latest phase : I have my breakfast watching intrepid Youtube canoeists journeying through Canada's wilderness of lakes and rivers. They paddle for hours, portage over rocks and through forests. They pass moose and the occasional black bear. What I do in my real mornings could be considered very dull and tame...
Spring in the Driveway
So this morning we (the dogs and I) went off down the driveway for our first walk. Black Buster the cat came too. Oops. There was a Fred. Buster slipped discretely into the garden, which luckily was thick with spring greenery. Black cats (like black bears) do have issues with camouflage.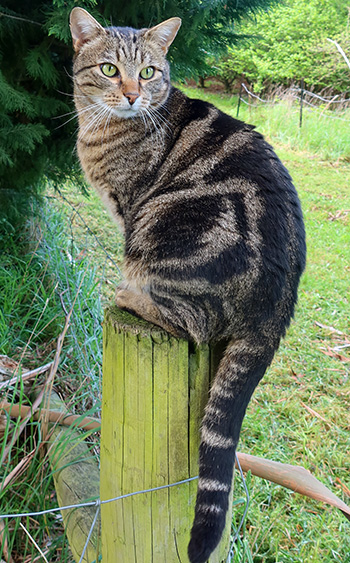 Black Fred
We got to the corner to be met by the other Fred. Oops. Saw a flash of black by the Stables wood pile - Buster, keeping out of trouble. And trouble there was - an immediate Fred stand-off, with much howling.
Trouble averted...
Ha! First, each dog chose a Fred and vigorously licked their face. Then Buster flashed out of the Agapanthus and zoomed right through the middle. Poor Freds! Impossible to keep up a serious fighting pose with such distractions. Tension dissolved, tail size back to normal, and Black Buster was declared the winner.
A sad old thing?
Call me a sad old thing but I found all this interaction really, really interesting. Not dull at all!
Later...
This afternoon I did more trimming around the back lawn's garden edges. Threw Winnie's ball so many times. Black Buster kept me company. Worked for three hours, was very proud (had been very tempted to go back to bed with my book). Always feel better when I've done some physical work. Not in the same league as those canoeists, but hey!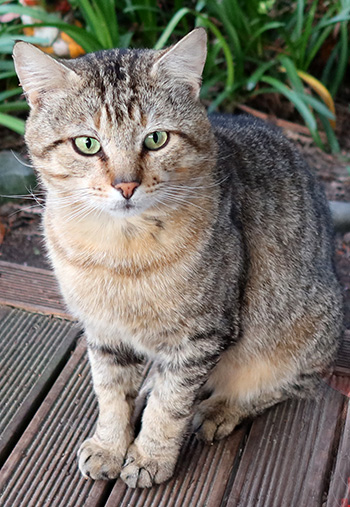 Speckles the Stray
Thursday 27th October
So yesterday was my big music rehearsal day, with little time for the garden. I got home about 10pm, really tired, and wandered over to the cottage in the dark with food for the cats. Heard a chirpy miaow from the cottage verandah. Minimus? Is that you? Silence. Speckles? Is that you? Chirp, miaow, chirp, miaow...
Awwww...
Awwww. It was Speckles the stray, greeting me properly, cat-calking to me, not hissing. In fact, I haven't been hissed at for two weeks now. Not bad for a year's worth of feeding. Decided that I was a silly, sentimental old thing (as well as sad), but that I was completely OK with that. Wouldn't change it for the world. Love my cats and dogs - they give me much happiness. Their daft antics make me laugh, and they fill up my days with joy.
And now time for some restful resting up with cats and dogs in the house snoozing on various chairs. It's raining, and my garden needs rain more than it needs its gardener. Have been to ballet twice today, rehearsing for THE big performance this Saturday.
A collection of random thoughts to finish this journal page. Loving the spring colours - walking or driving along the driveway is magical, especially passing the pale pink rhododendrons. Found a white rose flowering in the Hump garden. Very early!
Wisteria
The Wisteria smells divine up high on the house pergola. Have planted a couple of huge tubs with potatoes, placed them underneath. Let's hope this works out. Fragrant spuds?