Feature the features!
As well as rambling paths, over-grown borders, and floppy dahlias, I have some interesting features in my garden : stone retaining walls, bridges, a Koru styled brick courtyard, a brick Herb Spiral, an ornamental pond and so on. I need to make features of these lovely features!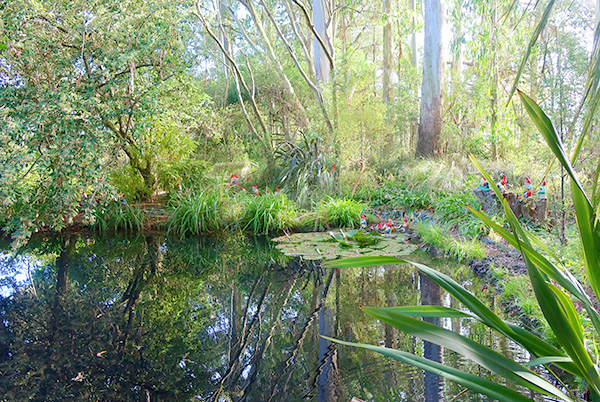 Early Morning Pond
So far, so good. The Herb Spiral is sorted. I've dealt to the wee stone wall around the big gum tree in my front lawn. My goodness it looks good when visible. Also picked up gum bark from the front lawn. Four barrowfuls. Burnt the lot.
Stone Wall and Agapanthus
I've cleaned up the larger stone wall by the fence-line - granted, it was fairly superficial weeding (didn't reach too far into the Agapanthus). But the stone wall looks so much better, even if the garden it hold in place desperately needs watering.
More features!
My bridges are also features. I've trimmed the pushy Gunnera leaves which were making Willow Bridge impassable, and today's plan is to stand in the water race and clear excess ferns etc. from around Middle Bridge. It's too hot for doing much else : this morning I started bucketing water onto plants the Herb Spiral (the brick feature which I cleaned up last week). I ended up getting quite cross - not good. I will ask for the big irrigation to run tonight. And guess what? There are new huge strips of gum bark littering the house lawns. Grr...
Where's the path?
And now I've remembered the paths, which of course are garden features. So many paths, some whose status I haven't checked on, and others which just require some strong leg pushes to get through.
And in the middle of all these features the dahlias are in full flower. I seem to have more than last year - funny, that! You beautiful things.