Garden Clubs & Societies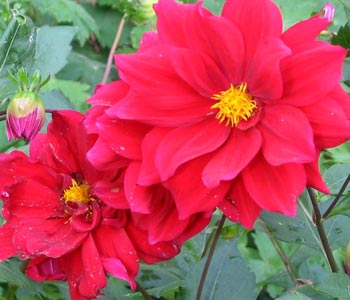 A Humble Red Dahlia
In all countries there are garden clubs and societies where gardeners can get together, swap plants and stories, and socialise. Specialised growers and breeders also love to share their experiences with others.
Often garden clubs are run by tireless volunteers. Everyone is brought together by their love of the garden.
Joining a club or belonging to a garden society is a great way to extend your knowledge about plants and gardens. It's comforting knowing that others have also been bitten by the gardening bug. Whether your passion is for alpines, or dahlias, or orchids, or fuchsias, there will be a society or club wanting YOU to join.
The following links are just a modest few for the millions of clubs and societies out there. If you'd like your garden club website listed on this page, please get in touch.
In New Zealand

New Zealand Clubs

New Zealand gardeners will find interesting links to local societies here.
UK Societies

Royal National Rose Society

The Royal National Rose Society is the world's oldest specialist plant society, founded in 1876. The society aims to encourage, improve and extend the science, art and practice of rose growing.

Garden History Society

The Garden History Society campaigns actively to help to conserve the UK's historic landscapes, parks and gardens for future generations.

Alpine Garden Society

For everyone interested in alpines, small hardy plants and bulbs.
North American Societies

The Garden Club of America

The Garden Club of America, among other things, lists Garden Clubs in the USA.

Ontario Hosta Society

An active society, with regular newsletters and guest speakers.

Sunnyvale Garden Club in California

Sunnyvale Garden Club is very social and active in the local community, supporting heritage garden projects, giving horticultural scholarships, and even running a junior garden club. Their club flower (what a lovely idea!) is a shasta daisy.