Bargains in Pots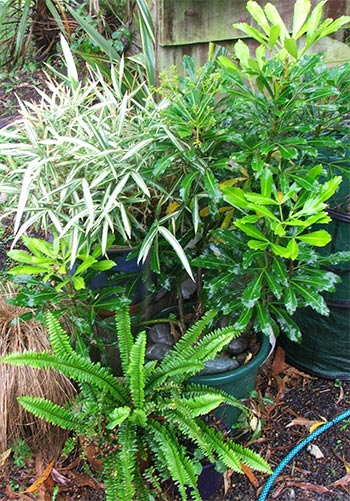 Happy Pots
I love visiting the nursery plant sales. I love peeping at the Bargain Table, picking out shrubs I like, trying out new varieties. A favourite strategy is to display the new plants in groups of containers, then plant them out in the garden later on.
Outdoors Pots
It's a good chance to experiment - particularly about a shrub's reaction to light frosts, or lack of sun. I buy these sale price shrubs for their foliage, so it's also a good chance to get interesting container plantings to enjoy throughout winter. Naturally they contrast beautifully with the flowery pots of summer.
Everything I buy is supposed to be hardy and tough, so the pots stay outside, often in sheltered places. Sometimes I'll move their pots into the garden proper to fill a gap. If the roots escape through the drainage holes, the shrub in its pot stays put!
Usually the plants spend at least half a year in their pots - then, when I'm expanding somewhere in the garden, they will be released and planted properly. The next nursery sale is never far off, and will provide the next generation of container foliage plants. Seems like the perfect plan, and a great excuse to go back to the nursery with wallet in hand.
Sale Plants in Pots
New Zealand Natives
A lot of my New Zealand natives start off in pots - particularly coloured hybrid Cordylines and Phormiums. Then so many of the New Zealand natives are beautifully ever-green. Pots with foliage plants are rather lovely. But everything in a pot needs careful watering, and this is often my downfall, particularly in midsummer.
This group of container shrubs came direct from the Bargain Table of 2004. There's a Tricolor Phormium, a variegated Carex, two slightly frost-tender Coprosmas, a New Zealand native larch and a New Zealand Myrtle.
They only stayed in their pots for a short time - and wow! You should see them now, happily growing well in the actual garden. The Larch is twice as tall as I am. It could never have stayed in its pot!
And so the happy Head Gardener has a great reason to pop into the next nursery sale - just checking out the bargain shrubs, just in case.