What Are Your Plans for 2009?
Attending to Details
So what are your plans for this year? asked an acquaintance whose call had interrupted my tired apres-gardening dreaming session. Aargh! Easiest to quote my New Year's Resolutions, which were 'Playing the piano every day and paying attention to garden detail'.
Garden Details?
She sounded puzzled and uninspired. Were there to be no grand walking tours in the Andes, no huge house renovations, no amazing family weddings? And what did I mean by garden details? This was a long distance conversational catch-up, so she persevered. Exactly what sort of garden details was I so whole-heartedly planning to devote my year to?
Aargh! I was caught off-guard. New Year's Resolutions are a bit like goal-setting exercises for me - I don't put all that much thought into them. Conversational panic ensued... 'Well, at the moment I'm making a huge effort to dead-head the Penstemons' I said. 'And I'm deliberately planting things that I can see through the downstairs house windows... Pretty things - like pink flowering geraniums' I added, trying to make it sound more interesting.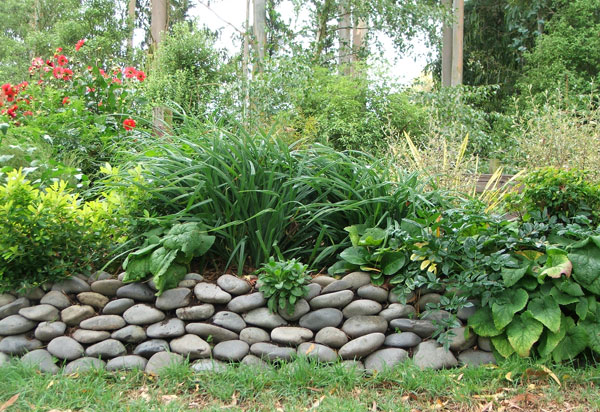 The Moosey Stone Wall
I'm glad my friend didn't ask me about the highlights of 2008. Let's see - I built the grooviest stone wall, and planted a shrubbery, and laid truckloads of horse manure, damp newspaper, and mulch. I fixed heaps of planting mistakes, shifting things like rhododendrons at exactly the right time, so that they flowered gratefully in their new spots. But best of all I learnt more about my garden. I had huge revelations about ponds and paths. I even worked out where the sun goes (don't laugh - this is not easily done in advance, with trees growing taller each year).
Some Plans...
After her call I thought I'd better formulate and clarify some serious 2009 plans - in case I need them ever again in conversation! My 2009 plans for a beautifully presented, vibrant, expanding Moosey garden are as vague, and as delightfully random as past years have been. They are trivial offerings, compared to walking the Pilgrim's Way or kayaking around the coast of Greenland. Who knows what I'll get up to? A gardener is who I am, and gardening is what I do.
Grand Garden Designs?
I'd like to see if I can impose (maybe not the most appropriate word) some sense of grand design over all my garden borders, my paths and lawns, my woodland and wilderness places. And to do this I will have to get really good at attending to small details.
Something Stony
I want to build something with river stones, modular materials that I can easily collect and handle. A wall? A tower? A belvedere? I use stones for path edging, and at the moment I'm trying to shore up the banks of the water race with really heavy ones. They are a natural landscaping material, since the Moosey garden was originally a braided river flood plain.
Gnomeland?
Something Silly
And I want every single window to have special garden views (like the new stone wall), in all seasons, for those long dreamy indoor moments. I am determined to utilise more of the tree stumps that litter the garden, by placing groovy accessories thereon.
These may be as stylish as a cool slim pot, or as silly as a collection of new Garden Gnomes. Having only one gnome seems a bit mean spirited...
And later in the autumn I'm going to plant some heirloom fruit trees in the orchard, and maybe try putting in some blueberries. Yum!
Aargh! Even my spam mail is onto me. 'Where do you want to be a year from now?' it keeps on asking. The answer's a no-brainer. In my garden!