A Host of Golden Daffodils
September is the month of the Moosey daffodils, where the results of my random, haphazard purchases and plantings of spring daffodils are beautifully visible. Many colour combinations of yellow, cream, soft orange, gentle brick red, salmon, peach, lemon, off-white can be found lurking in the grass, or peeping out of the winter-mulched garden borders.
Mixed Daffodils by the Roadside Fence
Some are upright - strong and simply dazzling, while others are sadly drooping. I've found anti-social loners with short stubby stems, and graceful packs with tall bendy stems, faces to the sun in daffodil unison. I'm so glad I planted them, all those years ago!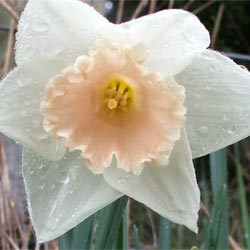 Pretty in Pink
My Favourite Pink Daffodil
'What's your very favourite daffodil?' asked a non-gardening visiting friend the other day. Impossible to answer! A few weeks ago it would have been my little miniature yellow trumpets - they sit low to the ground, heads down, looking pristine and beautiful. Then yesterday I found myself admiring the simplicity and style of the large ivory whites under the Willow tree.
But wait - what about the salmon and cream ones? Or that odd bunch in the Driveway Garden with streaky lemon striped petals and a dull brick-red trumpet middle?
So I've picked (in both senses of the word!) three of my favourites, in answer to my friend's question. No names - my excuse is that New Zealand names would possibly not be recognised in other gardening countries.
Lovely in Lemon
My Favourite Lemon Daffodil
In an attempt to be both chatty and informative, I've also done a bit of light reading. Specialist daffodil growers classify their bulbs by flower types - there's more to these lovely spring flowering bulbs than flashy split coronas and bright yellow trumpets.
The Royal Horticulture Society's daffodil classification system, as of July 1998, includes thirteen different divisions. The rules make for quite scary reading, and one definitely needs to know the proper vocabulary - for example, the perianth refers to the petals that surround the centre, and the corona refers to the centre portion of the flower. Ha!
But still the Moosey Daffodil Festival blooms on and on, in complete ignorance of the proper classification system! Every spring the general yellowness is heartwarming, and I am so thankful that I bothered to buy and plant the bulbs.
Bold and Beautiful
My Favourite Bright Yellow Daffodil
Take my bags of hundreds of mixed daffodils, bought in a flurry of spending in the autumn of 1999. Many were roughly planted along the roadside fence - they are all short stemmed, and well and truly mixed!
Names? Types? I don't know. My roadside beauties are from a local daffodil farm, with complicated (for me) code labels. Narcissus AJ-32-D6 isn't nearly as scary as 'Ice Maiden' or as cute as 'Tete-a-Tete'!
The nice thing about growing daffodils along the road is that more people get to enjoy and appreciate them. I keep promising myself that I'll buy in enough bulbs to finish the fence-line display.
In the Spring Bulbs section you'll find many more photographs of many more daffodils, if your favourite isn't here on this page...