Stars of Spring 2005
Spring is here! The Head-Gardener races out twice daily to check if the spiky red Camellia has started flowering, or the fence-line daffodils have popped up out of the grass. It's a teasing, catch-me-if-you-can time - I leave the garden home-alone for a couple of days and suddenly a host of new plants are flowering.
Beautiful Spring Colour
Early in spring I try to pick out some special stars and capture their fleeting moments of beauty and colour. Of course, garden nurseries do this, in order to sell! sell! sell! new plants - they have glossy, colourful publicity, and often the plants have been 'forced' to bloom early, just to catch the shopper's eye. A week in the real garden certainly sorts out the pretenders. My spring stars aren't so glossy. They're honest, hard workers - plants which well deserve their moment in the sun!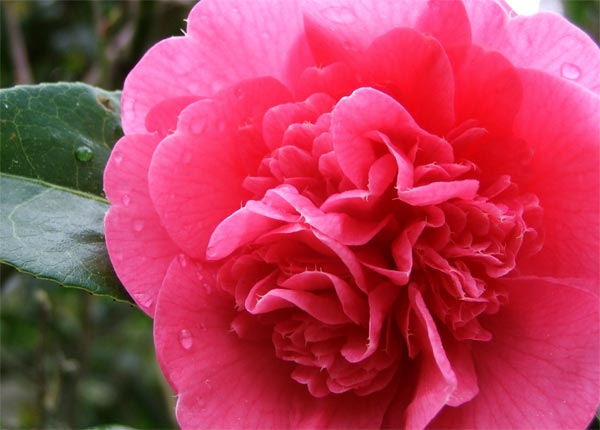 Star of Spring 2005 - Pink Camellia
Winter is full of subtle foliage stripes in the Moosey garden, with very little flower power. Spring colours start appearing in the month of August. Looking down I spy the spring bulbs - blue and white crocuses, first yellow daffodils and such. Looking up I see the Camellias - and the beautiful pink shades I've missed so much. My first Star of Spring 2005 represents all Camellia shrubs which delight so many gardeners. It's a deep pink anonymous Camellia which I can enjoy from the house.
Winter Roses - Spring Stars
My second Star of Spring 2005 is the lime green hellebore. What a stunning flower colour this plant is! And there's more - its stalks are strong and wind-proof, with flower-heads impossible to miss or ignore. I even suspect it's a fashionable colour - definitely one of the loveliest green shades I've ever seen, deserving to be in the limelight!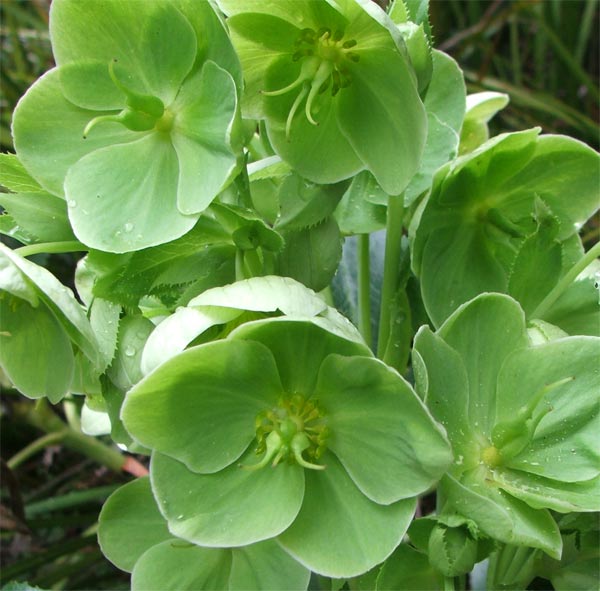 Star of Spring 2005 - Hellebore
My third Star of Spring is technically a Star of Winter. The Moosey garden relies on a lot of filler shrubs to create much needed shelter and wind protection. One of the most common shrubs I use for this is Viburnum Tinus. I can chop it down, ignore it, transplant it, try to dig it out... However badly I treat it, from winter through early spring Viburnum Tinus will flower beautifully, in a mix of lovely old-fashioned creams, pinks, and whites. 'Makes a good screen' one of my shrub books says, dismissively. Viburnum Tinus, enjoy your special moment! You're more than a 'good screen' to me!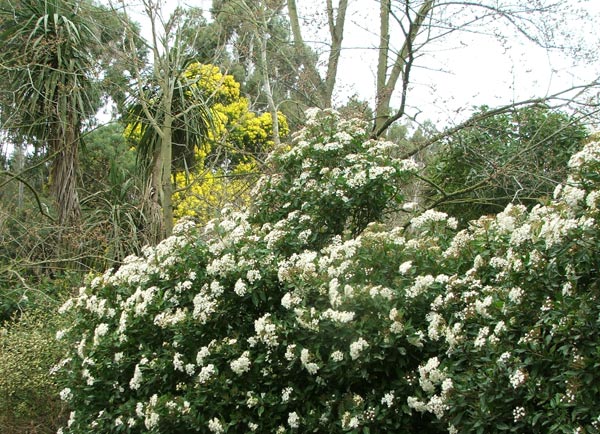 Star of Spring 2005 - Viburnum Tinus
Finally, a small tribute to two small spring flowering bulbs. Thanks to the little blue grape hyacinths (Muscari) which grow in ill-disciplined gangs around my garden, and whose seedlings spill out onto driveways and appear in compost heaps. These plants are sparrow-like - common, charming little survivors. And thanks to my miniature daffodils for being so beautiful, so small, and for flowering so early in the spring.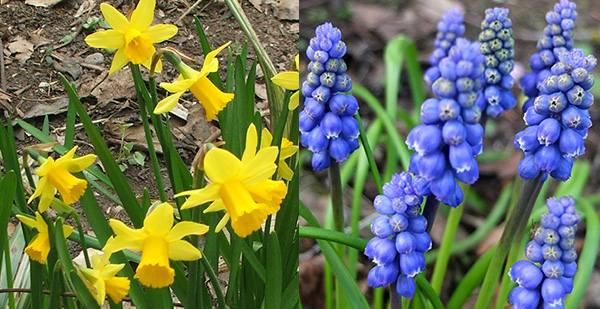 More Stars of Spring
After a night of rain and wind, when other daffodils are lying stricken with their flowers in the soil, my miniatures are still there, holding themselves upright, doing what daffodils should do. I love them - every spring I plan to buy lots more, and every autumn I totally forget about them. Formal recognition for years of service to the Moosey spring garden will hopefully change this!
So this is the Moosey 2005 Spring Collection of garden stars. They've all earned their place in the Moosey Garden, and I wouldn't be without them.