A Positively Messy Garden
The Moosey team (that's me, by the way, at the moment in sole charge of weeding, watering and webbing) has been asked to contribute some photographs to a Canadian production. I love the Moosey garden images to be recycled, so naturally I've said yes.
A Positively Messy Garden?
There's to be a documentary about - wait for it - the positive value of a certain amount of messiness. Apparently there are many suitable images of messy gardens on the Moosey website. What's more, they've been identified as 'positive messes'.
Indiscriminate Plantings
Giggling out loud I started a search through the journal pages looking for messy photographs. Problem number one - I couldn't find any. Naturally, though I claim with great pride to be a free-spirited, random, indiscriminate gardener, I restrain myself from publishing too many photographs of mess and 'indiscriminate plantings'. I'm artistic, not messy!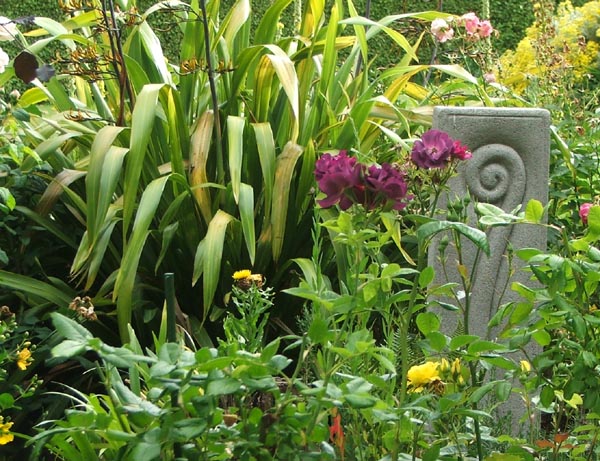 Artistic - Not Messy!
I might be writing about piles of rubbish and random weed colonies, but my image choices show the garden at its sparkling best. Series after series of clear coloured rosy close-ups, mid-shots of shrubs brimming with youthful beauty, and scenic landscapes when the grass has been mown and all the border edges have been sharply trimmed... I am misrepresenting the real garden out there!
No Messy Photographs Allowed!
So I looked in my archives for a set of 'messy' photographs to send. Oh dear! Never underestimate the vanity of an older-lady gardener. I started to feel more and more peeved. Messy? Humph! I work so hard in my garden clearing up mess. How dare these strangers describe my garden as messy? Their documentary request was mildly insulting.
Textural - Not Messy!
What a silly! I should be delighted at being chosen to represent good randomness and positive messiness. But, if there's a mess out there somewhere, then I should be prepared to photograph and publish. A real garden visitor who has been feasting on my sanitised, carefully cropped pictures would be very disappointed.
Randomness Celebrated!
Long straight rows of standard Iceberg roses edged with box plants? Same-size pencil thin conifers, distance in-between exactly measured? Bedding plants, colour coded? No way! I will continue to celebrate randomness. Being identified as a gardener with a positively messy garden is a compliment. I'm giggling again!