Late Summer Roses
My roses are beautiful in November - that's late spring in my garden. But the flower colours are deeper and their garden contribution much more appreciated in March, my late summer.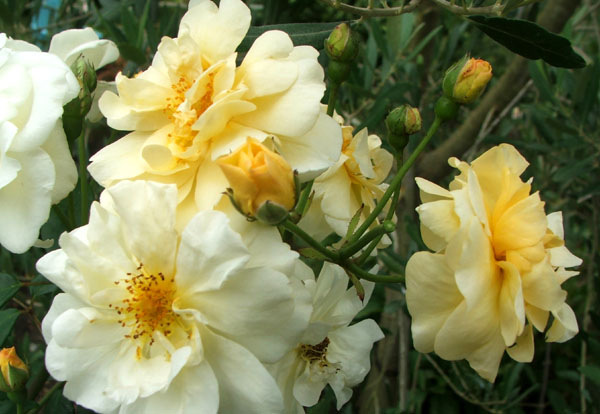 Danae Rose
I sometimes wonder if roses are ever a little embarrassed by the term 'second flush'. One immediately imagines a poor tired old thing, desperately trying to show off. Nothing could be further from the truth.
Gerbe Rose
Second Best?
And roses simply do it better the second time. Their shrubby bits may look tired and scruffy, but their flower colours make up for this by being so much more vibrant and saturated.
A Faithful Dead-Header
For the in-between weeks I've been faithfully dead-heading my roses and trying to make sure they get enough water. I forget that there is more flowering to come, and often wonder if they'll ever look good again.
Not one drop of chemical spray touches their leaves, and so I can easily find light splatterings of black spot. The Gerbe rose which grows near my pergola is particularly naughty, and I always threaten her with the burning heap. Oops - then she blooms again.
David Austin Favourites
David Austin's darker roses seem to enjoy the more mellow daylight of autumn. William Shakespeare looks deeper and more meaningful, while tragic Othello is more purple than the worst gardening bruise.
Two of my prettiest paler David Austin roses, English Elegance and Abraham Darby, annoy me by insisting on hosting autumn aphid revivalist meetings. Normally pastel, their flower colours are beautifully deep and luscious - I've forgiven them already!
Abraham Darby Roses
At this time of the rose year I truly appreciate my Iceberg roses - white, brilliant pink, blushing pink and burgundy. They are the least complicated roses in the whole garden, having taken a decent break away from flowering. Icebergs never show the slightest tendency to show-off in the in-between season.
Brilliant Pink Iceberg
I wish my new standard roses would do the same. They've been foolishly trying to provide one flower - just one at a time, at all times - for the Head Gardener's enjoyment. Hopeless!
Deeper Colour Shades
Second flush flower colours are just brilliant. The most surprising shades can be seen in the apricot and buff coloured roses like Buff Beauty, Crepuscule, and Ghislaine de Feligonde. Their first flowering show was pretty pastel - nothing too startling. But in late summer it's so different. They colour up like drama queens in deep, fruity shades.
Ghislaine de Feligonde
I know that roses can be pruned to flower at all sorts of times. But in my country garden the blooms stay mainly on the bushes, so the shrubs are free to choose when they flower. Mind you, Compassion often fills the house with her beautiful fragrance as well as colouring up particularly well for autumn.
Humble Thanks
I love being able to grow roses, though my parenting skills are less than perfect. Most of my roses are generous to a fault, and they deserve my humble thanks for surviving. They are continually surprising me - especially their later flowering flush. Thanks a bunch!