Mid-Autumn Colours
It's mid-autumn, in the gardening year 2019, and I've been out and about taking photographs of autumn colours. But it's not all about the deciduous tree leaves turning gold and red. There's so much else to marvel at : brights, pales, blushing pastels, screaming fire-engine reds...
because there have been no frosts yet, dahlias are still flowering, and foliage plants are still showing off in their pots. The roses, naturally, keep spasmodically flowering for the next weeks.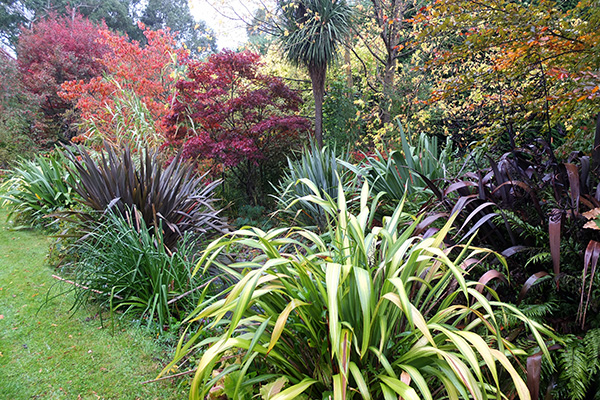 Autumn Colours in the Dog-Path Garden
Sometimes the colours are definitely autumnal (decaying foliage, deciduous leaves turning and fading), but not always. It's such a mixture. And of course each day more and more leaves flutter down, as the trees start to bare their branches to the blue mid-autumn sky.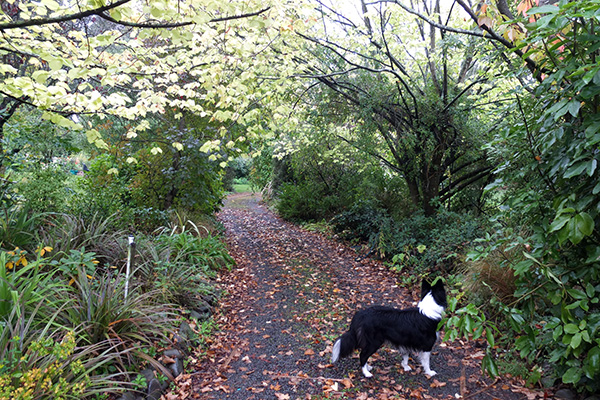 Dog in Autumn Driveway
Couldn't resist a tiny list. Here are some of my colour reflections :
Colour reflections...
Mid-autumn's version of the Golden Elm - pale lime green. So restful.
Leaves of perennials colouring yellow, red... Lovely.
Dahlias - reds, reds, and more reds. Then a garish bright yellow. Rebel!
Roses - some stunning pinks in bloom.
Shrub and plant foliage - all shades of green.
Mid-autumn in my garden is definitely the time to be visually vigilant. Enjoy!