Peak Season Garden Tours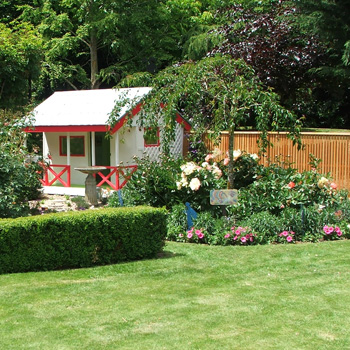 Playhouse Country-Style
It's the early-summer Garden Tour season, and I've been to my second one in three weekends. This was a serious tour - proper open gardens were featured, properly designed, with proper gardeners. Oooh! I'd be seeing how the 'other half' gardened...
What to Expect?
I never know what to expect from a Garden Tour. I certainly don't want to return home either madly envious or totally self-satisfied. Perhaps something in-between?
Gardens are not supposed to be competitive things. Is my own garden better? Who cares? Well, maybe I do, in a weak moment, but it shouldn't matter. Anyway, this garden tour was interesting and lively, with country homes and gardens beautifully presented. None of the gardens spoke to me very much - but I probably wasn't listening. I returned home with my personal garden equilibrium and self-esteem intact. Phew! And my head still full of my own plans - so much to do, and so on...
A Green Confession...
But I do have a rather 'green' confession to make. Oops. Gardens chosen for peak-time open viewing, namely early summer, have really made it onto the A-list. Whereas the Moosey Garden has only been an official open garden twice, and in early winter, when the local Garden Club has been short of places to visit. Hmm...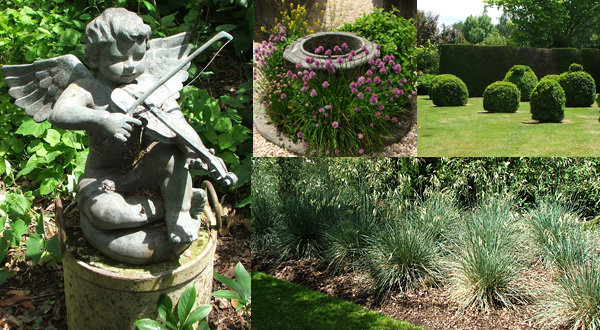 Garden Tour Images
So this explains my slightly dodgy attitude. I prefer visiting gardens where there are enough imperfections to make me feel welcome - an unruly shrub, a few choice weeds, lawns that have obviously been paddocks... Alas, on this tour there were no paddock-lawns to make me feel at home, no edges left undone, and barely a weed. And only one garden was brave enough to have a lone garden gnome fishing by its pond. Personal taste, I know...
Bridge Country-Style
Pond Styles
I enjoyed seeing the different pond styles. Gunnera and water-loving iris patches were very much de rigueur. The bigger the better, obviously, as far as pond design went. I must remember that!
My friend and I visited five out of eight gardens - not a bad strike rate on a hot Sunday! We were well supplied with clipped box hedges, clipped box balls, and taller clipped hedges of unknown shrub. Clipped planes of foliage intersected other planes at precise angles. Ends of hedges had clipped windows to peep through.
There were a few good-natured shrubberies, and several areas of native New Zealand plantings, where 'scruffy' was allowed. For political garden correctness? No, no - hopefully for the native birds.
Mass Planting Rules!
Mass-planting in a country garden is innately sensible, and so easy on the eye. We saw many examples - not just the mono-variety rose beds typical of municipal rose gardens, but long borders filled with stylish blue oat grass, long lines of Agapanthus, large spreads of the same rhododendron cultivar, tussock gardens... More is less?
Speaking from experience, I know just how long it takes one woman (me) to mass plant hundreds of Agapanthus pieces. Absolutely ages. A medal for the gardener who does this unaided. A plea to all the gardeners represented in the Garden Tour - please say that one of you did it by yourself!

Garden Tour Images
I'm so glad I went garden touring, and I really enjoyed myself. But such a relief to be back home, gardenwise. There's no place like home. Mind you, the standard of my own lawns could definitely be improved. And my pond is a little small...
Thanks...
Thanks to the gardeners of Ohoka who opened their gardens, telling me (via those official laminated signs) that I could take photographs (and leave footsteps). I did just that. Thanks.