Pink Roses
There are so many different shades of pink. I wonder if pink-haters actually know this, for I suspect they over-simplify things. They only need to peep in a rose catalogue to see the true colour situation. Of course the same pink can be pale, or dark, and the rose can look totally different.
I've checked in a gardening book which is hot on colour. It talks about rose pink, and pale pink, and gives the colour pink some sensible limits - yellow-pink is called peach, and blue-pink is called magenta. All the other pinks lie in between.
I have a lot of pink roses in the garden. There's my namesake, Mary rose, one of the first to flower by the house. Then I have the faithful Fairy roses, who always surprise me by blooming later than the rest of the roses, and reminding me of marshmallows. I also love the strength of the darker pink Flower Carpet rose, bred by Noack.
English Pinks
I have some un-named David Austin English pinks. These are the subtle ones - a hint of cream, a hint of yellow, the vaguest touch of a cool ice blue. Pinks which remind me of ballet shoes and a little girl's tutu, vague swirling satin material, satin ribbons...
Rosy Cushion
Pink roses are so popular. It could diminish the magic if each shade was properly classified. In semi-scientific moments I wonder if this would actually be helpful. I mean, gardeners and lovers of the rose are usually repressed romantics, and might prefer the imprecision of the word pink. After all, there are many different moods of the same colour in the garden. Why try and catalogue it?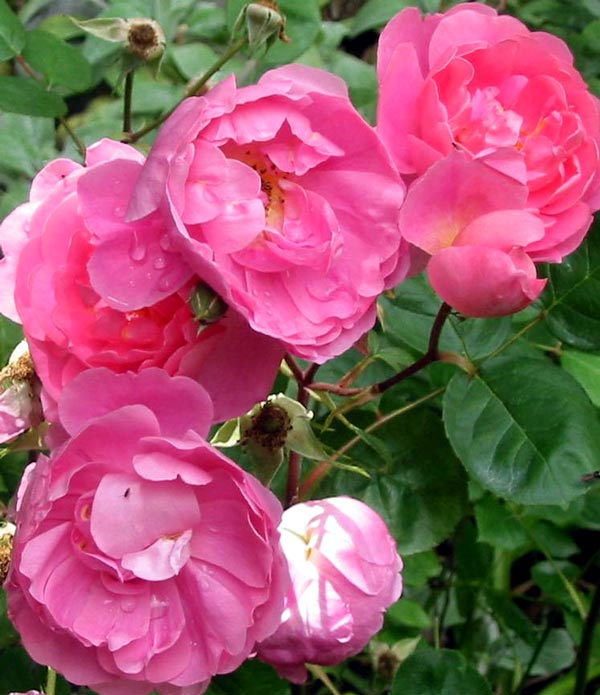 John Clare Rose
I took a quick peep at my big book, to see how the writers coped describing some of my pink roses.
Which Pink?
Bantry Bay is deepish rose pink.
Ballerina is light pink
Frau Dagmar Hartopp is clear silvery pink.
The Fairy is light rose pink.
Mary Rose is strong rose pink with a touch of lavender.
Gertrude Jekyll is rich deep pink.
Geoff Hamilton is rose pink.
John Clare is light crimson.
Sexy Rexy is medium to light pink.
Flower Carpet is deep pink.
Clair Matin is pretty pink with paler centres.
Complicata is bright clear pink.
Cecile Brunner is pale silvery pink.
Gerbe Rose is rose pink.
Hmmm...