Orange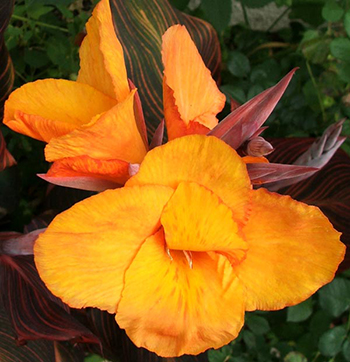 Orange Canna Flowers
Oranges, grapefruit, tangerines - all these sweet citrus fruits whose colours have the extraordinary effects on gardeners. Some hate the colour orange in the garden, and won't use it.
They'll carefully cut off offending orange Canna blooms. They'll accept Ligularia until it too throws up its orange daisy-like flowers.
Trendy Marigolds
Then others see it as a trendy colour - and orange marigolds suddenly become new and daring flowers to plant. Multi-coloured gardeners of course have never really noticed orange, in the midst of their kaleidoscope of bedding annuals.
Gardeners with naturally low gardening self-esteem can often over-compensate, too, ordering in bilious orange Cannas and packs of alarming striped orange marigolds in desperate determination. They desperately love orange!
The Bravest of Gardeners
The bravest of gardeners have got this orange colour completely sorted - not a problem! They're not afraid to make the boldest possible orange statement in their garden. And just to prove how courageous they are they'll plant orange next to magenta, or the hottest pink, like a certain Great Dixter gardener likes to do...
I've never sought out orange flowers, nor have I shunned them. It's a colour which has crept gradually into my garden. Some Calendulas were welcomed into my vegetable garden, in an attempt to show a caring, nurturing attitude towards the vegetables. I always leave the orange flowers on my purple-leaved Cannas, though I was surprised at the fierceness of their colour that first summer, and felt temporarily some empathy with the bloom-cutters.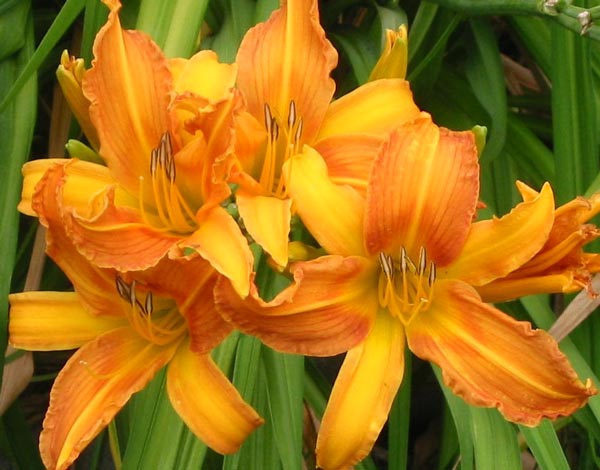 Species Daylily
My appreciation of the colour orange took off when my clumps of species daylilies decided to really show their stuff. Of course I'd bought subtle coloured ones from mail order catalogues - creams with lime flares, raspberry and wine shades. Then a gardening friend gave me several clumps of her older varieties, so I used them in the wide open spaces of newer gardens far away from the house. I guess I thought they'd be good fillers - until I found something better.
Daylilies Under the Elm Tree
But what a show they put on! Particularly this very summer, where the clumps of singles and doubles are providing bright orange landmarks in the sea of vague green. These species daylilies are having a wonderful summer, and I can't imagine the garden without their glowing colours - all the shades of orange imaginable.