Gardens of Plockton
Plockton, on the west coast of Scotland, is the perfect base for an older-lady garden-tourist visiting the Highlands. Only intrepid grey-haired adventurers stay here - the road is not suitable (too narrow) for buses and coaches.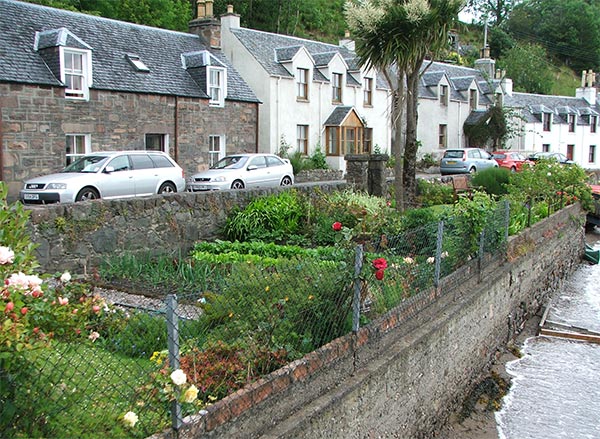 Gardens By The Sea
Beautiful Private Gardens
And Plockton has beautiful private gardens. I met so many of my dearest old plant friends - New Zealand natives, very much alive and growing so well. My first walk through the village was wonderful. I said hello to countless Hebes and Phormiums. And gave homesick mental hugs to the beautiful New Zealand Cordylines, happily growing along the seafront.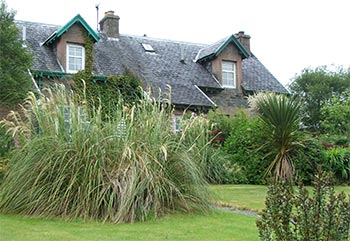 Hill House Grasses
Cabbage Trees
Actually, I did come to Plockton to see the Cabbage trees in the main street, though it seemed a good base for my zippy Highland car touring. But it was an accidental choice, suggested by a friend who is potty about Scotland. Thanks, friend!
Plockton is a classic picturesque fishing village with a beautiful harbour, with the unexpected bonus of the residents' gardens. Larger houses on the hill have lawns surrounding shrubs and grasses - hello, flaxes and a gigantic New Zealand Pampas grass! Fancy seeing you here, a million miles from home...
Smaller cottages in the main street have small squares of land alongside the stone sea wall, each planted in its own way.
The designs are as varied and contrasting as you might see in a Flower Show marquee competition. Side by side I found vegetable patches, traditional English (?) cottage gardens, shrubberies with secret winding paths ducking around iconic Cabbage trees, box hedges and archways looking out onto the sea, picnic tables and peonies...
Plockton Shrubbery
There was even a vegetable garden and a small wildflower meadow - though that could just have been an absentee owner not mowing the grass for a while.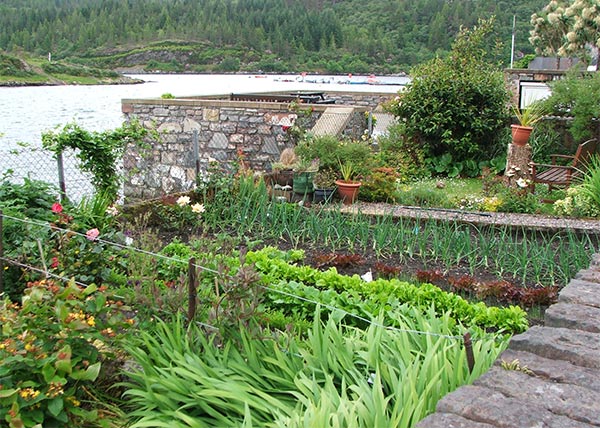 Plockton Vegetables
Many gardens had their own green species Cordylines, and even some of the newer red hybrids. The locals call them Cabbage Palms, or, even more romantically, Palm Trees... Hmm... I'm not sure that Plockton's summer weather is quite up to that! But hey! Paradise doesn't necessarily have to be tropical!
Plockton Summer House
Naturally each garden has a seat on which to enjoy the bracing sea breezes - and the stunning view.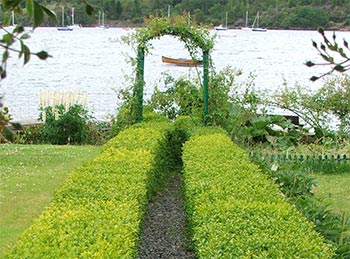 Through the Archway
The Garden Paparazzi
I spent a lot of time peeping into private gardens and taking photographs, behaving a little like an uninvited, semi-subtle paparazzi. And when I saw a dedicated local collecting up all the fallen Cabbage tree leaves I couldn't resist using the super-zoom.
So it's probably very cheeky of me to publish this story with its photographs - I wasn't able to ask anyone for permission to show their gardens. Apologies if I've annoyed anyone, and I sincerely hope that Plockton doesn't mind me sharing.
I travelled half way around the world to come here and see the most beautiful Cabbage trees in flower. I found so much more. The village of Plockton gets five stars for scenery, comfort, food - and gardens!
An Informal Plockton Planting
Plockton has its own official visitors' website. Check it out if you'd like to read more. And the British TV series called 'Hamish Macbeth' was filmed here. Should that be Scottish TV series? Oops.