Late Roses
Three weeks to go until the mid-winter solstice - that's the shortest Moosey day, if not the coldest. In my garden the lead-up to winter has to be respected, with the usual frosts and cold southerly winds. My glass-house is already full, sheltering half-hardy perennials and succulents. My roses, however, are still in brilliant bloom.
My Roses Don't Care
They obviously have their own seasonal plan. Autumn has been mild, though by now all the autumn leaves have coloured and dropped. Sunrise is near to 8 am, and the mid-afternoon shadows are long and gloomy. But my roses don't care - so many of them are flowering as exuberantly as they did all those summer months ago.
Meg Rose Flowering
Around the house gardens I can find rose bushes blooming in every colour. Prosperity, Iceberg, and the elegant Margaret Merrill are covered in white. William Shakespeare, darkly mysteriously red, is suddenly inspired. My deep pink fragrant Othellos, and a host of other David Austins, are enjoying these balmy autumn days.
I'm used to the egg-yolk yellow Graham Thomas being a late bloomer, but Claire Rose, Golden Celebration, Sharifa Asma and the Pilgrim have all joined in. And Redcoat in the vegetable garden is covered in big single flowers, with just a few huge suckers reaching up to the woodshed roof - oops! I'm sure it has nothing to do with my rigorous dead-heading programme - what rigorous dead-heading programme?
Graham Thomas Autumn Roses
I expected all the climbing roses in the Hazelnut Orchard to be twiggy and bare, but no! Granted, some are once flowering, and all survive with minimal gardener intervention. What a surprise! I'm delighted to welcome some proper flowers from Gloire do Dijon (after her disgraceful balled messes throughout the summer).
Hello, Dear Rose!
And I've finally met the beautiful Souvenir de la Malmaison - now I understand what all the fuss is about! She, too, had lost the summer plot. And the modern climber Uetersen is covered in heavy trusses of bright pink for the third time.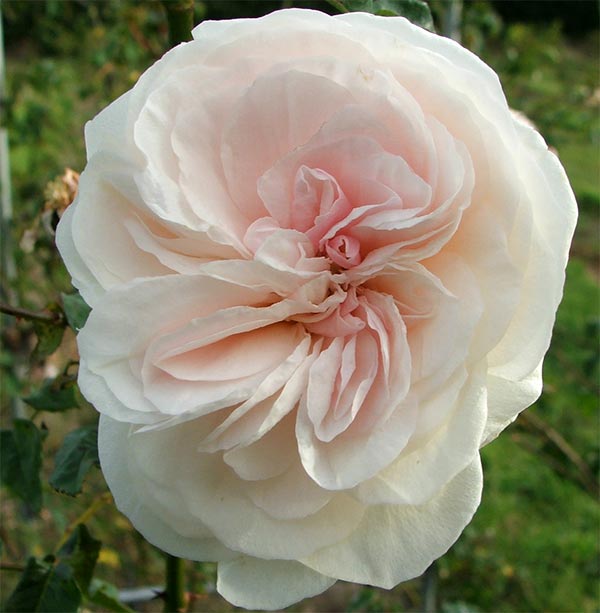 Souvenir de la Malmaison
My two Crepuscule roses on the pergola are providing the oddest display. On the one side there's a generous autumn sprinkling of apricot flowers. But the rose on the other post has decided to beef up its colouring, and the blooms have all turned the deepest blushing pink - that same colour as the modern climber Compassion. It's also the third flowering for Crepuscule. She must be tired out, crossing her fingery branches every night for the coming of the first frost!
Rosy Posy
I'm loving all my late roses this year. Thank you to all my shrubs and climbers - my house is filled with rosy posies and my garden is filled with colour and fragrance.