To Stake or Not to Stake...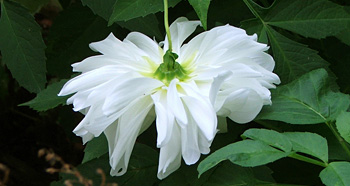 Floppy Dahlia
Some years back I made a resolution to give each of my garden plants the special care that they required. It was to be each according to its needs - summer pruning, winter trimming, dividing every third year, and so on. But I drew the line at serious staking.
If, for example, the Delphiniums needed support, then something close-planted would have to do the trick. Climbing roses could avail themselves of trees, provided they could took the initial leap of faith and pointed themselves in the 'right' direction. Non-staking tomatoes were welcomed into the vegetable garden, alongside rows of non-staking peas and dwarf beans.
Floppy Peonies
I grow peonies (so beautiful) in my flower gardens. Each year without fail their magnificent flowers are a big flop - literally. Leaning this way and that, many with their beautiful noses buried in the lawn, stalks bent and broken - I'm always picking frenzied armfuls to squash into the early-summer house vases.
Blame The Rain, The Wind...
I blame the rain, followed closely by the wind, with perhaps just a little help from the Head Gardener's laziness and bad habits. Plus my dog's obsession with jumping into the garden to catch bumble bees (don't worry - they always get away).
Big White Dahlia
In my perennial (or do I mean annual) search for gardening wisdom I've now discovered another irrefutable garden truth. In years past, when I haven't staked my dahlias, these summer colour-queens have produced brilliant blooms. OK, they've sprawled languidly everywhere - on neighbouring plants, on the dirt and mulch, all over the grass, and so on. But the display of colour has been magnificent, with masses of flowers right until the first frosts of autumn.
Plant Supports
Earlier this year I bought some circular plant supports, and proudly and responsibly staked several of my big dahlia performers. Right. I was expecting a summer colour spectacle at eye level from my big whites and thrilling magentas. Hmm... So where have all the flowers gone?
Magenta Dahlias
A watched pot never boils. I knew that. But a staked dahlia never flowers? Hello?