Pruning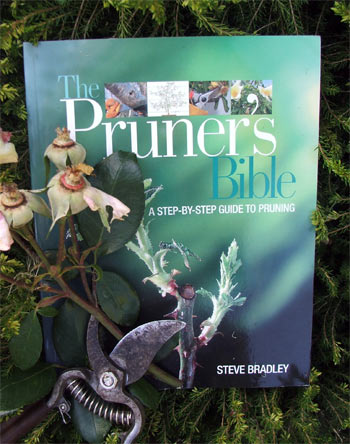 My New Pruning Book
This garden site is full of flowery froth and bushy bubbles. There are lots of moans and groans about weeding, and trimming, and garden tools - but serious horticultural information is a bit thin on the ground...
Take pruning, for example. Garden authors have produced articles, books, and doctoral treatises on pruning. How, why, when, and where to prune have fascinated gardeners for decades. Some even include important chapters on how to care for and store your pruning equipment.
Like the making of compost, the art of pruning is highly specialised and desperately important to the health of a garden. Pruning is not to be taken lightly!
Rose Pruning
Now take rose pruning. Every gardener with half a tired brain knows that pruning the roses does work - after a suitable time delay, new stems with beautiful new flowers appear. Growers who want to exhibit rose blooms have to prune. So do naive gardeners, determined to shift roses in the middle of summer, not wanting the uprooted beauties to wither and die. Rose pruning seminars fill the nursery-cafes with keen customers. Worried pruners can watch the demonstrations, literate pruners can read the pamphlets, visual pruners can peer at the pretty plant pictures...
The Moosey Wisteria - First Year Flower
Wondering about Wisteria
I'm a book person myself. But has anyone noticed how easy it is to prune, for example, the Wisteria in a book? Has anyone's Wisteria ever remotely matched the shape in the diagram? Hands up if you are an intelligent gardener who never-the-less cannot guarantee you'll recognise real first-year wood from second-year.
Many pruning books are written by frustrated Mathematics teachers. Check out the trigonometry rose diagrams with the pruning cut making an angle of 42 degrees with the edge of the stem, between 15 and 30 milimeters below something important. While removing no more than 35 percent off the top and sides every third year. Hmm... Pruning with protractor and set square...
Topiary Pruners
I admire 'topiarists' and 'espallierists'. Knowing weeks in advance which bits to nip, then remembering to nip the said bits - that's impressive.
What are the credentials which turn a gardener into a stylish nipper of box and trainer of camellias and designer apple trees? I suspect a direct correlation with visits to the hair dresser. She who insists on a salon hair trim every three weeks will make a top class pruner-topiarist. Whereas she who grabs the kitchen scissors and self-shears in late spring...
If there are so many learned works on pruning, then there must be some very good reasons. The most important is obviously to maintain quality of life. This should include the removal of dead and diseased wood - one gifts a shrub inner health by keeping its outer framework clean.
Poetic Pruners?
You'll have heard of that lovely, womanly, poetic pruning plan for Camellia shrubs, the result of which allows a little bird to flutter through the branches, without getting stuck. A nice image, but not if one gardens with six keen gardening cats for company...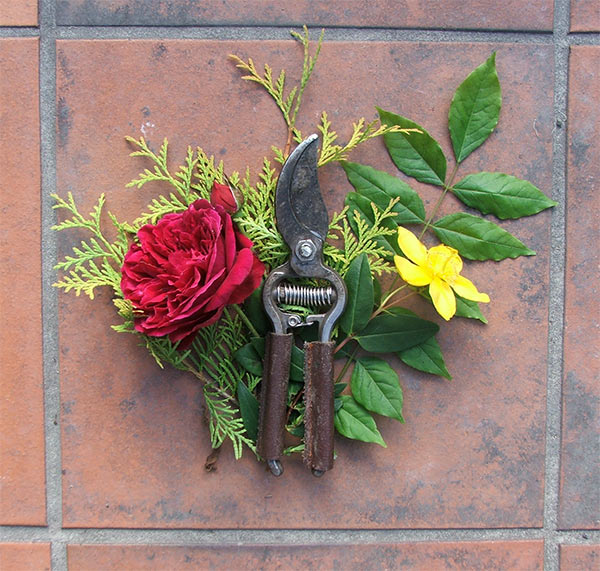 Still Life - Pruning Secateurs
Pansy Pruners?
There's poetic pruning, and then there's the no-nonsense don't-be-such-a-pansy approach, which encourages women gardeners to get tough with their roses. Throw off your country denim-and-lace gardening shirt and pretty fabric gloves, grab the hedging shears, and clip, whip, and strip those delicate pastel David Austins! Muff your ears, pull the chord, and attack your climbing Icebergs with partner's chainsaw!
Chainsawing a tree
Three Pruning Questions
Finally, as a gardener with a slightly dizzy world profile I rarely get asked for my advice about pruning. But here are three pruning questions which I often ask myself, the answers to which you may find useful.
Why should I dead-head my roses?
Because the rose books say so. Just don't prune the red rose hips off your Rugosas. Leave them on. With the old dried seed-heads of your tall ornamental grasses nearby you can pretend it's your deliberate winter sculptural look, to be admired (and photographed) in a hard frost.
Should I ask to use the chainsaw?
Hmm... Definitely a wise move. But here's another idea. Try feigning upper-arm muscle weakness and get Non-Gardening Partner to start it. Then, since he's already holding the chainsaw, you could make the most of the situation by pointing upwards and waving your arms weakly but descriptively in a pruning arc.
Some Non-Gardening Partners will automatically step in and help, should the chain-saw be required. This has definite advantages. After all, it's easier to point a finger than a potentially dangerous whirring heavy thing. Please note - no disrespect is intended towards sturdy women gardeners who own and use their own chainsaws daily!
Beware of Golden Hops
How do I prune a Golden Hop?
Prune it? Prune it? Aargh! Don't even think about planting it! Perhaps you have one already, which you planted in a haze of English Country Garden Magazine Envy. And you forgot to provide suitable scaffolding for the sun-loving Golden Hop to climb? Then you will need to prune it with a sharp shovel and/or some disgusting chemical! Am I joking? Hmm...
And There's More...
In order to encourage good gardening practice, the use of a Golden Hop as ground cover is not recommended. Nor should any pieces cut off the Golden Hop be thrown into the weed pile between the shelter belt trees. Oops.
Footnote
Last Christmas Non-Gardening Partner (and owner-operator of the chainsaw) bought me my very first pruning book. At least the Moosey Wisteria won't know what's hit it!