Variegation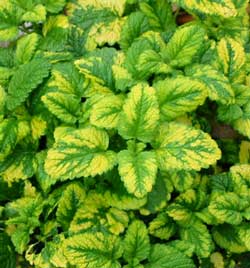 variegated mint in a pot
Every now and then I read a garden article snubbing variegated foliage. It seems that variegated plants are extremely divisive in the gardening world.
Gardening Prime?
I have a theory that variegation sneaks up on a gardener, usually when we are in our gardening prime. It commonly starts with the subtlety of gentle cream and sage green foliage. Nothing too garish in this combination.
Oops. But then things develop. Having believed for years that strident gold and emerald green are better displayed on an Australian rugby jersey than on a leaf, we experience a sudden devastating illumination of faith.
Out of the gardening closet we leap, embracing the joy and dizziness of stripes, swirls and the fractal like patterns of vulgar variegation. Only the brave will celebrate the joyfulness of such colour sharing.
Variegated Plants
Our greens can be as green as they dare. Golds, creams, lemons, citrus yellows - not a problem. Mix then up together - yippee! Leaves to die for!
I have had my subtle moments. I have planted variegated Liriope (which is underwhelming, and easily lost in my garden). I have ordered in a cream variegated Brunnera, impressed with the catalogue-speak which emphasised class and subtlety. It is a lovely plant, too, hidden among the grape hyacinths, but a little more voluntary spreading would be nice. I might have bought in quality, but I still expect bulk.
Perennial Variegation
Variegation in perennials is easy to appreciate - maybe because they get trimmed down each winter, and grow afresh. I've always wanted a piece of summer white flowering variegated Phlox. I grow an Aquilegia (with such tiny blue flowers) which I've raised from seed, and both purple and white flowering variegated Honesty. I love the beautiful sage and cream Scrophularia, easily propagated, which now has a place in many of my borders. My bees love the tiny red flowers which appear in mid-summer, too..
Hostas have always got away with being variegated. Some are quite unsubtle. The brushstrokes around their edges remind me of hand painted crockery, and their shades of green seem to be chosen from an upmarket paint chart. Beautiful plants, though they almost need a few random snail bites (or an unseasonal hailstorm) to ruin their uniformity and restore the natural look. Not that I would wish hail or snails on any keen hosta gardener.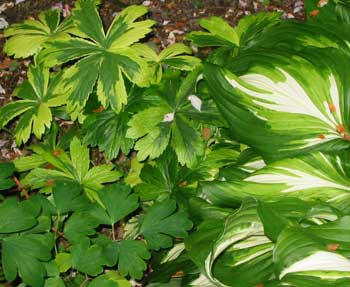 variegated astrantia and hosta enjoying a quiet spring moment
Gold and Green
Like large red dahlias, gold and green variegated leaves en masse look good in a large country setting, where sweeping expanses of lawn and sky are accepting of nearly any planting. I know that such plants can be overbold - but why shouldn't they be enjoyed for their strong colour patterns? Who made the rule that plants have to be subtle?
Variegated shrubs are difficult to ignore. Plant them in your garden and they'll shout out at inappropriate times, hee hee. Many New Zealand native hybrids (Hebes, Corokias, Coprosmas) offer startling colour combinations. Trees like Dogwoods and Maples are renowned for their beautiful leaf patterns. Naturally, I love them all. One of my favourite New Zealand natives is a cheerful Corokia covered with small fingers of yellow and green. Put this in a pot in a minimalist gardening space and even anti-variegated stylists would accept it. I grow mine in twos or threes where ever I want a border to be cheered up.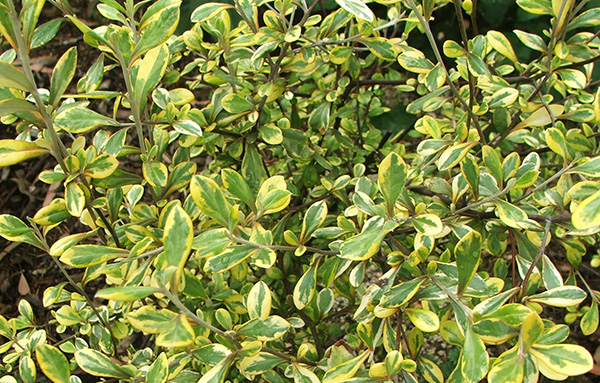 Variegated Corokia
I suppose variegation can include splodgy spots as well as stripes. I wouldn't be without the spotty Ligularia which many call the Leopard plant. It's a plant with heaps of good humour, and has the strongest green and yellow combination of all my variegated plants. I also enjoy the horizontal yellow splodges on Miscanthus Zebrinus. Spots in the garden always make me laugh (unless they're black spots on my rose leaves)..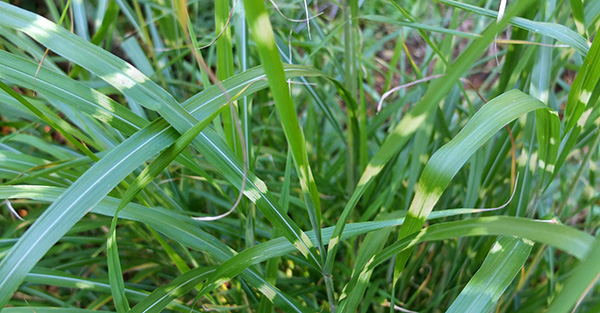 Miscanthus zebrinus in Autumn
Variegation is definitely the spice of my gardening life.