World's Best Wheelbarrow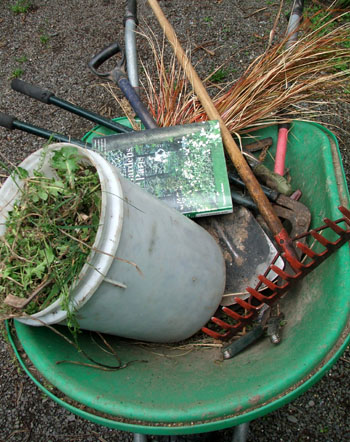 A Carry-All
My most favourite birthday present has been my garden wheelbarrow. I might have had had more romantic gifts, and more expensive - but none more useful. Green, plastic, mass-produced, much cherished - the best wheelbarrow in the whole gardening world!
My Green Wheelbarrow
I've used my green wheelbarrow nearly every day for the last fourteen years. It's carted every imaginable garden necessity - firewood, new plants, compost, rose prunings, horse manure, rhododendrons which are changing location...
Tough and Sturdy
It's tough and dependable - equipped for the most rugged terrain. And it has an especially sturdy fat front tyre. Sounds a bit like its operator...
Rather than being hung up in a garden shed, my garden tools are always dumped in the wheelbarrow, along with yesterday's woolly gardening jersey, my cricket radio, old coffee cups, my current library book (eek!), and the like. It's my all-purpose carry-all.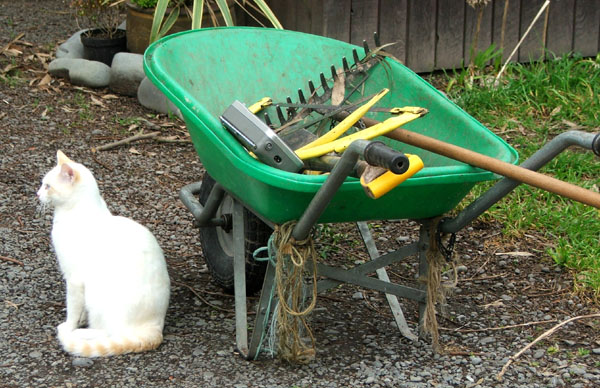 The Moosey Wheelbarrow
Cats and Dogs Welcome
All the Moosey cats have jumped into it to sit or snooze - the occasional slow cat has been surprised into taking a short ride. Rusty the dog knows to follow whenever the green wheely-thing goes - yippee! We're off somewhere else!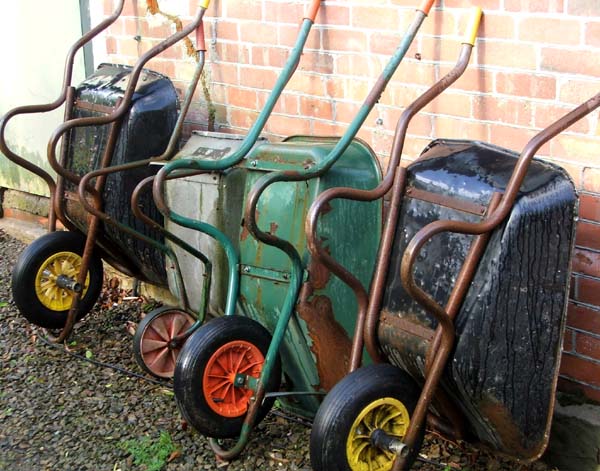 Winsford Walled Garden Wheelbarrows
Other People's Wheelbarrows
When I'm out and about garden visiting I'll always take sneaky pictures of other people's wheelbarrows. I prefer them fully functional - the wheelbarrows, that is.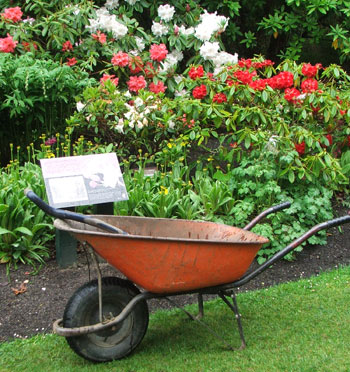 Rhododendron Garden Wheelbarrow
Old metal hulks put out to rustic rest do look cute with their red geraniums or spilling-over sedums. But they get more than their fair share of photographs. I'm much more interested in the honest, real, hard-working wheelbarrows.
Garden Tools Variety
The best wheelbarrows are always filled with a random collection of things - buckets, garden toys, bits of rubbish, treasures, or maybe just the tools of the day. There's always such a variety of tools to be seen, too - from impressive hedge trimmers to bendy plastic hand diggers. And, just occasionally, the Moosey kitchen steak knives... Oops.
Wheelbarrow Photography
Over the years I've found that wheelbarrow photography puzzles people. It often has to be done secretly - particularly when other gardeners are present. The photographer has to be sneaky and underhand. It's obviously a very odd thing to do, and I should know. I have a lot of fun trying to capture official wheelbarrows in Botanic Gardens. Oops.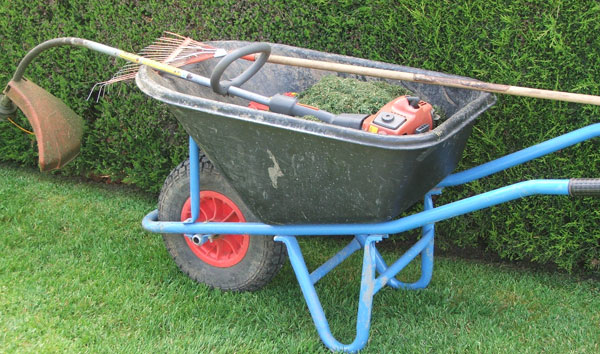 A Serious Wheelbarrow
Botanic Wheelbarrows
Botanic Gardens wheelbarrows are interesting to photograph. The gardeners themselves can be decked out in crisp working uniforms, but often their wheelbarrows are a motley, random lot.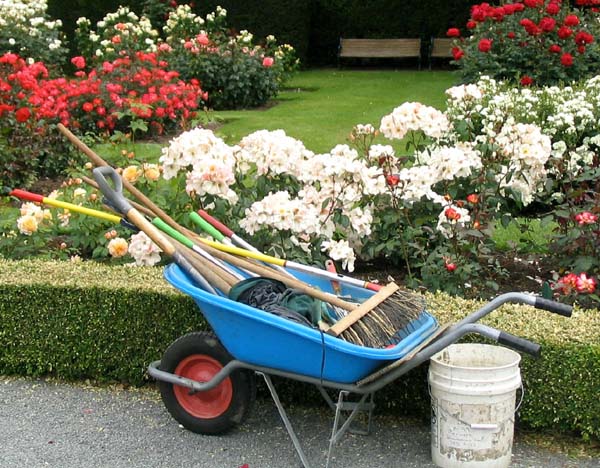 Christchurch Botanic Garden Wheelbarrow
One does get funny looks as one lines up a photograph. Sometimes the staff gardeners are suspicious, other times they're really helpful. 'Here, let me move that wheelbarrow out of your way...' Fair enough!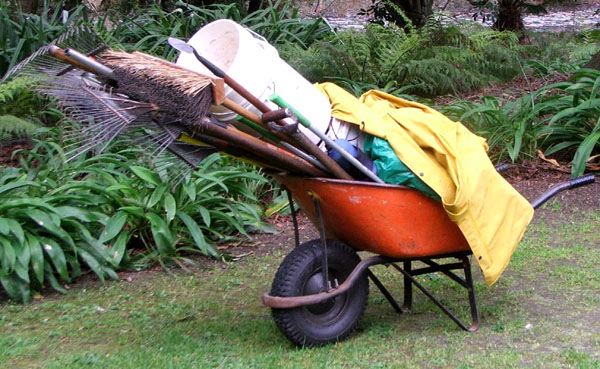 Another Botanic Wheelbarrow
I love the green Moosey wheelbarrow. I hope we can grow old together!