White Delights
Hmm - a white-themed garden would require good planning and a sharp sense of timing, right? For now I have to settle for the scattering of delightful white flowering plants that pop up here, there, and everywhere in all the borders.
White Flowers
But what delights these whites are! In spring the big blossom trees and the flowering Choisya shrubs are hard to miss, but underneath there are clumps of Iberis, and beautifully subtle white daffodils. White rhododendrons look wonderful when their surrounding garden is full of fresh new green growth.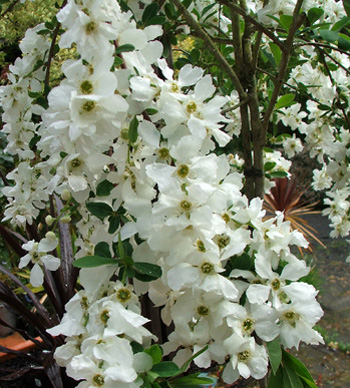 The Bride - Exochorda
And the white flowering honesty plants, especially those with beautiful variegated leaves, are simply wonderful. The more the merrier - and please feel free to pop up in any border, front or back...
White Roses
My white roses arrive later, when the New Zealand sun is summer-strong, so obviously they look their best when there's cloud cover. I grow Icebergs (of course) but I prefer Prosperity (hee hee - don't we all!) This year I have six new white Glamis Castles to look forward to. Also a wonderfully large almost single white dahlia pops up in a number or borders and flowers madly until the first autumn frosts.
Big white is better? Maybe not. At times the little whites can make the biggest impression - small Nicotianas, Sweet Alice, and charming white daisies. But then I wouldn't be without my towering Nicotiana Sylvestris plants, and those super stylish white foxgloves. If only their seedlings would stay white...
Sissinghurst's White Garden
It would be easy to just scoop all these plants up, plonk them into a rectangle, and box-edge them into little triangles - or would it? I'm thinking of the famous Sissinghurst White Garden in England, which I have recently visited in person. And very nice it was too - but the daylight was dull, and the English sun didn't really sparkle.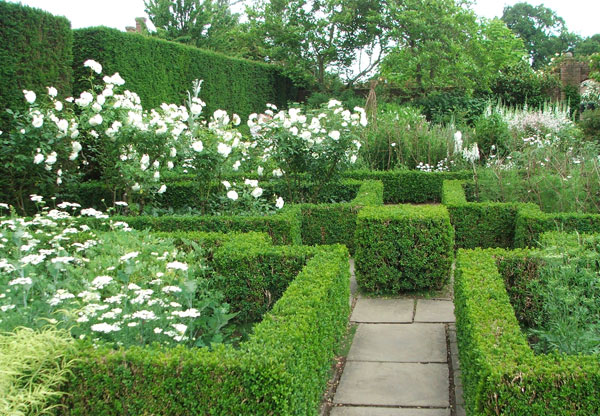 Sissinghurst White Garden
One minute I love the idea, the next I decide it's been done so well by great gardeners, big and small, who have the correct attitude. Knowing my style I'd lose patience with the whites wilting in the mid-day sun and pop some garish garden gnomes into the gaps instead...
White Lilac Flowering
But I'm overflowing with admiration for any gardener who gets their 'white delight' absolutely right. Maybe, one day...