Orange Nasturtiums
Go, you lovely orange things! They may be humble, but orange common-garden Nasturtiums are brilliant for a patch of bright, bilious colour. They are a great contrast with a neatly mown, lush green lawn...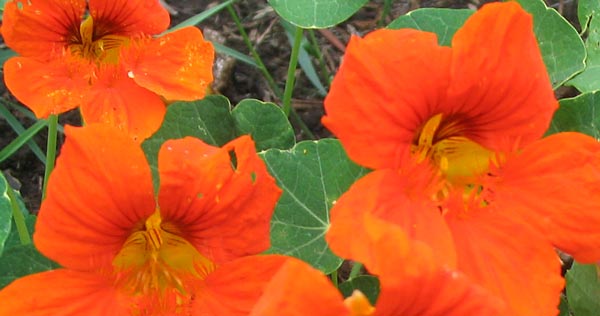 Summer Nasturtiums
I understand that these orange flowered plants are a bit weedy. I've tried to grow more up-market types - I have stylish soft lemon Nasturtiums in pots, and ones with variegated leaves. I even purchased (once) a so-called perennial Nasturtium with a fancy catalogue name (it immediately died in the first winter frost).
So let's get back to basics and hear it for these orange flowering annuals! This patch grows in the small border which joins Middle Garden with the Hen House Borders.
Duck for Cover...
The neatly mown, lush green lawn which the plants spill out onto is ironically called Duck Lawn. Duckless Lawn would be a better name - special thanks to Rusty the new puppy, who enjoys chasing birds both large and small (including the resident Moosey poultry) off the property.