Striped Flax (Phormium) Leaves
Phormium leaves often have the most beautiful stripes, and on one flax bush there can be many different leaf designs. Different colour patterns and subtle colour shades all contribute to the beauty of the whole.
Green and Pink Striped Phormium
This first photograph is of an upright compact flax (Phormium) which I have in several places in the garden. The stripes look as if they have been hand painted, and are in colours of olive green and dusky rose pink. Some leaves are coloured exactly down their middles, in two halves. The plants grow to over one metre tall, and the leaves stay stiff and erect.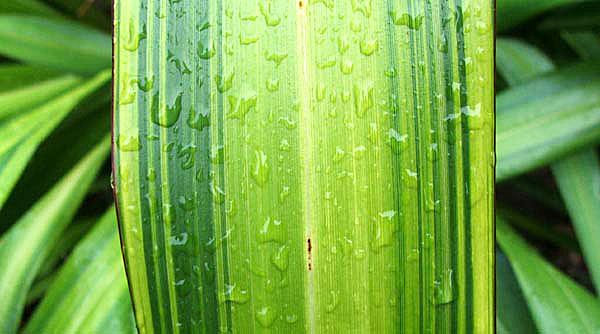 Striped Phormium Yellow Wave
Some varieties have a bad flax habit - they like to revert to the plain dull green Phormium Tenax species. For these plants it's best to be vigilant and cut the wrong growth out from the base. If you don't - you'll think you've inherited a monster!
A Maori Maiden?
Another flax detail is shown below. I think this flax is possibly called 'Maori Maiden'. It grows waist high and from a distance looks like the colours of a sunset. Close up the stripes look like an ethnic weaving pattern. They are so beautiful - and you'll see many different variations on a theme throughout the plant.
stripes from a small red flax
There is some confusion in the naming of the 'Maori' series of flaxes (not just at Mooseys) - several varieties have more than one plant name.
Selection of Coloured Striped Phormiums
The photographs above and below show how much colour the striped Phormium hybrids contribute to my garden. Particularly in winter!