The Cape Campbell Walkway
The Cape Campbell Walkway runs in a loop over two hill farms on the East Coast of Marlborough, New Zealand. It's a four day hike in the fresh air with spectacular views of sea, cliffs and mountains - a walkway which is 'a little on the wild side'.
Cape Campbell Walkway
No matter what you order, you'll get the wind of the day - and it can range from pretty mean to downright awful. Our group was lucky - the gentlest of sea breezes cooled our puffing red faces.
What Wind?
We could stand upright on the ridges and cliff-tops - and sit down on tussock grasses to linger for long morning teas - without being blown over. What wind? We enjoyed settled autumn weather, with sun and clear skies. Hee hee!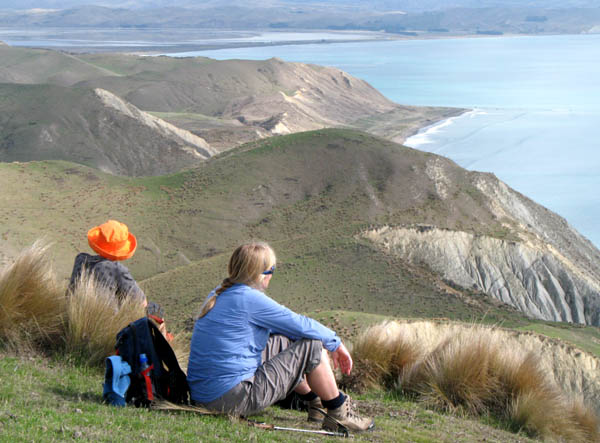 Lunch Stop
There are beds on the track for up to ten hikers, and each night is spent in quirky, luxury accommodation. Quirky because there's a real Kiwiana holiday feeling in the decor - and luxury because many New Zealand hikers are used to tents by torchlight, tiny stoves, dried noodles and long-drop toilets. A picturesque working lighthouse lurks above the second night's accommodation.
Cape Campbell Lighthouse
And guess what? We didn't have to share with anyone else, though we'd have been glad to. At the end of a long day we could spread out, be noisy, munch our gourmet food - and have a choice of bed or boudoir.
Too Many Books and Bananas?
We paid to have our main packs carried - what a great idea! I never want to carry a 12 kilo tramping pack ever again! I always take too many books and bananas, anyway.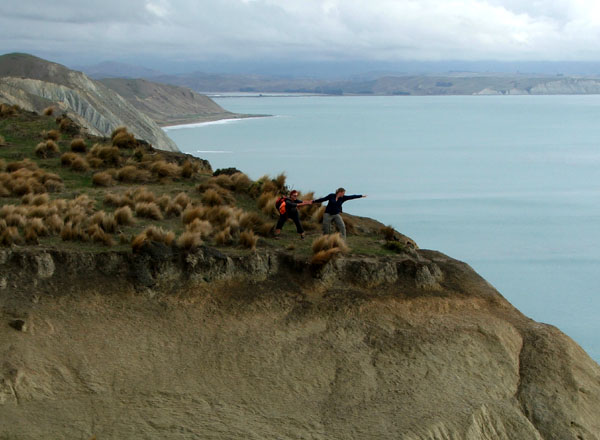 Playing on the Cliffs
The walkway pamphlet contains historical details, points of general interest, and the farming history of the land crossed - perfect to be read out loud when a hiker is losing interest or feeling a bit tired. The Cape Campbell Walkway has its own website - check it out, if you fancy a walk in New Zealand that is 'a little on the wild side'.